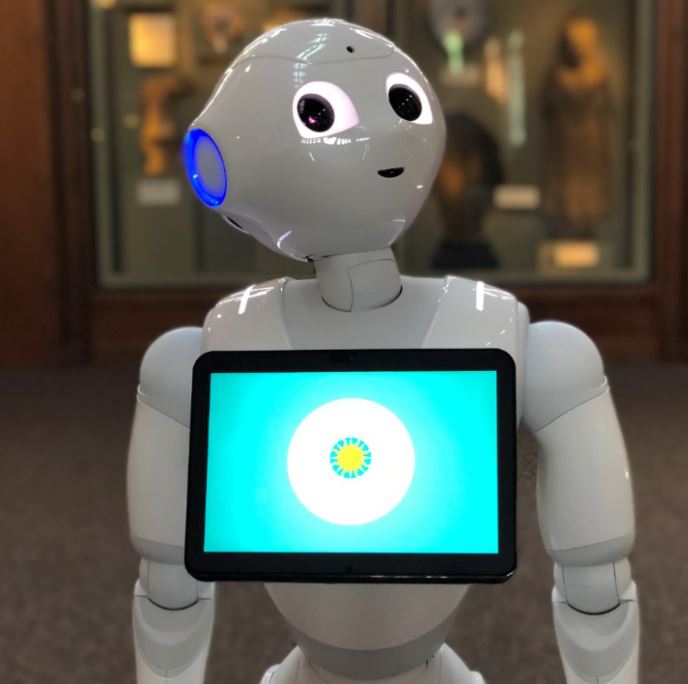 The Smithsonian welcomes Pepper, a 4-foot-tall, interactive humanoid robot from Softbank Robotics. The Smithsonian is the first museum, research, and education complex in the world to experiment with this new and innovative technology.
Currently, Pepper can answer frequently asked questions, tell stories, and collect limited information, as well as dance, play games, and pose for selfies. Pepper uses voice and gestures to create playful and memorable interactions and can also display images, text, and video on a tablet mounted to the robot's chest. All exchanges are pre-scripted—the robots do not yet have natural conversation abilities.
Pepper gives our museum staff a new option to reach and engage visitors and supports the important work of Smithsonian's many educators and visitor services professionals.
You can find Pepper at four locations. The project is expected to expand to additional Smithsonian museums, research centers, and educational spaces this summer.
Please say hello to Pepper and feel free to share your experience on social media using #SmithsonianPepper.
Have a question about Pepper? We have answers! Please send an email to info@si.edu or call 202.633.1000.
Here's where and when you can expect to find Pepper
Times subject to change
Smithsonian Castle
Sunday, 10 a.m.–4 p.m.; Monday thru Thursday, 2:30 p.m.–4:30 p.m.
Hirshhorn Museum and Sculpture Garden
Monday thru Sunday, 10 a.m.–5:30 p.m.
National Museum of African American History and Culture
Thursday 11 a.m.–12 p.m. and 2–3 p.m
Smithsonian Environmental Research Center
Saturday, May 18, 2019 10am-1pm: Learn about the secret lives of plants
Saturday, June 22, 2019 10am-1pm: Learn about marine biodiversity with marine biologists
Saturday, Aug. 17, 2019 10am-1pm: Discover how the atmosphere interacts with the land and water
Saturday, Nov. 2, 2019 10am-1pm: Learn about microbes that are invisible to the naked eye and how DNA is uncovering some of the Bay's greatest secrets
Pepper will be at the above special events and is available for group visits only. Feel free to check the SERC website to see which events Pepper will be a part of or contact larashc@si.edu for group visits.