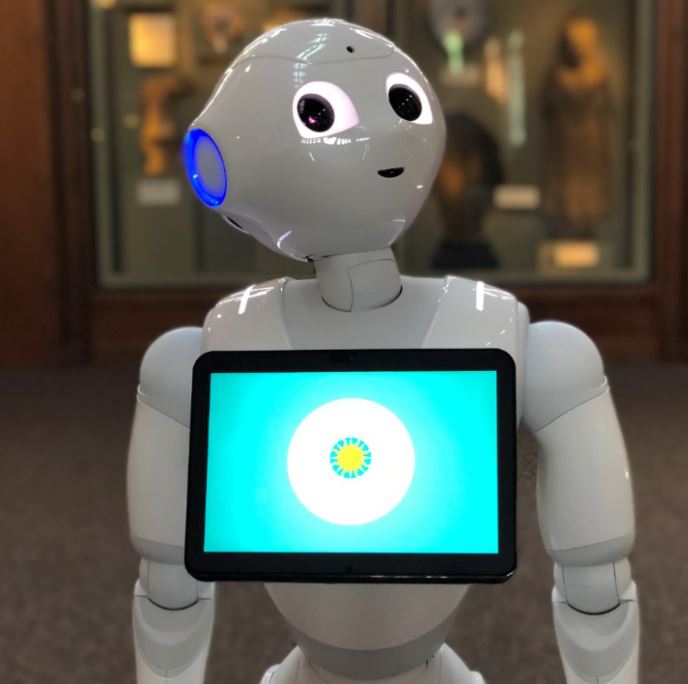 The Smithsonian welcomes Pepper, a 4-foot-tall, interactive humanoid robot from Softbank Robotics. The Smithsonian is the first museum, research, and education complex in the world to experiment with this new and innovative technology.
Pepper can answer frequently asked questions, tell stories, dance, play games, and pose for selfies. Pepper uses voice and gestures to create playful and memorable interactions and can also display images, text, and video on a tablet mounted to the robot's chest. All exchanges are pre-scripted—the robots do not have natural conversation abilities.
Pepper gives our museum staff a new option to reach and engage visitors and supports the important work of Smithsonian's many educators and visitor services professionals.
You can find Pepper at the National Museum of African American History and Culture.
Please say hello to Pepper and feel free to share your experience on social media using #SmithsonianPepper.
Have a question about Pepper? We have answers! Please send an email to info@si.edu or call 202.633.1000.
Here's where and when you can expect to find Pepper
Times subject to change
National Museum of African American History and Culture
Thursday 11 a.m.–12 p.m. and 2–3 p.m.