Lincoln Schatz, Portrait of the 21st Century (2008)
Collection of the National Portrait Gallery
---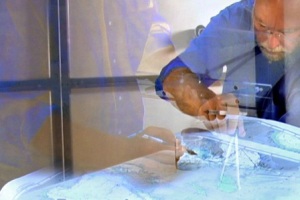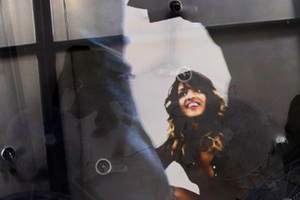 Above: Stills from Portrait of the 21st Century (Craig Venter and Maya Arulpragasam portraits)

The Artwork: Schatz's generative portraits of nineteen leading American innovators, known collectively as Esquire's Portrait of the Twenty-First Century, were created in 2008 on commission from Esquire magazine. The portraits were exhibited in the National Portrait Gallery's 2010-2011 "Americans Now" exhibition.




Each of these sitters - representing leadership in the realms of business, medicine, science, technology, and the arts - sat for his or her portrait for one hour in the artist's ten-by-ten-foot "Cube," during which time they participated in activities of personal interest. The Cube was embedded with twenty-four cameras, each of which recorded the sitter from a different angle. The ever-changing generative portrait that results consists of the footage from each camera played back for different durations and in different sequences, creating a representation that is analogous to a personal encounter with these individuals.

Image: An in-studio view of The Cube Schatz uses to create his generative portraits.

Watch a video about Schatz's process to make the portrait (courtesy Lincoln Schatz Studio).


Watch an interview with the artist conducted by Jesse Rhodes of Smithsonian Magazine. Schatz discusses the the generative nature of the work using computational video in creating the work and discussing the sitters.