Smithsonian Sparks
How do National Zoo animals beat the heat? Bloodsicles and other frozen delicacies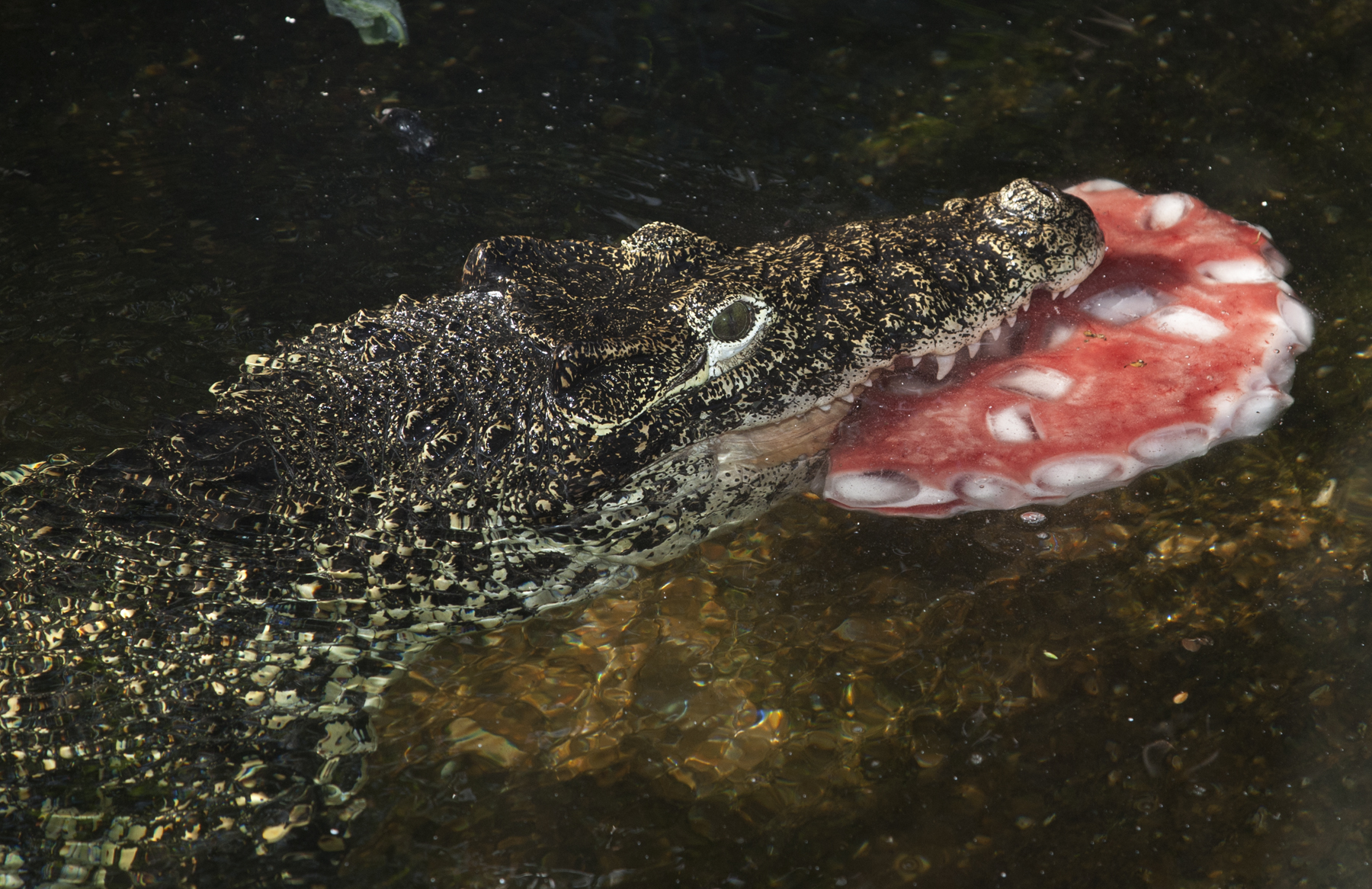 When the heat and humidity of the Washington, D.C. summer sends its residents scrambling for air conditioning and iced coffee, the animal care specialists at the Smithsonian's National Zoo have a few tricks up their sleeves to bring relief to the animals. The commissary staff there cranks out daily meals for the more than 4,000 animals living at the National Zoo. The commissary is an unassuming building tucked away on the Zoo grounds. It's well-lit, immaculately clean, and there's always a little magic happening inside its massive walk-in freezer. Past two heavy freezer doors are what appear to be five large wedding cakes on rolling catering carts. Closer inspection reveals these are definitely not wedding cakes.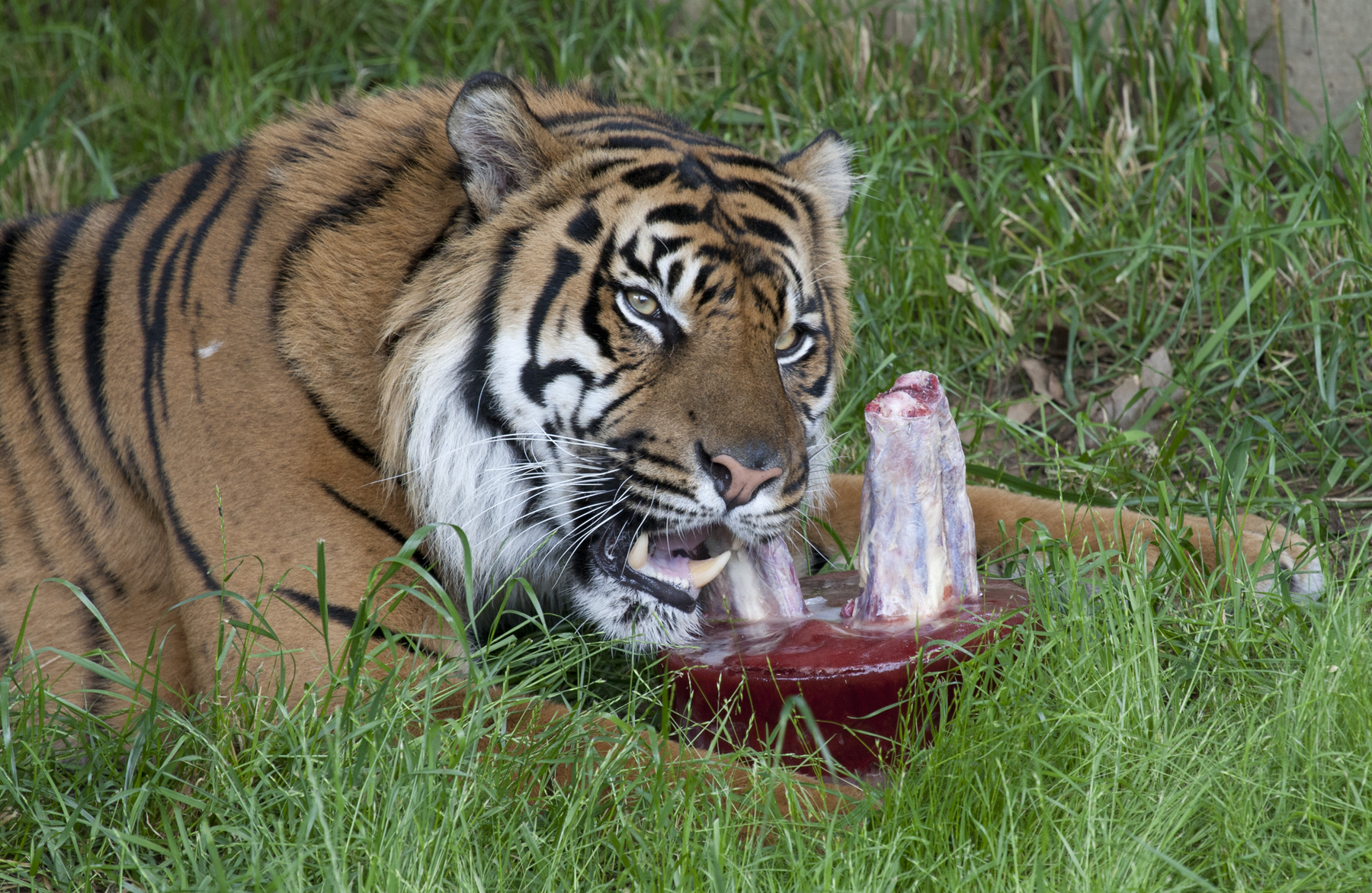 "These ones are almost completed. We made them to celebrate World Lion Day here at the Zoo," explains Brian Cannon, head cake maker in the Zoo's Department of Nutrition. Protruding from an elegantly sculpted block of tiered ice is a giant, bloody bone. There's no mistaking, it is definitely a cow bone, sticking out of a white layer of ice like a cake topper. The layers below are deep red, and before you can even ask, you know: that's definitely frozen blood. The large iced treat is so beautiful that for a moment it is easy to forget it is made entirely of raw animal protein and ice. For the lions who are about to receive it, this is frozen refreshment fit for a king.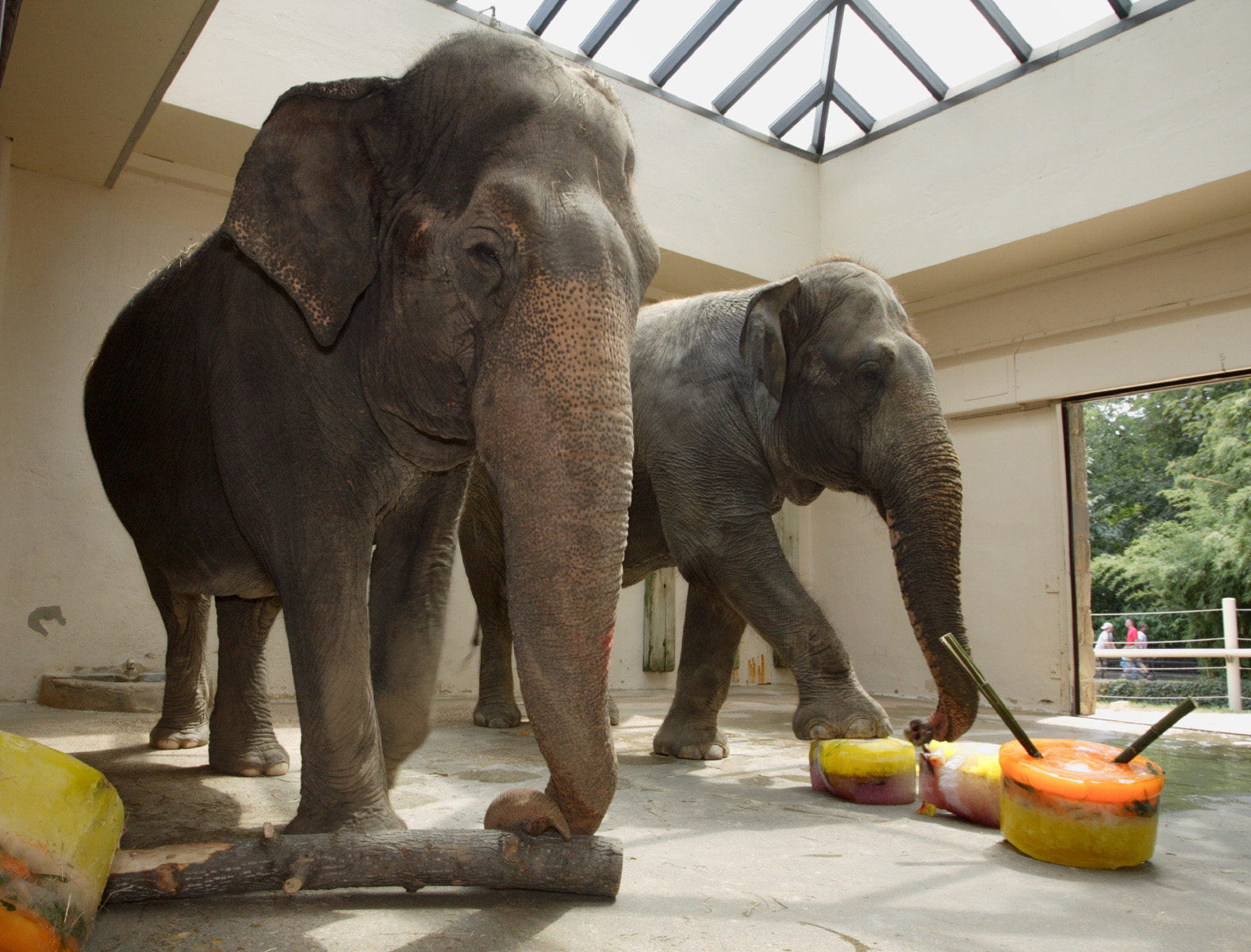 "Not only do they help keep the animals cool, but we make them to mark special events too," says Brandie Smith, associate director for Animal Care Sciences. The lion's offering is just a small sample of the diverse frozen treats that are created at the National Zoo to keep the animals cool and healthy in the oppressive heat. Animal enclosures at the Zoo are designed to offer their residents options for staying cool on a hot day, such as shade, cooled pools and air conditioning. Keepers also give out smaller cold treats more frequently on days when the temperatures soar. When it came time for giant panda Bei Bei's third birthday, a multi-layered masterpiece was in order. The tiers were made of diluted apple, cranberry and grape juice with leaf-eater biscuit puree, and it was decorated and filled with apples, pears, bananas, shredded carrots and cooked sweet potatoes.
(Giant panda Bei Bei celebrated his third birthday on Aug. 22 at the National Zoo with an elaborate ice cake packed with treats that pandas love. (Photo by Mehgan Murphy)
"It can take about two weeks to get a cake done because you have to freeze them one layer at a time," Cannon, the cake artist, explains. "There are sweet potatoes frozen into the bottom layer. We find that they usually flip them over and scratch at the bottom to get to the good stuff, so we like to encourage that behavior." For the Zoo's other residents, commissary staff must exercise creativity with a number of ingredients because each species has different dietary restrictions, behavioral needs and safety concerns. "Bears love tearing into things, so when we make theirs we put fruit on the bottom so they can scratch it apart. Primates like to pick things off with their dexterous fingers, so we give them fruit on the outside," Cannon says. "Lions and tigers like to take their prey and carry them off, so that's why we buried the big bones deep into the ice cakes so they can drag them away."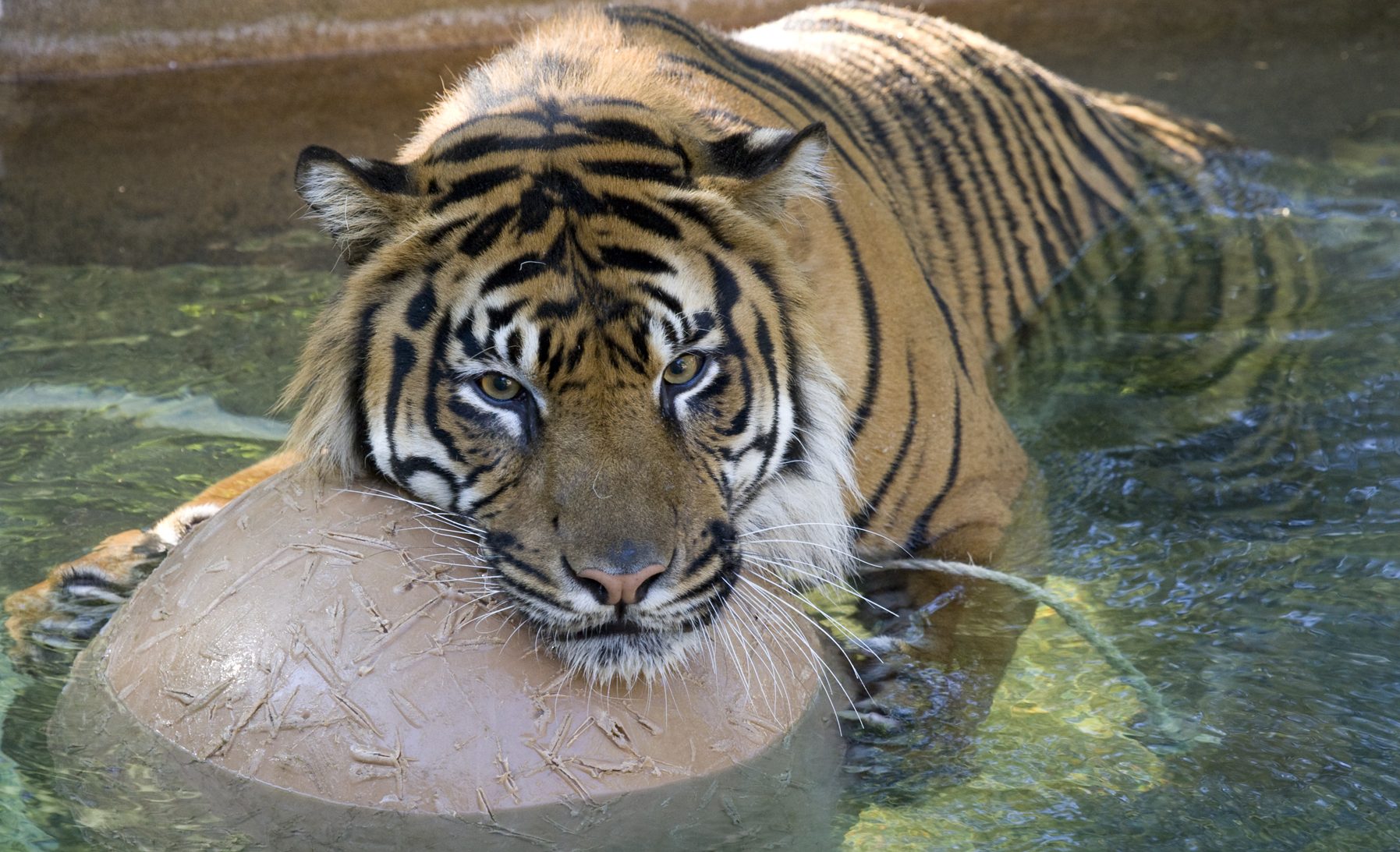 With so many different species to consider, putting the animals' needs first is key. The treat-makers keep a very close eye on the nutrient and caloric content of the treats. "We try to use foods normally in their diet, we're trying not to give too many calories, but still make it fun and special," says Lori Smith, assistant curator of nutrition. "I think the grossest one I've done was a frozen treat for the crocodiles to celebrate the Olympics. There were whole rats frozen into a form and I had to drill into it—it was pretty gross," Cannon recalls.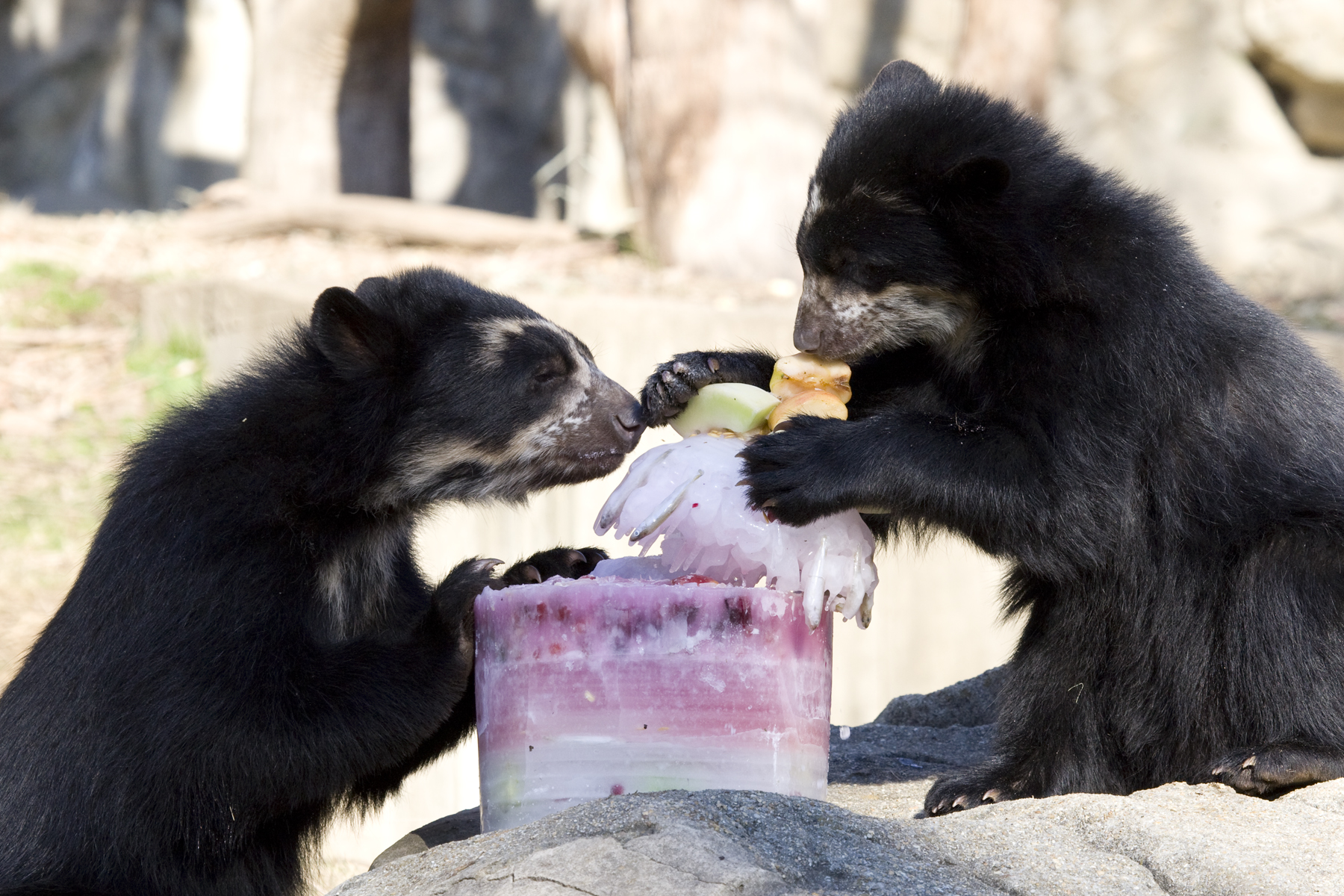 Flexibility and creativity are the name of the game, as not all of the ice treats are for an occasion. Sometimes Zoo staff just need a giant block of ice for the animals to play with. Not every creation is a hit. "Bao Bao's going away cake [before the giant panda departed for China], she played with it a little, but then rejected it," Smith says. "We've found that presenting a cool new cake can sometimes backfire. Animals have evolved to be cautious around new or novel things, so sometimes they don't appreciate our creativity." At the giant panda house, there's a freezer full of frozen sugar cane stalks and frozen beet juice ready to go. The animals may have lots of ways to beat the heat, but as Bei Bei munched on a small stalk of frozen sugar cane, his satisfied expression seemed to say frozen treats are his favorite way of cooling down.