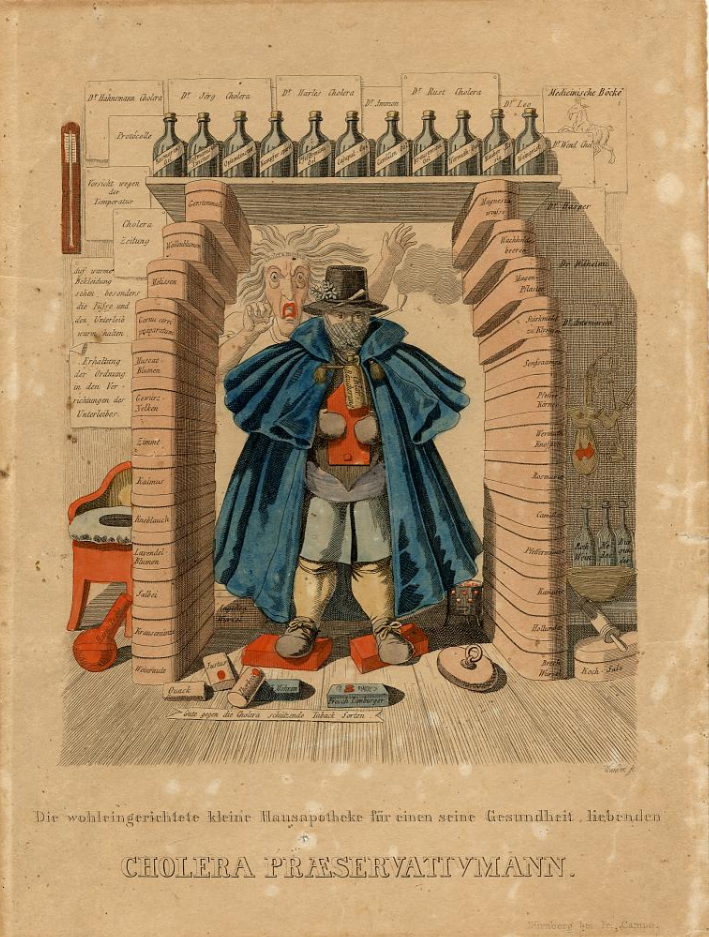 The Cholera Prevention Man
As the medical professions began to develop into a recognized science in the 18th century, the status of doctors and apothecaries was elevated. Evidence of their new standing in society can be seen in the prints and paintings in the Bristol-Myers Squibb European Apothecary collection.
The collection contains portraits of important pharmacists, physicians, chemists, and botanists. Familiar names such as Samuel Hahnemann, ChristophWilhelm Hufeland, Paracelsus, and Carl von Linné are among those depicted. The collection boasts three copies of Cholera Prafervativmann" (Cholera Prevention Man, to the right), two in black and white, and one hand colored, which emphasizes the concern accompanying the cholera epidemics that swept through Europe during the 19th century. "Der Sündenfall des XIX Jarhrhunderts", (the Fall of the XIX Century, see header) is a satirical commentary against vaccination and its acceptance by university doctors. "Officina Pharmaceutica Dietericiana" (Dieterich's Pharmacy shop), 1991.0664.61, influenced George Griffenhagen's decision to have a vaulted ceiling constructed for the new installation of the European Apothecary at the National Museum of History and Technology in 1966.
The collection features several images of interiors of apothecary shops and laboratories, and satirical cartoons commenting on popular opinion regarding the medical profession.
Many of the prints are German, with several from the Netherlands, Austria, France, and England. They range in size, type and level of detail, and they were rendered by a variety of artists. Some of the prints are elaborately decorated and, others have been hand colored, but most are black and white engravings. Three paintings in the collection, portraits of St. Jerome and, Christ the Apothecary, and an image titled "The Examination of Urine" depict popular subjects during the Renaissance.