Common glass apothecary containers for crude drugs, ointments and liquids were among the many functional products made by skilled glassblowers, who might also create windows, drinking vessels, beads, and laboratory apparatus. Glass drug jars were not considered to have great monetary value and were fragile; consequently, such jars for holding oils, tinctures, and syrups once prevalent in German apothecaries of the 18th and 19th centuries are now very rare. The Bristol-Myers Squibb European apothecary has more than three-hundred glass containers.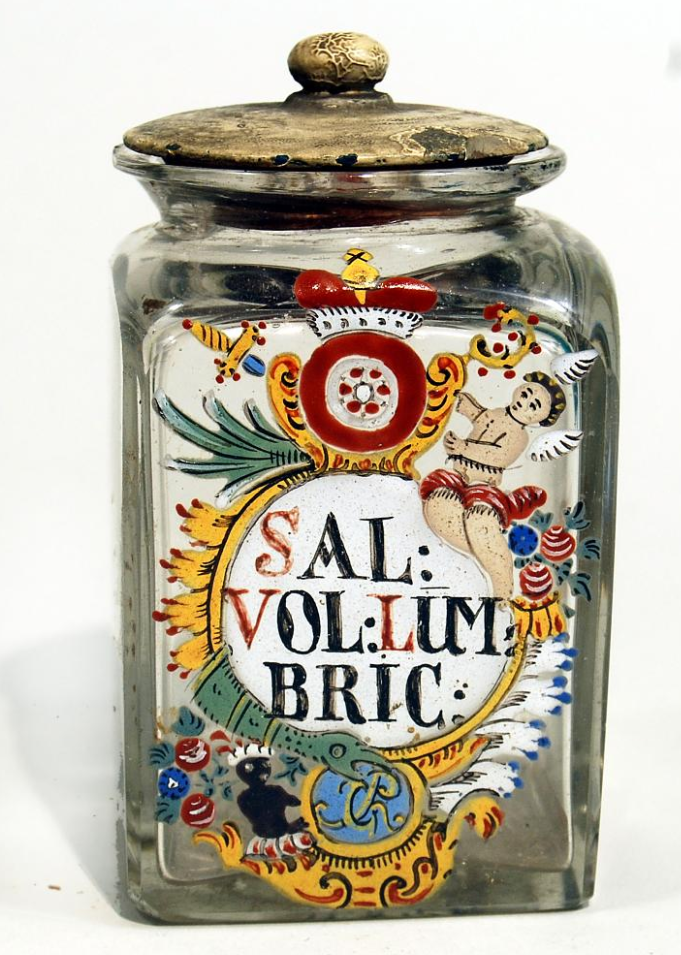 Glass Jar from the Moor Apothecary
Glass drug jars can be divided into three distinct groups. The first is composed of round or square-shaped jars with clear glass; these free-blown or mold-blown vessels are decorated with Baroque and Rococo motifs including shields, birds, festoons, ribbons, and crowns. The second includes jars such as the set of urn-shaped white or milk glass (milchglas in German) vessels meant to imitate more expensive porcelain ceramics. The third, of particular importance includes six 17th century wide- mouth blown vessels made from heavy green glass and probably used to store bulk products.
The ornamentation applied to the glass containers is of two types; baked enamel and cold-painted application. The more permanent of the two, enamel, uses pigments composed of finely ground glass that are fired to fuse the colored glass to the vessel. The simpler form of decoration is cold painting. Motifs are applied to the glass with paint and are not fired in a kiln. Once the paint dries, a thin layer of varnish is applied to prevent the paint from flaking and being scratched.
Identifying individual vessels to a particular glass house or a geographical region is very difficult. Many pieces were made by itinerant craftsmen who worked at any number of glasshouses scattered throughout the German forests. The vast concentration of glass houses were in eastern Germany stretching into present-day Czech Republic and western Poland. It is easier to determine for whom containers were made through analyzing the decorative motifs on the glass, which might include ducal crowns or a coat-of-arms. Even the animals depicted can help in determining which apothecary the jars were used. For instance, the lavishly decorated drug jars 1991.0664.0222-0224 depict a small, black figure with a white turban in the lower left corner, the symbol for the Morhan Apotheke or Moor Apothecary in Mainz, Germany.