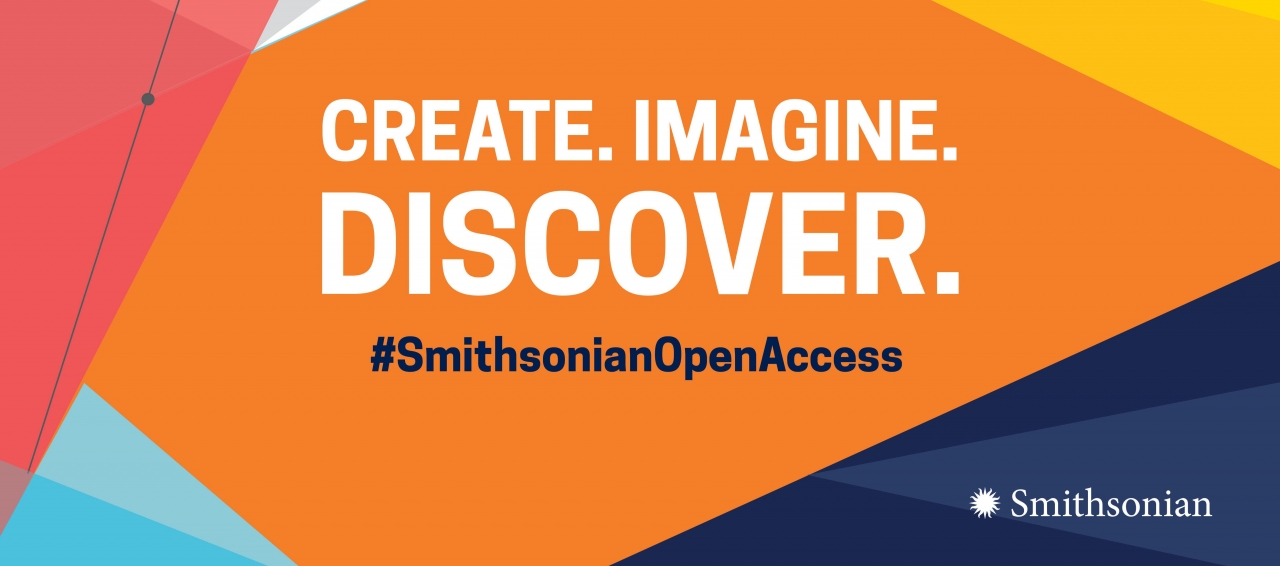 February 25, 2020
Effie Kapsalis is the Senior Digital Program Officer at the Smithsonian and led the strategy and implementation of Smithsonian Open Access​
Today we launched Smithsonian Open Access, releasing 2.8 million 2D and 3D images and 173-years of staff-created data into the public domain as Creative Commons Zero. Our goal for Smithsonian Open Access is to make the nation's collection available to people around the world for any purpose: to make discoveries, build new knowledge, and to develop new art and creative projects to help us see the world a little differently. 
Open access furthers the Smithsonian's mission which has been the same since its founding in 1846: for the "increase and diffusion of knowledge." Remarkably, the Smithsonian's founder James Smithson, an English chemist and mineralogist who died in 1829, provided some blueprints for the initiative. His biographer Heather Ewing talks about Smithson's view that the natural world could only ever be understood with many people participating in, assembling, and sharing information. Smithson used commonly found objects when conducting his experiments so others could replicate his experiments as he sought to understand everything from snake venom to ancient Egyptian pigments to improved methods for making coffee.
"It is only by exchange and mutual assistance that naturallists [sic] can possibly ever succeed in assembling together a collection of subjects of their study, which nature has made so numerous, and disseminated in such various and distant parts of the world," James Smithson
Today we launched several platforms to facilitate Smithson's vision:
We are also updating and adding to several open knowledge and biodiversity platforms such as Creative Commons, Digital Public Library of America, Internet Archive, Wikimedia Commons, Global Biodiversity Information Facility, DarwinCore and more, expanding the places in which the public can find and explore Smithsonian content.
Of the 2.8 million images, over 2,200 3D models were created by the Smithsonian's Digitization Program Office (DPO). They also published several open-source software tools designed to help the Smithsonian and the larger cultural-heritage community preserve, process, and publish 3D content.
A prototype 3D repository called Packrat
An automated processing tool called the Cook
A 3D viewing, authoring, and publishing tool called Voyager. 
This was an enormous effort by the world's largest museum, education, and research complex with 19 museums, nine research centers, libraries and archives in several disciplines, gardens, and a zoo. Over 100 staff members met every two weeks over the past year to create the specs and platforms, and I am extremely proud of the Smithsonian Open Access Values Statement that reflects our responsibilities as stewards of the nation's collections, and that will be a guiding star as we move to future phases. The values center on stewardship and trust, diversity and inclusion, and dignity and respect. And today we ask that you uphold these responsibilities of trust, inclusion, and respect for communities as you build on these resources.
It was important to inspire both our own staff and people worldwide with some early examples of what Smithsonian Open Access will stimulate. These early collaborators included artists, innovators, educators, technologists, and more and their projects inspire delight:
Amazon Web Services developed an immersive experience in AWS Sumerian with the National Museum of Asian Art's 3D model of Ewer with Birds, Snakes and Humans, an ancient Chinese bronze.

Artist Amy Karle created a sculpture series examining the possibilities of reconstructive technologies and the potential and the pitfalls of technology—enabled using a 66-million-year-old Triceratops from the Smithsonian's National Museum of Natural History. 

AstroNuts creators Jon Scieszka and Steven Weinberg (plus the spirit of the Smithsonian's founder, James Smithson) made a free book download to show anyone how to collage the Smithsonian open access collection into a... COLLAGASAURUS! 

Autodesk added Smithsonian 3D collections, including the Smithsonian Gardens' embreea orchid and the National Museum of Natural History's Triceratops skull, into Tinkercad, their free, 3D design tool for teachers, students, hobbyists, and designers.

Cesium developed a 3D-immersive experience with the Smithsonian's National Air and Space Museum's space shuttle discovery model.

The Smithsonian sponsored a Teen Songwriting Intensive with the N M Bodecker Foundation for teens who researched, wrote, and recorded songs based on primary source documents describing the Smithsonian's mission of "the increase and diffusion of knowledge." Listen here.

The Smithsonian's CC0 open collections can be accessed on Creative Commons Search, a tool that allows openly licensed and public domain works to be discovered and used by everyone.

MorphoSource hosts research-quality 3D data that now includes 3D models of biological specimens from the Smithsonian's National Museum of Natural History. 

Students at Georgetown University's Maker Hub were challenged to create new objects, designs, and experiences based on Smithsonian open access collections. 

View Smithsonian's 3D models in an open standard developed by The Khronos Group. glTF™. 

Google Arts & Culture hosts more than 80,000 open access collections from several Smithsonian museums including the Cooper Hewitt, Smithsonian Design Museum, Smithsonian National Museum of African American History and Culture, Smithsonian American Art Museum, Smithsonian National Museum of Natural History, and the National Portrait Gallery.

From February 25 through March 31, 2020, MHz Foundation's Curationist.org will showcase a series of Smithsonian features curated from content just released as CC0.

Michael Joo, Matthew Putman, and James J. Williams III present a sculptural project in three parts. This mixed-media collaborative art installation highlights the possibilities of fusing cultural collections and conceptual interpretation, layering both materials and meaning.

The Smithsonian's 3D content is now available on Sketchfab, a platform for 3D artists, designers, and game developers who can import models directly into their favorite 3D software.

Wikimedia DC demonstrated open access collections in "Knowledge Graph," a visualization that shows the connections between the Smithsonian collections and the global sum of human knowledge.
The scale of the Smithsonian data set would not have been possible without the work of the DPO's mass-digitization team and catalogers across the Institution. The "mass digi" team has completed 27 projects in just over five years across at least a dozen Smithsonian museums resulting in 4 million digitized objects and specimens.
I can't wait to see what inspires you. Please share to #SmithsonianOpenAccess.
Credits
There were several important advisors who gave critical input: Brendan Ciecko, Cuseum; Sina Bahram, Prime Access Consulting; Cable Green, Creative Commons; Evelin Heidel, Creative Commons; Andrew Lih, Digimentors; George Oates, Good, Form & Spectacle; Diane Peters, Creative Commons; Neal Stimler, Balboa Park Online Collaborative; Alex Stinson, Wikimedia Foundation; Simon Tanner, King's College London; Corey Timpson, Ben Vershbow, Wikimedia Foundation; Andrea Wallace, University of Exeter; and Michael Weinberg, Engelberg Center on Innovation Law and Policy. 
I want to especially thank Smithsonian "Team Open Access"; Brian Alpert, Erin Blasco, Lindsey Burkholder, Brigid Ferraro, Alise Fisher, Danielle Fisher, Andrew Gunther, Laura Hambleton, Carol LeBlanc, Isabel Meyer, Scott Miller, Darren Milligan, Ed Monk, Jaap Otte, Ha Pham, Vicki Portway, Vince Rossi, Jess Sadeq, Dana Small, Jeffrey Smith, Rebecca Snyder, Eryn Starun, and Diane Zorich. We couldn't have made it without our unstoppable and cheerful Open Access Coordinator, Ryan King. Thank you to John Davis, Interim Director of the Cooper Hewitt National Design Museum, for your leadership and tremendous support throughout the entire project. Thanks to CIO Deron Burba and Smithsonian Enterprises CEO Carol LeBlanc for their guidance and partnership. Much gratitude to the Provost Office admin team, Shelly Cole and Carol Youmans, for their patience and support.