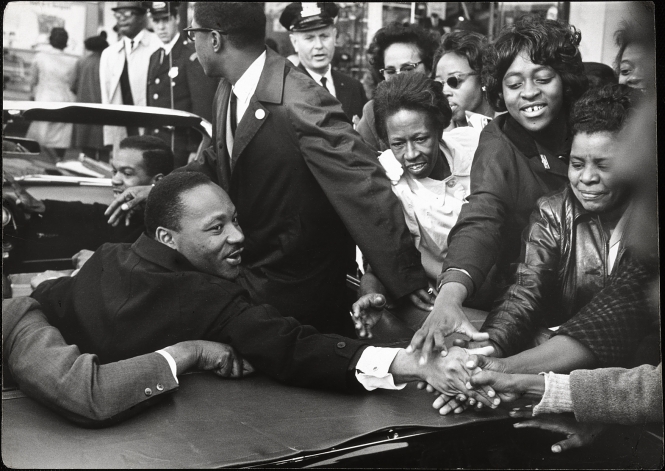 An American Civil Rights Icon Greets His Supporters
This photograph shows Martin Luther King Jr. (1929–1968) greeting supporters in Baltimore after he won the Nobel Peace Prize in 1964.
Under King's leadership, nonviolent protest became the defining feature of the modern civil rights movement in America. King first demonstrated the efficacy of passive resistance in 1955–56 while helping to lead the prolonged bus boycott in Montgomery, Ala., that succeeded in dismantling bus segregation laws.
Fresh from the victory that brought him national recognition, King cofounded the Southern Christian Leadership Conference and took the lead in directing its civil rights initiatives. In a carefully orchestrated campaign of peaceful protest to expose and defeat racial injustice, King awakened the nation's conscience and galvanized support for the landmark civil rights legislation of the 1960s.
Honored with the Nobel Peace Prize in 1964, he took a public stand against American involvement in the Vietnam War and also became a vocal advocate for those living in poverty. King's words were as powerful as his deeds, and his moving and eloquent addresses, which gave hope to millions, continue to inspire people throughout the world.