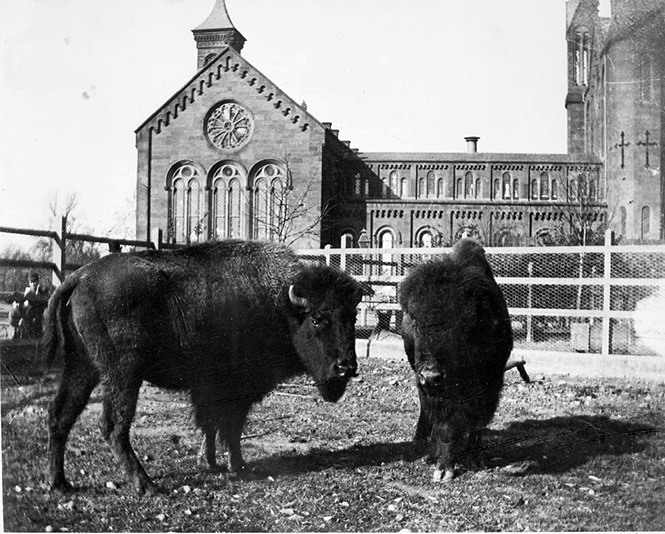 American Bison at the Castle, 1887 – 1889
On Aug. 10, 1846, by a vote of 26 to 13, the U.S. Senate passed the act organizing the Smithsonian Institution, which was signed into law by President James K. Polk. Among its provisions, the Organic Act specifies: a Board of Regents, Chancellor and Secretary; a suitable building with rooms for the reception and arrangement of objects of natural history, a chemical laboratory, a library, a gallery of art and lecture rooms; the transfer to the Institution of all objects of art, natural history, etc., belonging to the United States in Washington; and the deposit in the Smithsonian of one copy of all publications copyrighted under the acts of Congress.
To celebrate the Smithsonian's 165th anniversary, we share with you this historic Smithsonian photograph. It shows two American bison, also known as the American buffalo, in a paddock in the South Yard behind the Smithsonian Institution Building, now known as the Smithsonian Castle. In 1887, the animals were acquired by the Department of Living Animals, which became the National Zoological Park in 1890. This photograph was taken between 1887 and 1889.