ZooLights Returns Nov. 24 to Smithsonian's National Zoo and Conservation Biology Institute
Open Select Evenings Nov. 24 Through Dec. 30; Paid Tickets Required
October 13, 2023
News Release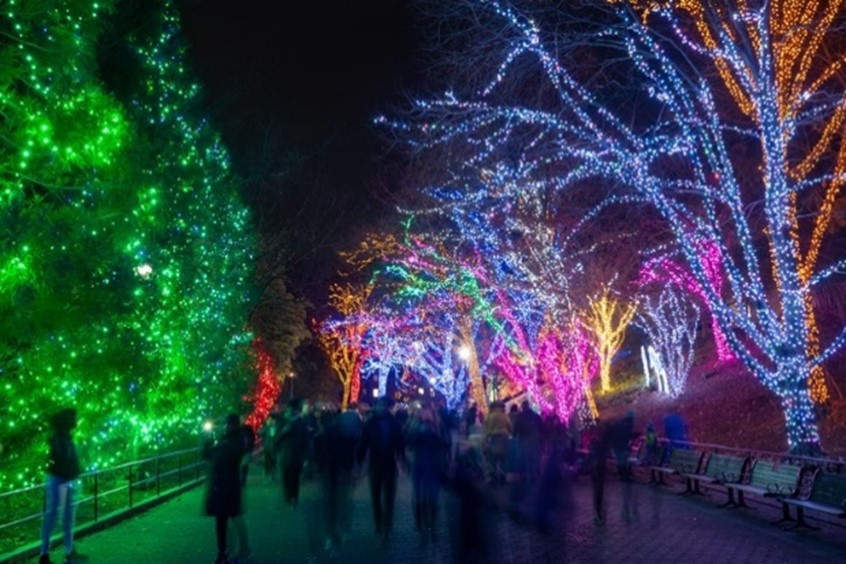 Washington, D.C.'s beloved family-friendly winter wonderland, ZooLights, returns to brighten the holiday season at the Smithsonian's National Zoo and Conservation Biology Institute. Now in its 15th year, ZooLights is brighter than ever and will run for 23 select nights—from Nov. 24–26, Nov. 30–Dec. 3, Dec. 7–10, Dec. 14–17, Dec. 21–23 and Dec. 26–30. On Thursday, Friday and Saturday nights, ZooLights will take place from 5 p.m. to 9 p.m. On Sundays, ZooLights will run from 5 p.m. to 8 p.m. ZooLights is generously brought to you by its lead sponsor, M&T Bank.
Visitors strolling through the Zoo can bask in the glow of more than half-a-million environmentally friendly LED lights. True to the unique setting of the Zoo, visitors will see 130 lanterns depicting ocean, desert, grassland, rainforest and polar habitats, and the animals that call them home. Illuminations, live musical performances, delicious treat offerings and plenty of opportunities for holiday shopping make this special event a dazzling and immersive experience for families and nature aficionados.
ZooLights tickets go on sale Thursday, Oct. 26, to Zoo members and non-members. This year, ZooLights will have a ticket price of $6 per individual. Each attendee, including children over the age of 2, will need a ticket. Paid tickets are a change from past years when this special event was free to attend. The ticket fee is needed to offset the significant increase in costs associated with running this event. Parking is available for pre-purchase online at $30 per vehicle. ZooLights is an extremely popular event with Washington-area families. Due to limited capacity, visitors are encouraged to plan ahead and purchase tickets and parking passes early. Any proceeds from tickets, concessions and parking sales benefit animal care and conservation science at the Smithsonian's National Zoo and Conservation Biology Institute.
On general-admission nights, all indoor animal exhibits will be closed to allow animals to get a full night's rest. Daytime visitors who would like to view the Zoo's animals can obtain a free entry pass and/or paid parking pass on the Zoo's website. Per normal operating hours, the Zoo will close at 4 p.m. to all visitors. It will reopen at 5 p.m. for visitors with ZooLights tickets and parking passes.
Visitors can get further into the holiday spirit with live music performances by local artists and school groups. The Speedwell Foundation Conservation Carousel is the only paid ticketed attraction open at ZooLights pending weather (it will close if the outside temperature is below 35 degrees Fahrenheit). Visitors may purchase tickets on site at the carousel's entrance for $4. During this special event, visitors can warm up indoors while shopping for holiday gifts inside the Visitor Center, Panda Plaza and Great Cats stores or while dining at Elevation Burger at the Mane Grill.
Special winter treats, including s'mores, popcorn, kettle corn, holiday cookies, soft pretzels and seasonal gelato, will be available for purchase. Hungry visitors can dine outdoors at Sbarro or enjoy ZooLights specials at Bootheel BBQ, including brisket chili, gumbo and jambalaya. Children can stay warm by sipping hot chocolate or spiced cider while adults enjoy holiday beverages, including a cinnamon vanilla bean latte, warm bourbon-spiked cider, a hot cocoa cocktail at Vintage Views and mulled wine at Elevation Burger.
Smithsonian National Zoo members can reserve up to six free entry passes and one free parking pass for three exclusive Member Nights—Nov. 30, Dec. 7 and Dec. 14—from 5 p.m. to 9 p.m. Member Nights include special after-hours access to popular Zoo exhibits, including the Small Mammal House, Elephant Community Center and Reptile Discovery Center. During any night of ZooLights, members can use their standard 15% discount on in-park food and retail during any night of ZooLights when they present their membership card and photo ID at checkout. Due to limited capacity, advanced reservations for Member Nights are required.
ZooLights will be held rain or shine. Only guests with a parking pass will be permitted to enter the Zoo's Connecticut Avenue entrance with their vehicle. Guests using ride-share vehicles will be dropped off and picked up at the designated ride-share zones near the Connecticut Avenue and Harvard Street entrances. Zoo staff will scan tickets at both the Connecticut Avenue entrance and the lower entrance near the Kids' Farm. Metro Bus (L1 and L2) and Metro Rail (Woodley Park-Zoo and Cleveland Park) have stops within walking distance of the Zoo's main pedestrian entrance on Connecticut Avenue. For more information, visit the Zoo's website.
# # #
SI-307-2023