Yoko Ono's "Wish Tree" Opens at Hirshhorn
Visitors Are Invited to Tie Wishes to the Tree Through Labor Day
July 3, 2015
News Release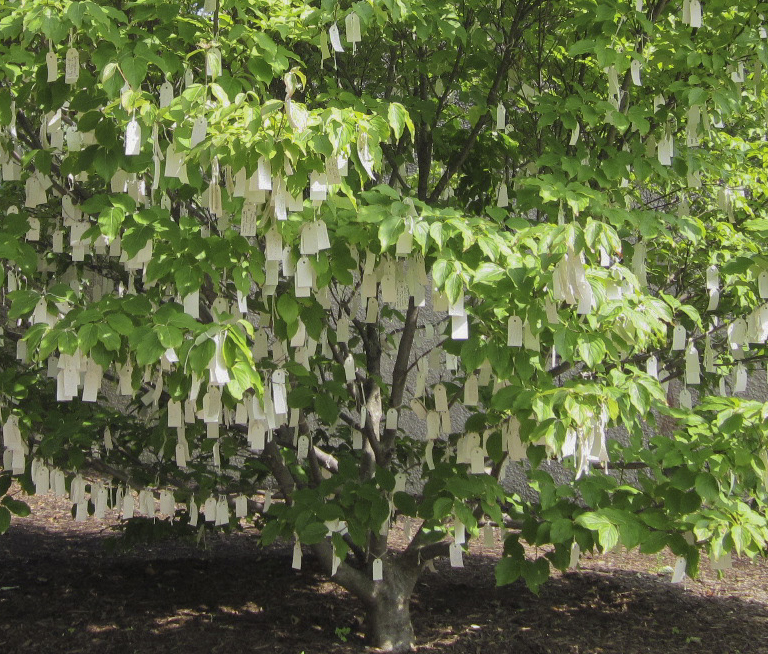 Yoko Ono's participatory artwork "Wish Tree for Washington, DC" (2007) is open for the summer. For most of the year, visitors are invited to whisper their wishes to the tree, a white flowering dogwood in the collection of the Smithsonian's Hirshhorn Museum and Sculpture Garden. But during the summer, from now through Labor Day, they may write their wishes on paper tags and tie them to the tree's branches.
"Yoko Ono's artwork is a perennial favorite of Hirshhorn visitors," said Melissa Chiu, the museum's director. "People from throughout the region and around the world come to the sculpture garden to give their wishes to the tree. The wishes are whatever our visitors want them to be, serious or lighthearted, trivial or profound. Many people wish for peace."
"As a child in Japan, I used to go to a temple and write out a wish on a piece of thin paper and tie it around the branch of a tree," Ono has written. "Trees in temple courtyards were always filled with people's wish knots, which looked like white flowers blossoming from afar."
Several times a week, Hirshhorn staffers remove the hundreds of wishes from the tree and box them for shipment to the artist. Eventually they will be housed at the site of Ono's "IMAGINE PEACE TOWER" in Reykjavik, Iceland. More than a million wishes from various trees around the world have been collected so far.
"Wish Tree for Washington, DC" has been in the Hirshhorn's collection since it was donated by the artist in 2007. The museum also owns another site-specific work by the artist, "Sky TV for Washington" (1966/2014), which continuously displays a closed-circuit image of the sky outside the museum and is now on view in "At the Hub of Things: New Views of the Collection."
For more information about Ono, visit hirshhorn.si.edu/collection/yoko-ono/.
# # #