"Whistler's Neighborhood: Impressions of a Changing London" Reveals a City in Transition
Freer Gallery of Art's Rarely Seen Works Bring a Neighborhood to Life
September 4, 2012
News Release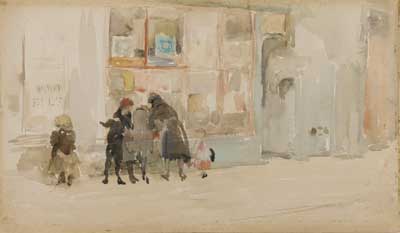 "Whistler's Neighborhood: Impressions of a Changing London," opening at the Smithsonian's Freer Gallery of Art Sept. 7, features the artist's street-side views of Chelsea in the 1880s, a time when many Londoners feared that modernization was erasing the city's distinctive character. A true artist's artist, James McNeill Whistler (1834–1903) was largely indifferent to social and economic realities. However, the humble shop fronts, shadowy doorways and scurrying figures he portrayed tell a story of physical, architectural and demographic change. Taken collectively, the 18 etchings, small oils and watercolors, many on view for the first time, form a panoramic time capsule of a city in transition.
During the last decades of the 19th century, Chelsea was rapidly changing from a bohemian artists' colony to the affluent address it is today. A profusion of public works projects in the Victorian age improved sanitation and river traffic, but also altered the look and makeup of many London neighborhoods. Mansion blocks with river views attracted a new class of upwardly mobile professionals, forcing the poor into cramped quarters or displacing them altogether. Whistler's representations of this disappearing daily life were charmingly nostalgic, even bittersweet, for viewers of that period who romanticized the area.
An American expatriate, Whistler lived in Chelsea for much of his life and saw its transformation firsthand. To create the intimate images of "Whistler's Neighborhood," the artist prowled the streets of Chelsea, carrying copper plates in his pockets to create quick etchings, focusing his attention on fish mongers, rag shops, greengrocers and street urchins.
"Whistler was a keen observer of life in his neighborhood," said exhibition curator Maya Foo. "The etchings in this exhibition require close study, revealing a wealth of detail the longer one looks at them."
In addition to providing a glimpse of the past, the show resonates with contemporary and local concerns. London's 19th-century modernization mirrors changes taking place in many cities today, including Washington.
"The ongoing redevelopment of neighborhoods like D.C.'s Southwest Waterfront mirrors the gentrification of Chelsea more than a century ago, including the displacement of traditional residents and the changing of a neighborhood's historic character," said Foo.
Viewers can draw their own parallels between the exhibition and Washington's neighborhoods during a walking tour organized by Cultural Tourism DC that begins at the Freer and continues through the Southwest Waterfront Sunday, Sept. 30, at 1 p.m. Foo will also be giving a lunchtime drop-in tour Tuesday, Nov. 13, at 12:15 pm.
The exhibition will be on view through September 2013.
The Freer Gallery of Art, located at 12th Street and Independence Avenue S.W. and the Arthur M. Sackler Gallery, located at 1050 Independence Avenue S.W., together house the nation's collection of Asian art on the National Mall in Washington, D.C. Hours are from 10 a.m. to 5:30 p.m. every day except Dec. 25, and admission is free. The galleries are located near the Smithsonian Metrorail station on the Blue and Orange lines. For more information, the public may call (202) 633-1000 or visit www.asia.si.edu.
# # #
SI-389-2012