"Vantage Point: The Contemporary Native Art Collection" Opens Sept. 25 at the Smithsonian's National Museum of the American Indian
September 16, 2010
News Release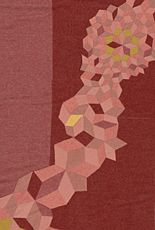 A major new exhibition highlights the museum's young but rich collection of contemporary Native American art. "Vantage Point" features significant works by 25 established and emerging artists from across the United States and Canada and from Colombia, in media ranging from paintings, drawings, photography and sculpture to video projection and mixed-media installation. These provocative, insightful and moving works explore memory, history, the significance of place for Native communities and the continuing relevance of cultural traditions. The exhibition comes on the heels of the critically acclaimed "Brian Jungen: Strange Comfort." It will remain on view through Aug. 7, 2011.
"Many people are still surprised to find Native American artists working in contemporary media and addressing very contemporary issues," said Kevin Gover (Pawnee), director of the museum.
"The artists in this exhibition challenge notions of Native American art and confront people's perspectives on history, culture and current events."
"The exhibition demonstrates the great range of smart, challenging and moving work that is being done by Native artists today," said Rebecca Head Trautmann, curator of the exhibition. Trautmann has served as the museum's curatorial researcher working with the modern and contemporary art collection and exhibitions since 2003. She is an art historian who did her graduate work at the University of New Mexico, with a focus on modern and contemporary Native American art.
"Vantage Point" is organized around four broad themes—Personal Memory and Identity;
History and the Contemporary Urban Experience; Cultural Memory and Persistence; and Landscape and Place—which serve to introduce visitors to some of the key and frequently overlapping issues the works examine.
Exhibition Highlights
Brooklyn-based artist Marie Watt (Seneca) repurposes secondhand wool blankets, worn with use and stretched out of shape, to create works that investigate personal and collective memory and oral- and visual-art traditions. Her large wall piece "In the Garden (Corn, Beans, Squash)" is one of the signature works of the exhibition. Watt's work has been exhibited widely, including at The Fabric Workshop and Museum in Philadelphia (2009), Portland Art Museum (2008), Seattle Art Museum (2007), The Aldrich Contemporary Art Museum (2006), and apexart in New York (2005).
Kent Monkman (Cree) employs his flamboyant alter ego Miss Chief, dressed in platform shoes, floor-length loincloth and elaborate feather headdress, as he subverts official histories of Manifest Destiny and Noble Savages. "The Emergence of a Legend," a series of faux-antique photographs depicting Miss Chief in various guises, confronts the history of Indians performing for non-Indians. Monkman's works have been shown in solo exhibitions at the Montreal Museum of Fine Art (2009) and the Museum of Contemporary Canadian Art in Toronto (2007), and his short film and video works have been screened at the 2007 and 2008 Berlinale and the 2007 Toronto International Film Festival. Monkman lives in Toronto.
Kay WalkingStick's (Cherokee) landmark "Chief Joseph" series is an elegy for the Nez Perce chief and his followers who resisted forced removal from their homeland to a distant reservation. Of the 36 acrylic-, wax- and ink-on-canvas panels in the series, 27 are in the museum's permanent collection and included in the exhibition. Her work has been collected by the Metropolitan Museum of Art, National Museum of Canada, Heard Museum, Israel Museum, San Diego Museum of Art and Gilcrease Museum among other institutions. WalkingStick currently lives in Queens.
In his mixed-media installation works, Alan Michelson (Mohawk) addresses North American history, geography and identity. "Mespat," a video piece projected on a screen of white turkey feathers, recalls the displaced Lenape people who once lived along the banks of the now heavily polluted Newtown Creek in New York City. Michelson has exhibited nationally and internationally at the Tang Museum (2009), Oi Futuro Cultural Center in Rio de Janeiro (2007), National Gallery of Canada (2006), New Museum (1998, 1993) and Whitney Museum of American Art (1991). Michelson teaches at the Rhode Island School of Design.
Truman Lowe's (Ho-Chunk) elegant sculptures of stripped willow branches reflect on the Wisconsin woodland environment of his childhood and Ho-Chunk oral and cultural traditions. In "Wah-Du-Sheh (Bundle)," the artist employs the form of the medicine bundle as a metaphor for the care with which people protect the things they hold dear. Lowe's work has been shown at the Banff Centre's Walter Phillips Gallery (2004), the Portland Art Museum (2002), the Eiteljorg Museum (1999), the White House's "Twentieth Century American Sculpture" exhibition (1997) and the Minneapolis Institute of Arts (1996). Lowe is Professor Emeritus at the University of Wisconsin–Madison.
Painting in an abstract style allows Mario Martinez (Pascua Yaqui) to express Yaqui cultural traditions and spirituality without explicitly revealing them. His monumental painting "Brooklyn" incorporates these elements and what Martinez considers "essential" forms found in nature, as well as references to the graffiti and urban landscape of his current home. Martinez's work has been shown at the Chelsea Art Museum (2010), Abrazo Interno Gallery in New York (2009), Heard Museum (2005), the Saitama Museum of Modern Art in Saitama, Japan (2002) and the Denver Art Museum (1995). After an early art career in San Francisco, Martinez is now based in New York.
[Video of Mario Martinez's work here]
The exhibition will be accompanied over its 10-month run by a full schedule of artist programs, beginning with a Sewing Circle program with Watt on Sept. 25, artist-led gallery talks and a hands-on workshop with Lowe Sept. 26 and continuing with film screenings, gallery talks, printmaking and drawing workshops, and performance works by James Luna (Puyukitchum [Luiseño]) and Monkman.
Artists
The artists featured in the exhibition include: Margarete Bagshaw (Santa Clara Pueblo), Rick Bartow (Wiyot), Joane Cardinal-Schubert (Blackfoot [Blood]), Lorenzo Clayton (Navajo), Rosalie Favell (Cree/Métis), Joe Feddersen (Colville Confederated Tribes [Okanagan/Lakes]), Jeffrey Gibson (Mississippi Band Choctaw/Cherokee), Carlos Jacanamijoy (Inga), James Lavadour (Walla Walla), Truman Lowe (Ho-Chunk), Judith Lowry (Hammawi Band Pit River/Mountain Maidu/Washo/Scottish-Irish/Australian), James Luna (Puyukitchum [Luiseño]), Mario Martinez (Pascua Yaqui), Alan Michelson (Mohawk), Douglas Miles (San Carlos Apache/Akimel O'odham), Kent Monkman (Cree), Nadia Myre (Algonquin), Nora Naranjo-Morse (Santa Clara Pueblo), Catherine Nelson-Rodriguez (Luiseño/Wailaki/Choctaw), Shelley Niro (Bay of Quinte Mohawk), Kay WalkingStick (Cherokee), Star Wallowing Bull (Minnesota White Earth Band of Chippewa), Marie Watt (Seneca), Emmi Whitehorse (Navajo) and Will Wilson (Diné).
About the Museum
The Smithsonian's National Museum of the American Indian has been exhibiting modern and contemporary Native art since the opening of the George Gustav Heye Center in Lower Manhattan in 1994. The museum has also has showcased the work of Native American artists in its main museum in Washington, D.C., including "Native Modernism: The Art of George Morrison and Allan Houser" (2004), "Fritz Scholder: Indian/Not Indian" (2008) and "Brian Jungen: Strange Comfort" (2009).
# # #
SI-402-2010
---
Full press kit here