U.S. Tour of "Above and Beyond" Launches at National Air and Space Museum
New Interactive Exhibition Encourages Visitors to "Come Play"
July 30, 2015
News Release
Addthis Share Tools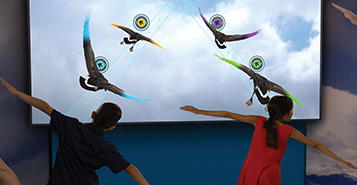 "Above and Beyond: The Ultimate Interactive Flight Exhibition" opens at the Smithsonian's National Air and Space Museum in Washington, D.C., Aug. 1. The exhibition celebrates aerospace technology and explores its future through interactive, hands-on activities. This is the beginning of the exhibition's U.S. tour. It will be on view at the museum until Jan. 3, 2016.
The exhibition's 20 dynamic displays and immersive experiences focus on five key themes that define flight and space travel; they are represented in five immersive "galleries": Up, Faster, Higher, Farther and Smarter. Designed for visitors of all ages, but especially ages 7–14, the exhibit features a multitouch timeline, an immersive video experience and interactive simulations and design activities. Through these simulations, visitors will be able to equip and launch a drone, design and test-fly a supersonic jet, experience flight as a bird and ride in a space elevator.
"Above and Beyond" is one of the most interactive exhibitions the museum has hosted. Visitors' reactions to the displays will help inform the development of future museum exhibitions.
The exhibition is produced by Evergreen Exhibitions and is presented by Boeing. It will travel to several U.S. cities and international locations. For more information on the world tour and the exhibition overall, visit aboveandbeyondexhibition.com.
To coincide with the exhibition opening, a family day, "Milestones in Aviation and Space: Making the World Smaller and the Universe Larger," will take place at the museum Aug. 8. It will celebrate some of the amazing accomplishments in aviation and aerospace, from jets making Hawaii a more accessible destination to the Crew Space Transportation (CST)-100 taking astronauts into space. Activities will include a talk by a NASA astronaut about the CST-100 and future space exploration, a performance by the Hawai'i State Society of Washington, D.C., storytimes and hands-on-activities such as building a "jetpack" and designing a mission patch.
For more details about "Milestones in Aviation and Space," click here.
The National Air and Space Museum building on the National Mall in Washington, D.C., is located at Sixth Street and Independence Avenue S.W. The museum's Steven F. Udvar-Hazy Center is located in Chantilly, Va., near Washington Dulles International Airport. Attendance at both buildings combined exceeded 8 million in 2014, making it the most visited museum in America. The museum's research, collections, exhibitions and programs focus on aeronautical history, space history and planetary studies. Both buildings are open from 10 a.m. until 5:30 p.m. every day (closed Dec. 25).
# # #
SI-361-2015