Tony Hawk and Rodney Mullen Skate into Smithsonian Collections
Lemelson Center for the Study of Invention and Innovation Celebrates Innovation and Creativity in Skateboarding at Innoskate Event
June 21, 2013
News Release
Addthis Share Tools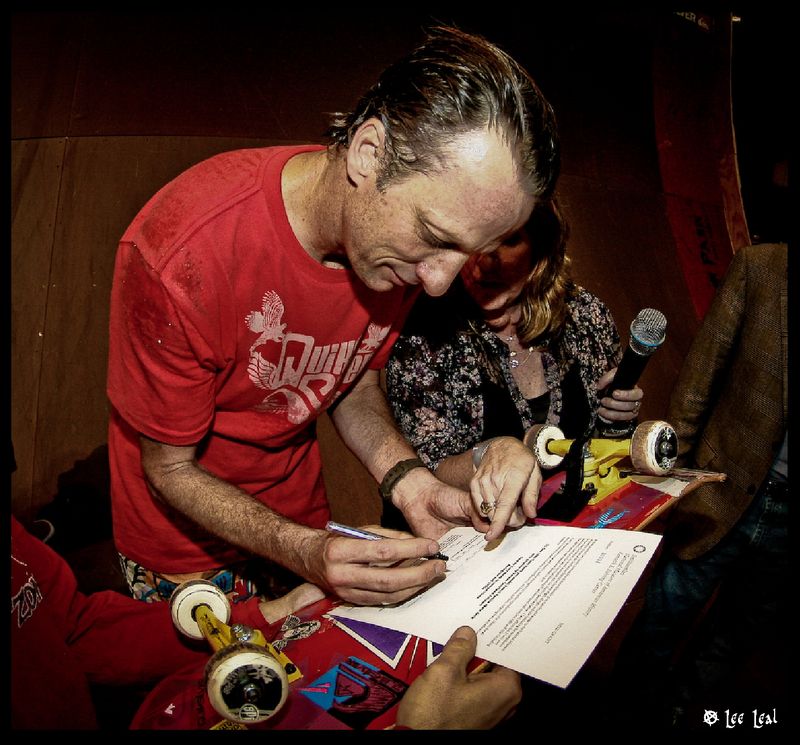 The skateboarding collection at the Smithsonian's National Museum of American History will more than double in size during a special ceremony June 22 in which Tony Hawk, Rodney Mullen and other leading skateboarding figures will donate artifacts from their careers. The donation ceremony kicks off "Innoskate," an event presented by the Smithsonian's Lemelson Center with the International Association of Skateboard Companies.
"Innoskate" will take place on and around a skate ramp installed on the museum's plaza, facing the National Mall and with the Washington Monument as a backdrop. Discussions and skateboarding demonstrations will explore innovations in skateboarding and equipment technology, such as wheels and trucks; the influence of skate clothing and footwear on mainstream fashion and culture; and the continuous innovation in tricks, both in the street and on ramps. Skaters and industry representatives will discuss how innovation will shape the future of skateboarding and pro and invited skaters will take to the ramp to show off their tricks. For a schedule of events, visit http://innoskate2013.tumblr.com.
Hawk will donate his first skateboard, given to him by his brother, Steve, in 1977. A 1975 Bahne skateboard used by Steve before he gave it to his brother, the fiberglass deck is set up with Chicago roller-skate trucks that were attached to steel base plates for use on skateboards. Steve modified the board with 3/8-inch plywood "risers" to raise the deck further from the trucks and provide greater clearance for the urethane Stoker loose-ball-bearing wheels. This first board joins a 1986 Tony Hawk pro-model Powell-Peralta deck ridden in competition by Hawk in the mid-1980s and acquired by the museum in 2011.
Other objects that will be donated during "Innoskate" include the board Mullen rode at the Smithsonian during a 2012 interview on creativity and innovation in skateboarding; Patti McGee's Hobie Super Surfer board from 1965; skate apparel worn by Cindy Whitehead in competition and a prototype of and original artwork for her latest pro-model board; the skateboard Jack Smith used to ride across the country in 1976; Bruce Logan, Robin Logan and Laura Thornhill Logan Earth Ski pro-model skateboards (1976-1977); a set of master keys to Skatepark of Tampa, a significant cultural and physical hub for skateboarders, from 1994; a skate deck and apparel used by Mimi Knoop during X Games appearances; and Schmitt Stix, rails that allowed boards to better slide on coping, invented by Paul Schmitt.
Downhill skateboarding is represented by donations of a Fly Away skate helmet worn by Judi Oyama in the 1980s and the board and helmet used by George Orton when he set the world speed record on a skateboard in 1996. Archival materials being donated include a complete set of the "National Skateboard Review," a chronicle of skate activity in the late 1970s run by Di Dootson; early editions of TransWorld SKATEboarding magazine; and newspaper articles.       
"Skateboarding is surrounded by a culture of inventive creativity and imagination," said Jeffrey Brodie, deputy director of the Lemelson Center and "Innoskate" coordinator. "Skateboarders are similar to inventors in viewing the world from a unique perspective—what it has the potential to be. 'Innoskate' is a deep look into an American invention that has become a global phenomenon."
The International Association of Skateboard Companies is the member-owned not-for-profit trade association of skateboarding. IASC's goals are to promote skateboarding, increase participation, educate and save their members money. For more information, visit http://theiasc.org.
The Lemelson Center has led the study of invention and innovation at the Smithsonian since 1995. The center's activities advance scholarship on the history of invention, share stories about inventors and their work and nurture creativity in young people. The center is supported by The Lemelson Foundation and located in the National Museum of American History. For more information, visit http://invention.smithsonian.org.
The National Museum of American History is currently renovating its west exhibition wing, developing galleries on business, democracy and culture. For more information, visit http://americanhistory.si.edu. The museum is located at 14th Street and Constitution Avenue N.W., and is open daily in the summer from 10 a.m. to 7:30 p.m. (exceptions apply). Admission is free.
# # #
SI-251-2013