Sweet Home Café Opens at Museum Sept. 24
Celebrity Chef Carla Hall Serves As Culinary Ambassador
September 14, 2016
News Release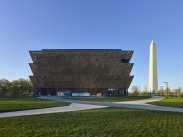 Sweet Home Café, set to open Sept. 24 in the National Museum of African American History and Culture, is the newest dining experience at a Smithsonian museum. The café showcases the rich culture and history of the African American people with traditionally authentic offerings as well as modern-day-inspired foods. A joint venture for the Smithsonian between Thompson Hospitality and Restaurant Associates, the café will use produce from local growers when seasonally available, along with other sustainable sources, and prioritize using products from African American-owned businesses, producers and growers.
Culinary Ambassador
Chef Carla Hall, co-host of ABC's The Chew, serves as the culinary ambassador for Sweet Home Café. A previous competitor on Bravo's Top Chef and graduate of L'Academie de Cuisine in Maryland, Hall has published several cookbooks and opened her first restaurant—Carla Hall's Southern Kitchen—in Brooklyn in June 2016.
"One of the best ways to get to know a culture is through its food," Hall said. "The National Museum of African American History and Culture will allow visitors to experience the history of African American people by showcasing the important role food plays in our lives."
Executive Chef
Chef Jerome Grant serves as the executive chef of Sweet Home Café. A native of Prince George's County, Md., and graduate of the Pennsylvania Culinary Institute in Pittsburgh, Grant began his culinary career working with his mother at Andrews Air Force Base Officer's Club. His skills were further sharpened in the Virgin Islands where he was awarded "Best New Chef in St. Croix." Since 2012, Grant has been the executive chef of the Mitsitam Café at the Smithsonian's National Museum of the American Indian, which won the 2012 RAMMY Award for Best Casual Restaurant.
"Each of the four regional stations in Sweet Home Café demonstrate the migration of African American people and culture through foodways," Grant said. "While the café will showcase the very best versions of classic dishes, guests will also be surprised by new choices."
Four Regional Stations
Each of the Sweet Home Café stations—Agricultural South, Creole Coast, North States and Western Range—tells a story of the history of that region through specific food offerings. Guests can watch as the food is prepared, providing a full sensory experience and culinary engagement for each visitor.
Agricultural South: The South has always been the country's bread basket. Products such as corn, stoneground grits, Virginia ham, pecans and peaches have become staples of the American diet. Sample menu items include "Our Version" Buttermilk Fried Chicken with black pepper cornmeal waffles, sorghum syrup and farmhouse butter, and Original Brunswick Stew with braised chicken and rabbit, corn, tomatoes and lima beans.
Creole Coast: The cuisine of the Creole Coast is world renowned for its unique flavors and ingredients, its laborious cooking techniques and its blending of West African, Native American, French, Portuguese, Spanish and Acadian cultures. Sample menu items at this station include Gulf Shrimp & Anson Mills Stone Ground Grits with smoked tomato butter, caramelized leeks and crispy Tasso, and Pan-fried Louisiana Catfish Po'boy with smoked red pepper rémoulade and green bean pickles.
North States: Both freed people and those who had escaped the chains of slavery found refuge and opportunity in the North. The offerings at this station will include northern indigenous products along with flavors and techniques that people brought with them upon their migration. Sample menu items include "Smoking Hot" Caribbean-style Pepper Pot and Thomas Downing-inspired New York City Oyster Pan Roast.
Western Range: After the Civil War, many African Americans sought new opportunities in the West. The cuisine was strongly influenced by Native American and Mexican culture. Familiar ingredients such as corn, peaches, turkey and squash took on new flavors by the addition of chilies, wild sage and Mexican oregano. Sample menu items at this station include "Son of a Gun Stew" with braised short ribs, turnip, corn, potato, sundried tomato and barley, and Pan Roast Rainbow Trout with cornbread and mustard greens stuffing and hazelnut brown butter.
Sweet Home Café will operate from 10 a.m.–5 p.m. on days the museum is open, serving lunch between 11 a.m.–3 p.m. The café seats approximately 400 people, and entrée prices will range from $8 to $15.
About the Operators
Thompson Hospitality, based in Reston, Va., is the largest minority-owned food service company in the United States and one of the largest retail food and facilities management companies in the country. Restaurant Associates, based in New York City, is recognized as the nation's premier hospitality company, providing premium food services to museums, performing arts centers, aquariums, corporate dining and educational facilities as well as off-premise catering events. Restaurant Associates operates more than 160 prestigious locations.
# # #
SI-455-2016