"Star Trek Beyond" To Open at Smithsonian's National Air and Space Museum IMAX Theaters
Costume Display at Museum's Two Locations
July 20, 2016
News Release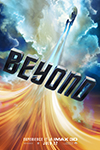 Star Trek Beyond, from Paramount Pictures, Skydance and Bad Robot, will open at the National Air and Space Museum's Lockheed Martin IMAX Theater and at the Steven F. Udvar-Hazy Center's Airbus IMAX Theater July 22, with early evening shows July 21. Both museums will also be exhibiting costumes from the film. The National Air and Space Museum will exhibit Capt. James T. Kirk's Starfleet uniform featuring the iconic Command Gold tunic with black pants and Starfleet pin. The Steven F. Udvar-Hazy Center will display Commander Spock's USS Franklin uniform and Lt. Uhura's Starfleet uniform. All three costumes were worn by the actors during the filming of Star Trek Beyond and will be on display near the theater box offices during the run of each film.
In addition to the costumes, all visitors can now enjoy the studio model of the Starship Enterprise from the original Star Trek series at the National Air and Space Museum's Milestones of Flight Hall. The exhibit is a new addition to the hall after its nearly two-year restoration.
Star Trek Beyond, the highly anticipated next installment in the globally popular Star Trek franchise, created by Gene Roddenberry and reintroduced by J.J. Abrams in 2009, returns with director Justin Lin (The Fast and the Furious franchise) at the helm of this epic voyage of the U.S.S. Enterprise and her intrepid crew. In Beyond, the Enterprise crew explores the furthest reaches of uncharted space, where they encounter a mysterious new enemy who puts them and everything the Federation stands for to the test.
Moviegoers can experience the IMAX 12-channel sound mix in the upgraded Lockheed Martin IMAX Theater and Airbus IMAX Theater; both now featuring laser digital projection and 12-channel sound systems. Star Trek Beyond will be shown in IMAX 3-D at both locations.
From Paramount Pictures and Skydance, Star Trek Beyond is a Bad Robot, Sneaky Shark, Perfect Storm Entertainment production. The film stars John Cho, Simon Pegg, Chris Pine, Zachary Quinto, Zoë Saldana, Karl Urban, Anton Yelchin and Idris Elba. Directed by Justin Lin, the third film in the franchise series is produced by J.J. Abrams, Roberto Orci, Lindsey Weber and Justin Lin; and it is executive produced by Jeffrey Chernov, David Ellison, Dana Goldberg and Tommy Harper. Based on the TV series Star Trek, created by Gene Roddenberry, the screenplay is written by Pegg and Doug Jung.
The film is rated PG-13, and tickets are now on sale and can be purchased online at www.si.edu/imax or at any of the Smithsonian IMAX box offices.
The Airbus IMAX Theater is located on the main floor of the Steven F. Udvar-Hazy Center at 14390 Air and Space Museum Parkway in Chantilly, Va., near Washington Dulles International Airport.
The Lockheed Martin Theater is located on the main floor of the National Air and Space Museum building on the National Mall in Washington, D.C., which is located at Sixth Street and Independence Avenue S.W. Attendance at both buildings combined exceeded 8 million in 2015, making it the most visited museum in America. The museum's research, collections, exhibitions and programs focus on aeronautical history, space history and planetary studies. Both buildings are open from 10 a.m. until 5:30 p.m. every day (closed Dec. 25).
About Paramount Pictures Corporation
Paramount Pictures Corporation, a global producer and distributor of filmed entertainment, is a unit of Viacom, a leading content company with prominent and respected film, television and digital entertainment brands. Paramount controls a collection of some of the most powerful brands in filmed entertainment, including Paramount Pictures, Paramount Animation, Paramount Television, Paramount Vantage, Paramount Classics, Insurge Pictures, MTV Films, and Nickelodeon Movies. PPC operations also include Paramount Home Media Distribution, Paramount Pictures International, Paramount Licensing Inc. and Paramount Studio Group.
# # #
SI-366-2016