Spacesuits That Helped Launch the American Space Program Explored in New Smithsonian Exhibition
November 10, 2010
News Release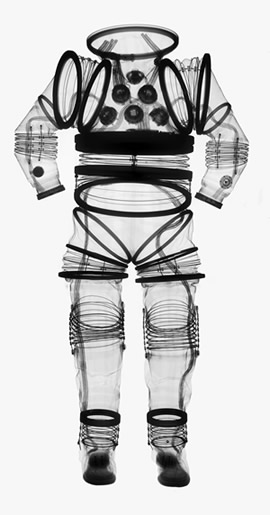 In 1961 President John F. Kennedy stated the United States would land a man on the moon and return him safely to Earth before the end of the decade. To achieve this ambitious goal, astronauts would need not only a spacecraft to launch them safely into space, but a spacesuit that would protect them as well. Without the proper clothing to keep them alive while traveling, living and working beyond the bonds of Earth, space exploration was not possible. "Suited for Space," a new exhibition from the Smithsonian Institution Traveling Exhibition (SITES) and the Smithsonian's National Air and Space Museum, explores the evolution of spacesuit development from the first quarter of the 20th century until the dawn of the shuttle era.
"Suited for Space" will premiere at the Museum of Science and Industry in Chicago March 19. It will remain on view through Sept. 25 and will continue on an 11-city national tour through 2015. The national exhibition tour of "Suited for Space" is supported by DuPont.
The exhibition features 33 life-size images of suits worn by astronauts from the Mercury program through Skylab missions as well as suits used for training. The photographs featured in "Suited for Space" were taken by Smithsonian photographer Mark Avino, in collaboration with Ronald Cunningham, who produced new X-ray images that provide a unique view of the interiors of the spacesuits. While the fragility of these spacesuits prevents them from traveling, the exhibition will feature a replica Apollo spacesuit on loan from NASA and 11 objects from the National Air and Space Museum's collection, including gloves, boots and helmets. Avino's photographs provide a visual timeline of the spacesuits' development over the years.
"Suited for Space" includes suits that made history—like the one Buzz Aldrin wore on the moon—and those that never left the ground such as the Mark V spacesuit designed for Project Mercury. The design of the Mark V suit included over-sized shoulder joints that provided an expanded level of mobility. However, with three astronauts sitting side-by-side in a capsule the size of the front seat of a small car, the suit was not feasible for the Apollo mission. A visitor to the exhibition can see an exciting visual timeline of the spacesuits' evolution over the years. In addition, the exhibition has its own Facebook page for space trivia, curatorial insight and general fun. Visit www.facebook.com/suitedforspace.      
"Suited for Space" is accompanied by a richly illustrated book, titled Spacesuits: The Smithsonian's National Air and Space Museum Collection, available through powerHouse Books.
DuPont's sponsorship reflects the company's commitment to protecting people though innovative protective apparel. DuPont is a science-based products and services company. Founded in 1802, DuPont puts science to work by creating sustainable solutions essential to a better, safer, healthier life for people everywhere.
The National Air and Space Museum building on the National Mall in Washington, D.C., is located at Sixth Street and Independence Avenue S.W. The museum's Steven F. Udvar-Hazy Center is located in Chantilly, Va., near Washington Dulles International Airport. Both facilities are open daily from 10 a.m. until 5:30 p.m. (closed Dec. 25). Admission is free, but there is a $15 fee for parking at the Udvar-Hazy Center.     
SITES has been sharing the wealth of Smithsonian collections and research programs with millions of people outside Washington, D.C., for more than 60 years. SITES connects Americans to their shared cultural heritage through a wide range of exhibitions about art, science and history, which are shown wherever people live, work and play. Exhibition descriptions and tour schedules are available at www.sites.si.edu.
# # #
SI-482-2010