Smithsonian Takes Hall of Human Origins Across the Country in New Traveling Exhibition
"Exploring Human Origins: What Does It Mean to Be Human?" Set to Arrive at 19 U.S. Public Libraries
February 12, 2015
News Release
Addthis Share Tools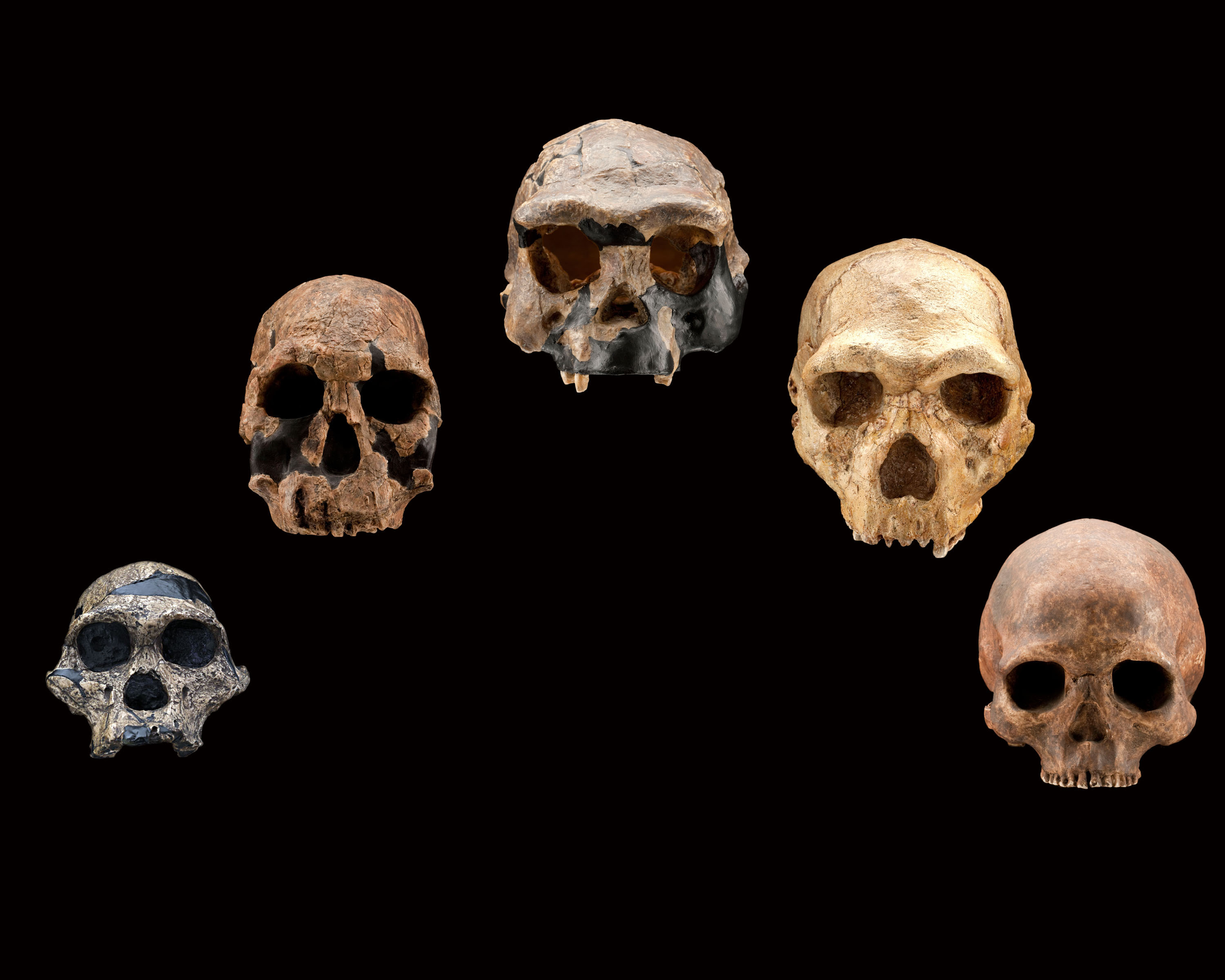 The Smithsonian and the American Library Association (ALA) have developed a new traveling exhibition on human evolution based on the iconic "David H. Koch Hall of Human Origins" at the National Museum of Natural History in Washington, D.C. "Exploring Human Origins: What Does It Mean to Be Human?" will appear at 19 public libraries across the country between April 2015 and April 2017.
"This exhibition is all about integrating scientific discoveries from around the globe and making them available for everyone to see," said Rick Potts, director of the Smithsonian's Human Origins Program and curator of the traveling exhibition. "We hope that it will spark a respectful and positive conversation across the country about what it means to be human and inspire people to contemplate their place in the natural world."
The 1,200-square-foot traveling exhibition includes more than 40 educational panels, interactive kiosks, hands-on displays, videos, 3-D skull casts and presentations representing groundbreaking research in the scientific study of human origins. "Exploring Human Origins: What Does It Mean to Be Human?" will highlight key milestones in the journey of human evolution and explain how they developed over time, including walking upright, the earliest known technologies, brain enlargement, symbolic language development, the origin of agriculture and the creation of complex societies.
The traveling exhibition appeals to the innate curiosity of all human beings in terms of understanding themselves and their own existence. It aims to engage local communities in the global scientific exploration of how humans have evolved over time, while inviting discussion that connects this exploration to varied societal perspectives about what it means to be human.
Each library will host the exhibition for four weeks before it moves on to the next location. Many of the locations are small towns, such as Andover, Ohio (population about 1,100), and Lake Orion, Mich. (population about 3,000). Larger cities are also included, such as Spokane, Wash., (population about 210,000), and Orlando, Fla. (population about 240,000).
Applications to host the exhibition were reviewed by peer public librarians and representatives from the National Museum of Natural History and ALA's Public Programs Office. The selected libraries will receive a programming support grant from the project sponsors. They will also offer free public science lectures and education workshops hosted by Smithsonian scientists, including paleoanthropologists Potts and Briana Pobiner. These programs will be complemented by community events that invite conversations with clergy, civic leaders and the public to consider how scientific discoveries about human origins may relate to diverse cultural and religious perspectives on what it means to be human. The Human Origins Initiative's Broader Social Impacts Committee, co-chaired by Connie Bertka and Jim Miller, will help facilitate these conversations.
"Exploring Human Origins: What Does It Mean to Be Human?" was made possible by a grant from the John Templeton Foundation and support from the Peter Buck Human Origins Fund.
The traveling exhibition will feature replicas and images of specimens from the Smithsonian's "David H. Koch Hall of Human Origins" in the nation's capital. More than 20 million people have visited the $20.7 million permanent exhibition hall in the nearly five years since it first opened in March 2010. The 15,000-square-foot exhibition space was named for David H. Koch, a well-known philanthropist, whose $15 million gift made the hall possible. Both the permanent and traveling exhibitions are part of the National Museum of Natural History's Human Origins Initiative, which seeks to explore what it means to be human.
About the Museum
The Smithsonian's National Museum of Natural History welcomed more than 7 million visitors in 2014, making it one of the most-visited museums in the world. Opened in 1910, the museum on the National Mall is dedicated to maintaining and preserving the world's most extensive collection of natural history specimens and human artifacts. It also fosters significant scientific research and educational programs and exhibitions that present the work of its scientists to the public. The museum is open daily from 10 a.m. to 5:30 p.m. Admission is free. For more information, visit the museum's website or connect with it on Facebook and Twitter.
About ALA
ALA is the oldest and largest library association in the world, with approximately 58,000 members in academic, public, school, government and special libraries. ALA's mission is to provide leadership for the development, promotion and improvement of library and information services and the profession of librarianship in order to enhance learning and ensure access to information for all.
The traveling exhibition will visit the following communities:
Chesterfield County Public Library; Chesterfield, Va.
March 31–April 27
Orange County Library; Orlando, Fla.
May 9–June 5
Andover Public Library; Andover, Ohio
June 19–July 16
Ephrata Public Library; Ephrata, Pa.
July 29–Aug. 25
Oelwein Public Library; Oelwein, Iowa
Sept. 6–Oct. 3
Cedar City Public Library; Cedar City, Utah
Oct. 16–Nov. 12
Milpitas Library; Milpitas, Calif.
Nov. 25–Dec. 22
Spokane County Library; Spokane, Wash.
Jan. 6, 2016–Feb. 2, 2016
Cottage Grove Public Library; Cottage Grove, Ore.
Feb. 17, 2016–March 15, 2016
Pueblo City-County Library; Pueblo, Colo.
March 27, 2016–April 23, 2016
Springfield-Greene County Library; Springfield, Mo.
May 7, 2016–June 3, 2016
Peoria Public Library; Peoria, Ill.
June 17, 2016–July 14, 2016
Orion Township Public Library; Lake Orion, Mich.
July 28, 2016–Aug. 24, 2016
Skokie Public Library; Skokie, Ill.
Sept. 7, 2016–Oct. 4, 2016
Wyckoff Free Public Library; Wyckoff, N.J.
Oct. 16, 2016–Nov. 12, 2016
Tompkins County Public Library; Ithaca, N.Y.
Nov. 25, 2016–Dec. 22, 2016
Otis Library; Norwich, Conn.
Jan. 7, 2017–Feb. 3, 2017
Fletcher Free Library; Burlington, Vt.
Feb. 18, 2017–March 17, 2017
Bangor Public Library; Bangor, Maine
April 1, 2017–April 28, 2017
# # #
SI-64-2015