Smithsonian Symposium Takes a Unique Look at How the "Age of Man" Has Created an Age of Change
October 5, 2012
News Release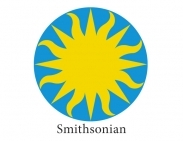 The world is changing at a rapid pace. Scientists have documented significant changes during the past century in climate, land-use and biodiversity that are unprecedented over the past thousand years. These changes are also occurring at a time of rapid social, economic, political and technological transformation. To examine this phenomenon through the lenses of science, society and culture, the Smithsonian is hosting a symposium with leading experts in the fields of science, culture, history and art.
"The Anthropocene: Planet Earth in the Age of Humans," will be held Thursday, Oct. 11, from 9:15 a.m. to 6:30 p.m. in Baird Auditorium, Smithsonian's National Museum of Natural History.
The event is free and open to the public. All are welcome, but space is limited. RSVP to consortia@si.edu to receive a ticket. Scientists agree that the tremendous scope of changes now occurring on the Earth—with their profound effects on plants, animals and natural habitats—is primarily the result of human activities. Geologists have proposed the term Anthropocene, or the "Age of Man," for this new period in the history of the planet.
"Although the Earth and life on it have always been characterized by change, the current rate and scale of these changes are unparalleled by any time in the past since the beginning of human civilization," said John Kress, director for the Smithsonian's Consortia for Understanding and Sustaining a Biodiverse Planet. "We created this symposium to harness the Smithsonian's expertise in the fields of science, culture, history and art, and have invited the public to participate so that we can better understand today's world."
The primary talks of the symposium will address issues of global change from the perspectives of history, art, culture, philosophy, economics and science.
Each of the four lectures will be followed by a panel discussion with experts from astrophysicists, photography, geology, history, paleobiology and other fields. The speakers are:
Charles Mann, correspondent for The Atlantic Monthly, Science and Wired magazines and author of several books, including 1493: Uncovering the New World Columbus Created
Richard Alley, geosciences professor at Pennsylvania State University and author of Earth: The Operators' Manual
Chris Jordan, Seattle-based artist and cultural activist
Sabine O'Hara, dean of the College of Agriculture, Urban Sustainability and Environmental Sciences at the University of the District of Columbia
The public is invited to participate in the discussions. A full event program, including abstracts and bio sketches, can be downloaded from the website at www.si.edu/consortia.
# # #
SI-449-2012