Smithsonian SHOUT Environmental Education Program Inspires Thousands to Explore Water Issues and Take Action
Smithsonian Badges Program Begins, Extending Student Learning Beyond Interactive Webinars Series and Classroom Activities
May 24, 2012
News Release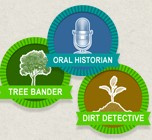 More than 4,500 students and teachers from 18 countries, representing a diverse range of grade levels and learning environments, connected with experts and peers during the live online conference series presented this spring by the Smithsonian SHOUT environmental education program to explore water from academic and real-world perspectives. Educators incorporated "Water Matters" materials into their classrooms to engage students in standards-aligned, interdisciplinary content and project-based learning rooted in environmental education. Now educators can participate in SHOUT, a joint project of the Smithsonian, Microsoft Partners in Learning and TakingITGlobal, through the online archive of the conferences and supplemental resources, and extend student learning beyond the classroom with the new Smithsonian Badges program.
New to the SHOUT program this year is the addition of Smithsonian Badges, an online program where students earn digital badges by proving their knowledge of environmental topics and completing services activities in their community, based on content introduced in the archived SHOUT webinar sessions. Since its launch in April, nearly 3,000 students have signed up for the program and have begun to participate in game-based learning activities to earn up to seven badges, such as "Dirt Detective" and "Enviro-Scientist."
The SHOUT "Water Matters" program offers teacher preview sessions to support classroom integration, comprehensive lesson-planning materials, hands-on activities and a three-part series of interactive webinars led by renowned Smithsonian scientists and experts in the arts and humanities. SHOUT gives participants a framework for success, with resources and tools for exercising social responsibility while building the 21st-century skills.
The 2011-2012 SHOUT program focuses on water issues, while the 2010-2011 program centered on land. Both webinar series and related resources can be viewed through archives on the SHOUT website that teachers and students can access anytime during the summer and new school year.
About Smithsonian Institution
Founded in 1846, the Smithsonian is the world's largest museum and research complex, consisting of 19 museums and galleries, the National Zoological Park and nine research facilities. There are 6,000 Smithsonian employees and 6,500 volunteers. Approximately 28.6 million people from around the world visited the Smithsonian in 2011. The total number of objects, works of art and specimens at the Smithsonian is estimated at 137 million.
About Partners in Learning
Partners in Learning is a 10-year, nearly $500 million commitment by Microsoft to help education systems around the world. Since its inception in 2003, the Partners in Learning program has reached more than 196 million teachers and students in 114 countries. Supporting the program is the online Partners in Learning Network, one of the world's largest global professional networks for educators, connecting millions of teachers and school leaders around the world in a community of professional development.
About TakingITGlobal
TakingITGlobal provides innovative global education programs that empower youth to understand and act on the world's greatest challenges. Often described as a "social network for social good," the award-winning www.tigweb.org is available in 13 languages and offers a diverse set of educational resources and action tools intended to inspire, inform and involve. Since being founded as a charity by two young Canadians in 2000, 40 million people have accessed the website to learn, grow and realize their potential.
# # #
SI-244-2012