Smithsonian Science Education Center Launches Free iBooks Textbook for Students
September 4, 2014
News Release
Addthis Share Tools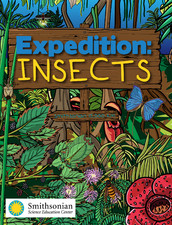 Giant deadly hornets, gorgeous fluttering butterflies and stealthy crawling stink bugs: readers cannot tear their eyes away from these fascinating creatures. They can discover these and more mesmerizing world insects in Expedition: Insects, an iBooks textbook written, illustrated and animated by the Smithsonian Science Education Center using iBooks Author. The book is set to be released Sept. 4 and can be downloaded free for iPads or Macs from Apple's iBooks Store.
Expedition: Insects is aligned with Next Generation Science Standards for grades 3-5. In the book, readers travel around the world to visit six different types of insects in their natural habitats. The young explorers learn about how evolution is responsible for all the beauty, fearsomeness and awe found in nature's insects.
Expedition: Insects is designed for use both in the classroom and at home. Here are a few of the book's features:
Interactive images, videos and sound: Within the book are many real images and videos that show children what the insects look like in real life. Readers can zoom in on labeled images, watch exciting video footage and experience the sounds of the habitats they visit.
Animated maps: As readers travel from South America to Asia, Africa and North America, they learn about world geography from animated maps that trace the route form one continent to the next.
Sketchbook: At the end of the book readers have the opportunity to become artists as they fill their sketchbook with drawings of the insects they have seen. They are provided with outlines that they can fill with colors and patterns.
About the Smithsonian Science Education Center
The mission of the Smithsonian Science Education Center (formerly the National Science Research Center) is to improve K-12 teaching and learning of science for all students in the United States and throughout the world. The center is nationally and internationally recognized for the quality of its programs and its impact on K-12 science education.
###
SI-410-2014