Smithsonian Science Education Center Launches Animated Web Series for Science Teachers
"Good Thinking!" Addresses Need for Engaging, On-Demand Professional Development
June 23, 2015
News Release
Addthis Share Tools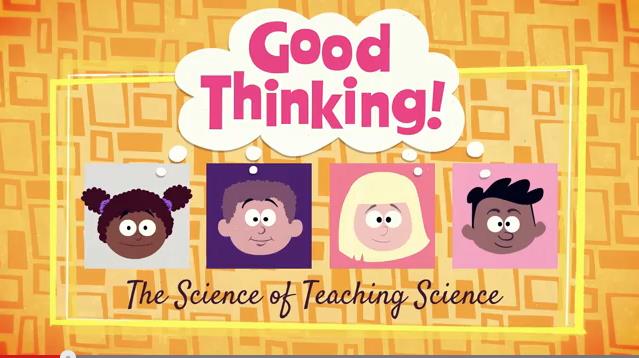 "Good Thinking! The Science of Teaching Science" is a free, engaging and entertaining new Web series designed by the Smithsonian Science Education Center (SSEC) to support science educators. Developed in partnership with Boston-based FableVision Studios, the series debuts with three episodes; additional episodes will premiere throughout the summer.
The series is available now on SSEC's website and its YouTube page, and it will be available through other channels this summer.
"At SSEC we identified a crucial need for accessible, professional development tools that help educators break down misconceptions and other barriers to understanding scientific principles," said Marjee Chmiel, associate director of curriculum and communications at SSEC. "Through these engaging videos, we aim to enhance K–8 science education and deepen understanding of STEM topics for teachers and students alike. No other on-demand resource like this exists."
"Good Thinking!" features short, animated videos that explore subjects like energy, cells and gravity, as well as cognitive research findings on topics such as student motivation or the myth of left- and right-brained people. Led by teacher Isabella Reyes, each episode centers on interactions with her students in class. But Reyes also encounters a cast of recurring characters who spring to life from classroom objects and guide her through fine points of teaching. These characters include a talking orchid (who is an expert on life sciences), a talking Bunsen burner (a physical sciences guide) and Gummerson, a gruff but wise wad of gum who's "stuck around" the school for a long time.
"We've long known animation as a wonderful medium to explore complex topics," said Gary Goldberger, president of FableVision Studios. "It helps visualize and make sense of scientific phenomena that may be too small, too large, too slow or too fast to observe as live action footage. The humorous approach of the visuals and writing here, combined with a recurring cast of characters, makes the content relatable and digestible."
Chmiel says the series provides a convenient supplement to traditional professional development efforts that often require substantial investments of time and money, and can be difficult to tailor to specific teacher needs. SSEC will publish a professional development guide later this year as a companion to the videos, providing a comprehensive package that is free and accessible to educators across the country.
For more information on the series, visit http://www.ssec.si.edu/goodthinking. For social media, use #GoodThinking.
About the Smithsonian Science Education Center
The mission of the Smithsonian Science Education Center (formerly the National Science Resources Center) is to improve K–8 teaching and learning of science for all students in the United States and throughout the world. The center is nationally and internationally recognized for the quality of its programs and its impact on science education.
About FableVision Studios
FableVision creates technology-enhanced media and story to move the world to a better place. FableVision's signature blend of positive media, storytelling and interactive technologies is sought after by a host of best-in-class organizations, including leading publishers, broadcasters, educational and nonprofit organizations, museums and health-care organizations. Together with their partners, they have designed and developed hundreds of interactive games and activities, mobile apps, animated films, websites, television and Web ads, interactive museum kiosks and e-books.
# # #
SI-301-2015