Smithsonian's Sackler Presents Exhibition of Renowned Video Artist Lu Chunsheng
Shanghai-based Artist Examines Relationship between Humans and Modernization
March 4, 2011
News Release
Addthis Share Tools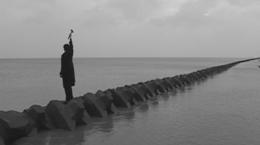 The Arthur M. Sackler Gallery's "Perspectives" series of contemporary art will launch a yearlong focus on single-channel video art. The selected artists use the power of the single-frame moving-image format as a window onto different spaces and interpretations of reality. The series launches with the first solo presentation in the United States of internationally renowned photographer and video artist Lu Chunsheng. From March 19 through July 17, "Perspectives: Lu Chunsheng" will feature History of Chemistry I, his acclaimed masterpiece from 2004.
"Lu Chunsheng's works are imbued with a sense of the uncertainty and unpredictability that surrounds life," said Carol Huh, assistant curator of contemporary Asian art at the Freer and Sackler galleries, and organizer of the "Perspectives" series. "In History of Chemistry I, he turns to alchemy and the notion that China is a giant laboratory where strange things are happening. Such monumental changes and 'grand experiments' have profound consequences, many of which are yet to be understood."
Born in 1968 in Changchun, China, Lu graduated from China Academy of Art in Hangzhou, and currently resides and works in Shanghai. A prominent figure in contemporary Chinese art, Lu has exhibited widely throughout Asia and Europe, including Sweden, Italy, Germany, France, Korea and Japan. With his beautifully crafted images and starkly composed soundtracks, his video work is representative of the significant contributions of artists from southern China to the development of contemporary art.
A mesmerizing experience of a vaguely familiar yet remote world, History of Chemistry I follows a group of men as they wander from somewhere beyond the edge of the sea through a vast landscape to an abandoned steel factory. Using long shots and atypical settings, Lu enigmatically refers to a distant history while conveying the sense of dislocation wrought by successive stages of modernization. The combination of elaborate landscape shots from the suburbs of Shanghai and Lu's signature style of spare and minimally crafted acting offers a surreal view of human behavior in a space marked by the hulking remnants of China's extraordinary development.
Two films documenting and questioning similar themes of modernization and its influences in China will be shown in the Freer Gallery of Art's Meyer Auditorium as part of the series "Environmental Film Festival in the Nation's Capital: Focus on China." Disorder (dir.: Huang Weikai, China, 58 min., B&W, video, Mandarin with English subtitles) will be shown Friday, March 25, at 7 p.m., and Ghost Town (dir.: Zhao Dayong, China, 169 min., video, Mandarin, Nu and Lisu with English subtitles), will screen Sunday, March 27, at 2 p.m. For more information, visit www.asia.si.edu.
The second "Perspectives" installment will feature the work of Hale Tenger (b. 1960, Izmir, Turkey), on view July 30–Nov. 6.
The Arthur M. Sackler Gallery, located at 1050 Independence Avenue S.W., and the adjacent Freer Gallery of Art, located at 12th Street and Independence Avenue S.W., are on the National Mall in Washington, D.C. Hours are 10 a.m. to 5:30 p.m. every day, except Dec. 25, and admission is free. The galleries are located near the Smithsonian Metrorail station on the Blue and Orange lines. For more information about the Freer and Sackler galleries and their exhibitions, programs and other events, the public may visit www.asia.si.edu. For general Smithsonian information, the public may call (202) 633-1000 or TTY (202) 633-5285.
# # #
SI-106-2011