Smithsonian's National Postal Museum Receives Donation for the William H. Gross Stamp Gallery
January 15, 2011
News Release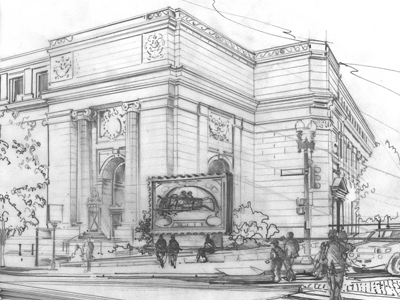 The Estate of Richard C. Sennett has donated $250,000 to support the National Postal Museum's expansion to create the William H. Gross Stamp Gallery (www.postalmuseum.si.edu/StampGallery).
The Smithsonian and the U.S. Postal Service recently signed a lease agreement for the additional space to build the gallery. This new space will be added to the museum's existing 65,000 square feet and is scheduled to open in the next couple of years.
"We are thrilled that the Sennett Estate has chosen to support our new William H. Gross Stamp Gallery in such a significant way," said Allen Kane, director of the museum. "As a key member of the stamp production industry, Richard Sennett helped shape an industry that today serves millions of stamp enthusiasts around the world."
"It is with great pleasure that we have the opportunity to support the National Postal Museum in its charter to preserve postal history and philately," said Sandra Lane, spokesperson for the Sennett Estate. "Richard C. Sennett was a pioneer in the privatization of the modern-day stamp production industry, and it is only fitting that the Sennett Estate contribute and provide artifacts that illustrate the technologies used in the manufacture of postage stamps."
            The National Postal Museum is devoted to presenting the colorful and engaging history of the nation's mail service and showcasing one of the largest and most comprehensive collections of stamps—The National Philatelic Collection has more than 6 million objects and is the largest collection in a postal museum in the world. It is located at 2 Massachusetts Avenue N.E., Washington, D.C., across from Union Station. The museum is open daily from 10 a.m. to 5:30 p.m., except Dec. 25.
# # #
SI-72-2011