Smithsonian's National Postal Museum Receives Donation for the William H. Gross Stamp Gallery
February 10, 2011
News Release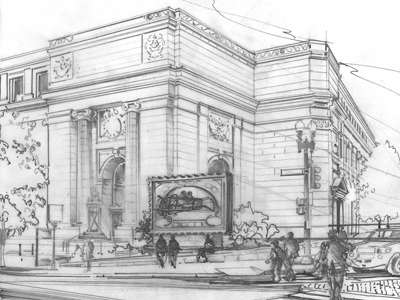 Alan and Sandy Whitman have donated $100,000 to support the National Postal Museum's expansion to create the William H. Gross Stamp Gallery (www.postalmuseum.si.edu/StampGallery). Alan is a managing director at Morgan Stanley Smith Barney and an active member of the museum's Council of Philatelists.
The Smithsonian and the U.S. Postal Service recently signed a lease agreement for the additional space to build the gallery. This new space will be added to the museum's existing 65,000 square feet and is scheduled to open in the next couple of years.
"Alan and Sandy's donation reflects true passion for the hobby of stamp collecting," said Allen Kane, director of the museum. "As a leading collector of Classic U.S. stamps, Alan understands what this new gallery will do to promote philately in an impressive and unprecedented way."
"My wife and I have always felt compelled to give back, and helping the National Postal Museum encourage the stamp collecting hobby to a broad range of visitors is a wonderful way for us to do so," said Whitman. "Stamp collecting has provided me tremendous enjoyment and seeing the museum create that same excitement for visitors around the world is truly inspiring."
The National Postal Museum is devoted to presenting the colorful and engaging history of the nation's mail service and showcasing one of the largest and most comprehensive collections of stamps—The National Philatelic Collection has more than 6 million objects and is the largest collection in a postal museum in the world. It is located at 2 Massachusetts Avenue N.E., Washington, D.C., across from Union Station. The museum is open daily from 10 a.m. to 5:30 p.m., except Dec. 25.
# # #
SI-67-2011