Smithsonian's National Portrait Gallery Presents "Daguerreotypes: Five Decades of Collecting" as Part of the Museum's 50th Anniversary
May 17, 2018
News Release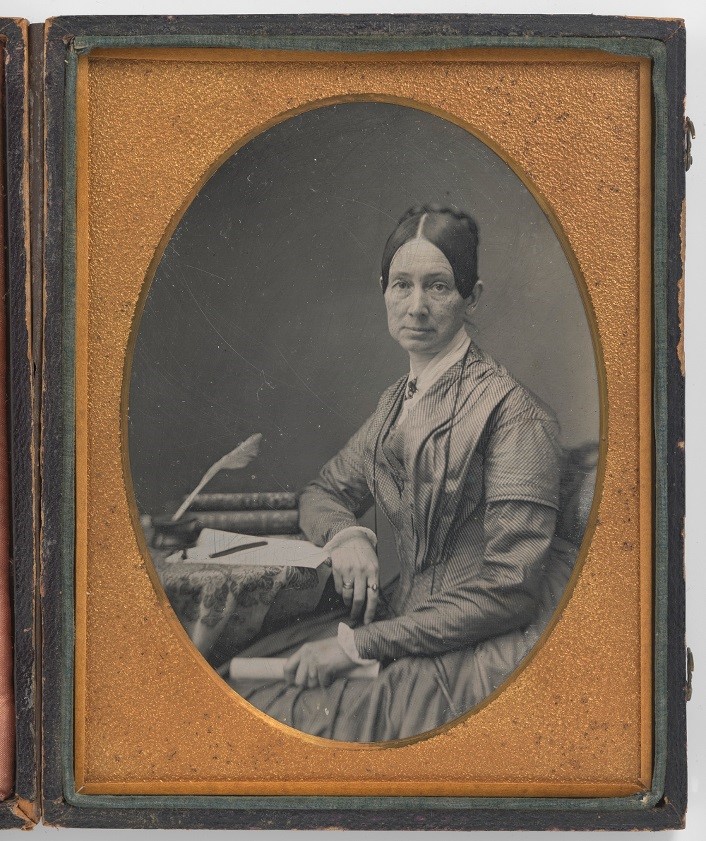 The first commercially viable form of photography, daguerreotypes brought portraiture within reach of average Americans in the mid-1800s. Today, they are an essential part of the museum's collection. "Daguerreotypes: Five Decades of Collecting" celebrates the Portrait Gallery's tradition of collecting with this intimate exhibition of 13 small-scale, one-of-a-kind portraits of early American influencers. The exhibition opens June 15 and will be on display on the museum's first floor through June 2, 2019.
The presentation, organized by Ann Shumard, senior curator of photographs, celebrates the museum's golden anniversary and highlights its extraordinary collection. With more than 23,000 objects, the Portrait Gallery holds some of the most important photographic portraits, including prized glass-plate negatives by Mathew Brady and the acclaimed 2017 acquisition of an 1843 daguerreotype likeness of President John Quincy Adams by artist Philip Haas, on permanent view in the museum's America's Presidents gallery.
The Portrait Gallery's first photographic acquisition was a daguerreotype, which arrived as a gift in 1965—three years before the museum opened its doors to the public. The image was a portrait by Marcus Aurelius Root of poet, painter and sculptor Thomas Buchanan Read, whose equestrian portrait of Union army general Philip Sheridan is on exhibit in the museum's Civil War galleries.
When an Act of Congress established the National Portrait Gallery in 1962, the new museum was not initially authorized to collect photographs. An exception was made to accommodate gifts to its Support Collection. This enabled the Portrait Gallery to accept several significant daguerreotype portraits before 1976, when its charter was amended to allow for the acquisition of photographs. The museum's collection now includes more than 150 daguerreotypes representing individuals as diverse in their achievements as showman P.T. Barnum, Seneca Nation leader Blacksnake, actress Charlotte Cushman, humanitarian Dorothea Dix, surgeon Thomas D. Mütter, U.S. Navy Commodore Matthew C. Perry and writer Henry David Thoreau.
"These daguerreotypes are remarkable artifacts from the dawn of American photography," Shumard said. "Each is truly, as Oliver Wendell Holmes Sr. said, a 'mirror with a memory.'"
A daguerreotype is a one-of-a-kind, direct-positive image produced on a sensitized plate of silver-clad copper. The process was introduced by French artist Louis-Jacques-Mandé Daguerre, but American practitioners were the ones who recognized the daguerreotype's potential as a portrait medium. Through technical innovations, they transformed it from an experimental process into a commercially viable one within months of its introduction in August 1839. For nearly 20 years, the daguerreotype flourished in the United States as Americans flocked to studios in communities large and small to pose for their portraits.
National Portrait Gallery
The Smithsonian's National Portrait Gallery tells the multifaceted story of the United States through the individuals who have shaped American culture. Spanning the visual arts, performing arts and new media, the Portrait Gallery portrays poets and presidents, visionaries and villains, actors and activists, whose lives tell the American story.
The National Portrait Gallery is part of the Donald W. Reynolds Center for American Art and Portraiture at Eighth and F streets N.W., Washington, D.C. Smithsonian Information: (202) 633-1000. Connect with the museum at npg.si.edu, Facebook, Instagram, Twitter, YouTube and the museum's blog.
# # #
SI-296-2018