Smithsonian's National Portrait Gallery Presents "Capital Portraits: Treasures from Washington Private Collections"
March 14, 2011
News Release
Addthis Share Tools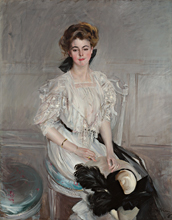 "Capital Portraits: Treasures from Washington Private Collections," showcases some of the finest examples of portraiture owned by individuals living in the Washington, D.C., region. The exhibition features 60 works from the mid-18th century to 2008. Many of the loans are on public view for the first time. "Capital Portraits" will be at the National Portrait Gallery April 8 through Sept. 5.
While planning the exhibition, the curators discovered that owners of portraits in the nation's capital possess them for one of three reasons: they have inherited them, they have collected them for their historical or artistic merit or they themselves sat for a portrait.
Together, these portraits reveal a remarkable range of styles and stories. Like all portraits they reflect the coming together of a sitter and an artist and, at times, a patron. Thus the portraits provide a window into the life of the sitter, the career of the artist and the era in which they lived.
"This exhibition demonstrates how portraiture is intertwined with the private sphere of people's lives," said Martin E. Sullivan, director of the National Portrait Gallery. "It recognizes, too, the spirit of private collectors who have been instrumental in the formation and vitality of art collections in and around Washington, D.C."
Subjects range from famous individuals to family members. Included are personalities like the Marquis de Lafayette, artist John James Audubon and model Kate Moss. Major artists whose works are represented include John Singleton Copley, Gilbert Stuart, Charles Willson Peale, Mary Cassatt, John Singer Sargent, William Merritt Chase, Andy Warhol and Chuck Close. Six of the works were painted in Washington, including two by the 20th-century African American artist John Robinson and one by the well-known color-field painter Gene Davis.
This exhibition and related programs are supported by a grant from the late Robert L. McNeil Jr., a commissioner of the gallery for 20 years. Additional support has been provided by The Mr. and Mrs. Raymond J. Horowitz Foundation for the Arts and by Isobel Ellis.
Carolyn Kinder Carr and Ellen G. Miles served as curators of the exhibition with assistance from Pie Friendly. They wrote the accompanying 208-page catalog, Capital Portraits: Treasures from Washington Private Collections. The catalog was published by the Smithsonian Institution Scholarly Press in cooperation with Rowan & Littlefield and will be available in the museum store for $49.95.
The National Portrait Gallery
The Smithsonian's National Portrait Gallery tells the history of America through the individuals who have shaped its culture. Through the visual arts, performing arts and new media, the Portrait Gallery portrays poets and presidents, visionaries and villains, actors and activists whose lives tell the American story. The National Portrait Gallery is part of the Donald W. Reynolds Center for American Art and Portraiture at Eighth and F streets N.W., Washington, D.C. Smithsonian Information: (202) 633-1000; (202) 633-5285 (TTY). Website: npg.si.edu.
# # #
SI-107-2011