Smithsonian's National Air and Space Museum Launches "She Can" STEM Summer Camp
Free Aviation-Focused Camp Aims To Engage Underrepresented Communities
May 18, 2018
News Release
Addthis Share Tools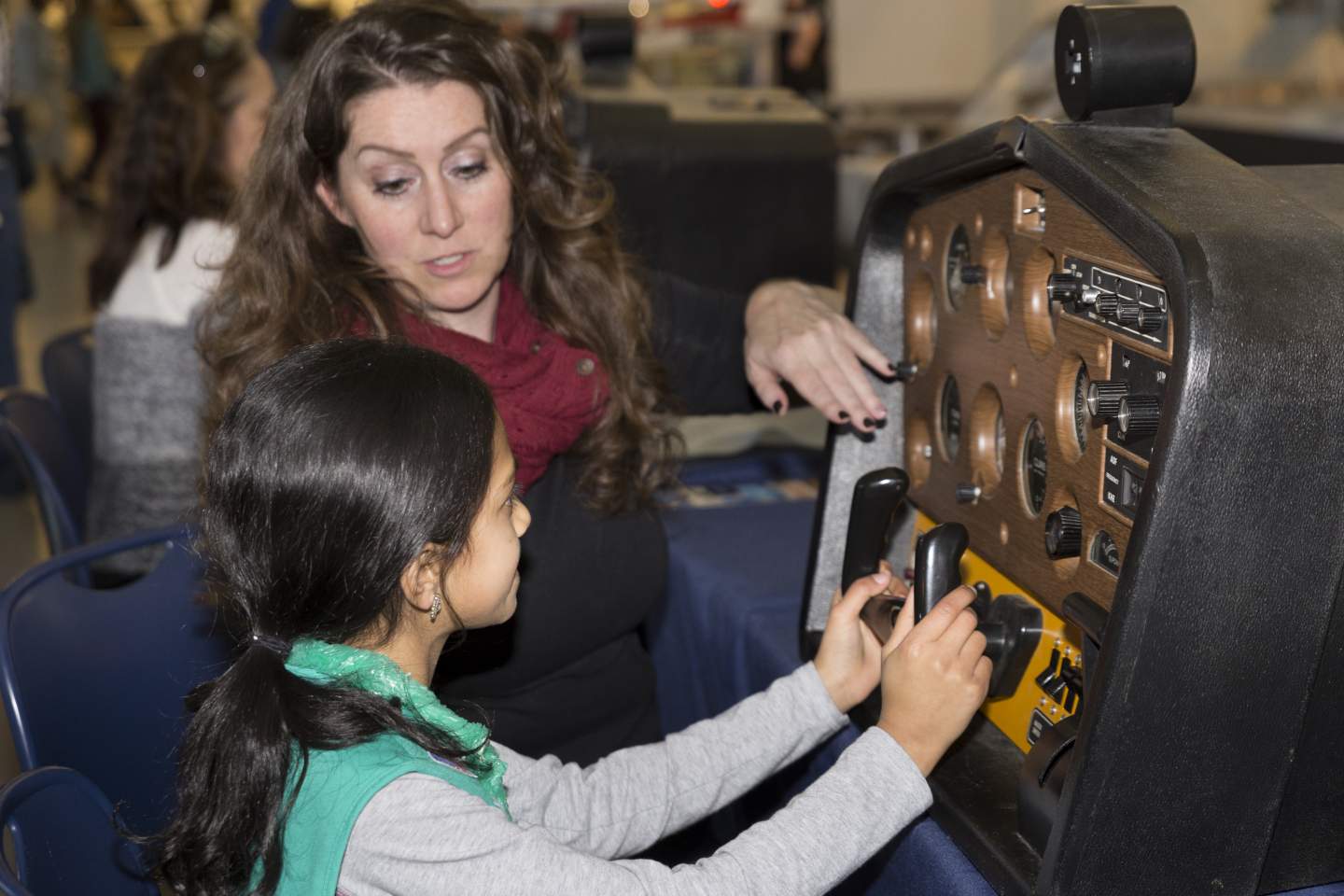 The National Air and Space Museum will launch the "She Can" two-week STEM summer camp this July and August at the Steven F. Udvar-Hazy Center in Chantilly, Virginia. The camp is designed for students with an interest in aviation and seeks to empower young women to succeed in STEM (science, technology, engineering and mathematics) disciplines. Open to sixth- through eighth-grade girls, the museum will offer the free aviation-focused experience to low-income students in Washington, D.C., Maryland and Virginia. The museum will accept applications until June 18 for the camp's 60 total slots.
Throughout the two-week camp, the students will participate in a number of aviation activities, including hands-on flight instruction on FAA-certified simulators, a 30-minute discovery flight with a local flight school, a high-altitude weather balloon launch and indoor skydiving. They will also meet women working in a variety of aviation fields, such as air traffic control, cyber security and commercial aviation.
"The lack of diverse representation in STEM fields is a real problem, and the museum is committed to doing our part to change that," said Ellen Stofan, the John and Adrienne Mars Director of the National Air and Space Museum. "Our goal with this camp is to reveal to young women the opportunities available to them in all areas of aviation and encourage them to pursue a future in STEM."
Two sessions will be offered, July 23 to Aug. 3 and Aug. 6 to Aug. 17, and 30 students will participate in each session. Participants must be from Title 1-eligible schools or be eligible for free or reduced lunch. Interested students must submit an application, including a short statement on why they would like to participate and a letter of recommendation from a teacher or community leader. The application is available on the museum's website at http://airandspace.si.edu/shecan.
The "She Can" STEM Summer Camp is made possible by the support of a Walton Family Foundation grant from Steuart Walton, the U.S. Department of Education and the DaRin Butz Foundation.
The National Air and Space Museum in Washington, D.C., is located at Sixth Street and Independence Avenue S.W. The Steven F. Udvar-Hazy Center is located in Chantilly, Virginia, near Washington Dulles International Airport. Both facilities are open daily from 10 a.m. until 5:30 p.m. (closed Dec. 25). Admission is free, but there is a $15 fee for parking at the Udvar-Hazy Center.
# # #
SI-304-2018