Smithsonian Quests Takes Learners on Journey of Discovery and Collaboration
Teachers and Students Engage in Project-Based Learning Across School Curriculum to Earn Digital Badges
February 13, 2013
News Release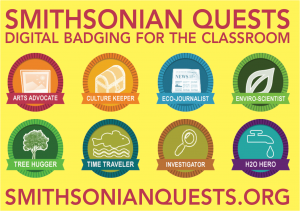 The Smithsonian Center for Education and Museum Studies has announced the launch of Smithsonian Quests, a digital badge program that fosters project-based learning. Smithsonian Quests inspires students to explore their own ideas and interests online, in school, at home and across the nation. The quests connect and reward learners of different ages and in different regions as they learn through discovery and collaboration.
The Smithsonian Quests program encourages students to have a greater curiosity about the world by presenting learning challenges that have real-world applications. Students complete a series of online activities and submit their work for review by Smithsonian education experts to earn digital badges. A wide variety of activities are offered that include creative writing, photography, oral histories and graph-making. The cross-curricular, standards-aligned program aims to prepare students for college and future careers by incorporating knowledge and skill-building into the quests. Teachers can also earn digital badges for their work.
The Smithsonian Quests badges are integrated with content from the Smithsonian Online Education Conferences. The first badges aligned with the 2013 Smithsonian Online Education Conference Series, "Community Historian" and "Portrait Reader," debut today, Feb. 13, at 1 p.m. EST, during the "Civil Rights: From Lincoln to Today" session. To earn the Community Historian badge, students consider the role that freedom songs and non-violent protests, such as the Montgomery bus boycott and the Greensboro lunch counter sit-ins, had in sparking a long-overdue national conversation about desegregation and equality. For the Portrait Reader badge, students learn how to "read" portraiture as a way of understanding more about featured civil rights activists. Students are then encouraged to tell the story of change leaders in their own communities. SCEMS will release new badges throughout the year during each online education conference. In addition, 14 badges piloted during the SHOUT Environmental Conference Series and the recent Inauguration Conference—including Arts Advocate, Dirt Detective, H2O Hero and Symbols Spotter—are currently available. Information and registration for Smithsonian Quests are available at http://smithsonianquests.org/.
About Smithsonian Institution
Founded in 1846, the Smithsonian is the world's largest museum and research complex, consisting of 19 museums and galleries, the National Zoological Park and nine research facilities. There are 6,000 Smithsonian employees and 6,500 volunteers. Approximately 30 million people from around the world visited the Smithsonian in 2012. The total number of objects, works of art and specimens at the Smithsonian is estimated at 137 million.
# # #
Si-247-2013