Smithsonian Presents Screening of Documentary Everyday Sunshine: The Story of Fishbone
Panel Discussion and Special Performance by the Band Fishbone Will Follow
November 10, 2011
News Release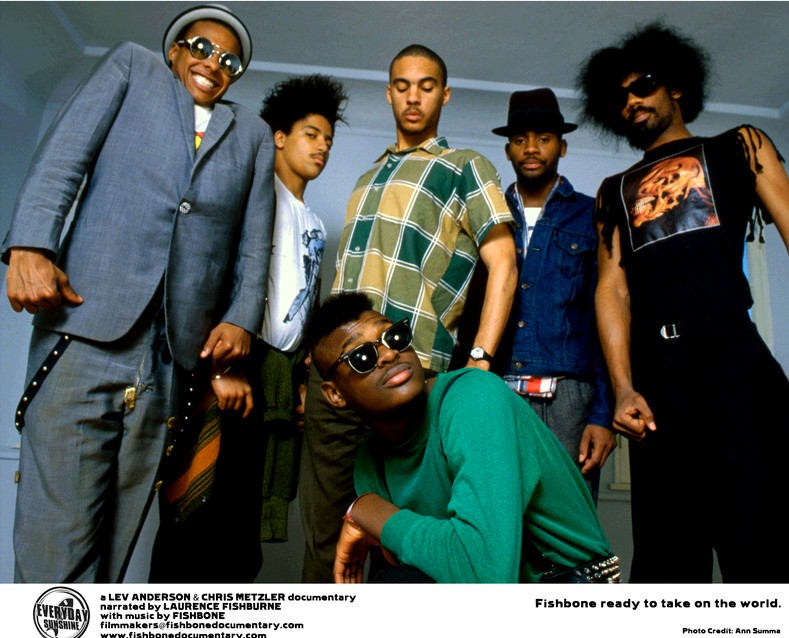 Chris Metzler and Lev Anderson, directors of Everyday Sunshine: The Story of Fishbone, will join Angelo Moore, lead singer of Fishbone, and Norwood Fisher, bassist for the band, for a screening of the film Friday, Nov. 11, 7 to 10:30 p.m. at the Lincoln Theatre in Washington, D.C. The film, narrated by Laurence Fishburne, explores the development and impact of Fishbone's trailblazing music—a fusion of funk, hard rock, punk ska and soul. The screening will be followed by a panel discussion and a performance by the band. The evening is presented by the Smithsonian's National Museum of African American History and Culture.
During the program, members of the band will present items from the Fishbone collection to NMAAHC's Music and Performing Arts collection. This marks the latest in a series of popular culture acquisitions, including The Parliament-Funkadelic Mothership, props from the set of the Soul Train television show, Michael Jackson's fedora and a gown worn by Lena Horne for the filming of Stormy Weather.
"The objects in NMAAHC's music collection represent the history and influence of African Americans in all musical styles," said Dwandalyn Reece, the museum's curator of Music and Performing Arts. "Collecting materials related to Fishbone will give museum visitors the opportunity to appreciate the band's social and cultural influence as symbols of artistic integrity and social progress."
Everyday Sunshine, a cinematic journey into the personal lives of this unique rock band, earned LA Weekly's Critic's Choice Award at the Los Angeles Film Fest in 2010. The documentary features celebrity testimonials from a number of contemporary music icons, including Flea of Red Hot Chili Peppers, Questlove of The Roots and Chuck D of Public Enemy. Fishbone recently completed a national tour with Slightly Stoopid and Dumpstaphunk. It also completed an Australian tour featuring performances with Trombone Shorty as well as George Clinton of Parliament-Funkadelic.
Admission is free, but tickets are required. Information and tickets are available at (202) 328-6000, (202) 633-0070 or www.thelincolntheatre.org. The Lincoln Theatre is located at 1215 U Street N.W., and is Metro accessible via Green-Yellow Line, U Street/African American Civil War Memorial; there is on-street parking.
The National Museum of African American History and Culture was established by an Act of Congress in 2003 making it the 19th museum of the Smithsonian Institution. Scheduled for completion in 2015, it will be built on the National Mall on Washington, D.C., on a five-acre tract adjacent to the Washington Monument. Currently, during the pre-building phase, the museum is producing publications, hosting public programs and building collections. It is presenting exhibitions at other museums across the country and at its own gallery at the Smithsonian National Museum of American History. An array of interactive programs and educational resources is available on the museum's website nmaahc.si.edu.
# # #
SI-491-2011