Smithsonian Presents Haitian-Dominican Friendship Concert
New York City-Based Bands Interpret Afro-Caribbean Musical Genres
May 7, 2012
News Release
Addthis Share Tools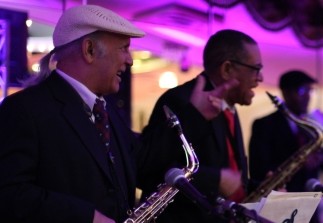 The Smithsonian Latino Center and the National Museum of African Art present a Haitian-Dominican Friendship Concert Wednesday, May 16, at 7 p.m. in the National Museum of Natural History's Baird Auditorium. The concert is free and the doors open at 6:30 p.m. This musical event will celebrate the cultural heritage of the two nations that share the island of Hispaniola and will feature two New York City-based bands interpreting local and other Afro-Caribbean musical genres.
The Dominican band, Enriquillo Tejada y Los Clarinetes Mágicos, will begin the concert with merengues, boleros and Latin jazz with elegant ballroom-style arrangements. Tabou Combo is a legendary Haitian mega-band that will close the show with konpa, méringue and other high-energy Haitian and Caribbean rhythms.
This concert represents a first-of-its-kind collaboration between the Haitian and Dominican Republic embassies, which have both provided support for this project. "This project is important on many levels, including the fact that the Haitian and Dominican communities in the U.S. are growing at a rapid rate, and their contributions and experiences can no longer remain hidden," said Eduardo Díaz, Latino Center director. "This concert also furthers the work that we are doing to bring to light the history, art and culture of both Haiti and the Dominican Republic."
The cultures of Haiti and the Dominican Republic have been featured in numerous public programs and exhibitions at the Smithsonian, including the annual Folklife Festival. Following Haiti's devastating earthquake in 2011, the Smithsonian developed the Haiti Cultural Recovery Project to rescue and preserve Haitian artwork and artifacts. The Latino Center also has an ongoing Dominican Initiative to study and interpret the history, culture and experiences of this fast-growing Latino population in the U.S.
# # #
SI-214-2012