Smithsonian Names Honorary Committee for 2016 Craft Show
September 30, 2015
News Release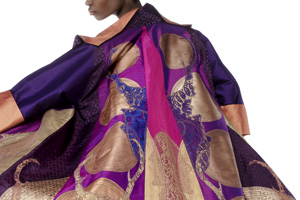 The Smithsonian Women's Committee announced today the formation of the honorary committee for its 34th annual Smithsonian Craft Show. The 2016 Craft Show takes place April 21–24 at the National Building Museum in Washington, D.C.
For the first time, the honorary committee will be composed of the 14 female directors of the Smithsonian's museums and research and cultural centers. They will celebrate the Craft Show and the 50th anniversary of the founding of the Women's Committee, as well as bring attention to the high level of craft and design in America today.
The committee members are:
Frederica Adelman, Smithsonian Associates
Camille Giraud Akeju, Anacostia Community Museum
Elizabeth Broun, Smithsonian American Art Museum and the Renwick Gallery
Caroline Baumann, Cooper Hewitt, Smithsonian Design Museum
Melissa Chiu, Hirshhorn Museum and Sculpture Garden
Johnnetta B. Cole, National Museum of African Art
Nancy E. Gwinn, Smithsonian Libraries
Kate Haw, Archives of American Art
Stephanie L. Norby, Smithsonian Center for Learning and Digital Access
Carol O'Donnell, Smithsonian Science Education Center
Valerie J. Paul, Smithsonian Marine Station at Fort Pierce
Kim Sajet, National Portrait Gallery
Myriam Springuel, Smithsonian Institution Traveling Exhibition Service
Anne Van Camp, Smithsonian Institution Archives
"I am delighted that all 14 directors agreed to serve on the honorary committee for the 34th Smithsonian Craft Show," said Emily Huebner, president of the Smithsonian Women's Committee. "As leaders in the cultural and museum world, these directors shine a light on the important work of the Women's Committee and its 50 years of commitment to raising funds for programs, research and exhibits at the Smithsonian."
About the Smithsonian Craft Show
The Smithsonian Craft Show selected 120 American craft artists from more than 1,000 applicants, in wood, jewelry, wearable fiber, metal, ceramics, glass, basketry, furniture, mixed media, metal, paper and decorative fiber. Proceeds from the Craft Show have funded more than 1,000 grants totaling nearly $11 million in awards for education, research and outreach projects since the Smithsonian Women's Committee's founding in 1966.
# # #
SI-444-2015