Smithsonian Magazine Auctions Painting by Haitian Artist to Benefit the Smithsonian Institution-Haiti Cultural Recovery Project
September 1, 2010
News Release
Addthis Share Tools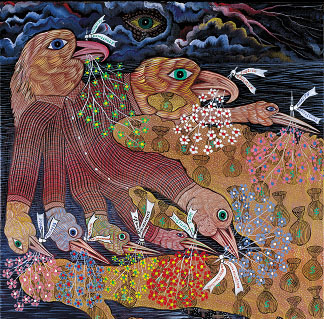 Smithsonian magazine commissioned "And Haiti Will Bloom Again" by Haitian artist, Frantz Zephirin, for its September cover. The work by Zephirin is a response to Haiti's earthquake, with symbols of the nation's suffering and struggle for recovery. The issue also includes a cover story on Haitian art in the context of the Jan. 12 earthquake.
This original artwork will be up for auction on ebay.com Sept. 8-17; 50 percent of the proceeds will benefit the Smithsonian's Haiti Cultural Recovery Project, and the other half will go to the artist and his gallery. The minimum bid is $4,000. For details visit http://Smithsonian.com/haitiauction.
The acrylic-on-canvas painting measuring 18 by 24 inches depicts philanthropic birds, representing former President Bill Clinton, President Barack Obama and international aid agencies, delivering messages of hope to the Caribbean nation. Bags marked with dollar signs, "show that to build a new Haiti with more justice and more educational opportunities we will need a lot of money," said Zephirin. At the top of the painting there is a single eye: "That's God, and you can see he is crying a little when he sees what's happening in my country." Zephirin is one of the most sought-after contemporary Haitian artists, and his work is in great demand.
The Smithsonian's Haiti Cultural Recovery Project was established in May to lead a team of cultural organizations to help the Haitian government assess, recover and restore Haiti's cultural materials damaged by the devastating earthquake. The Smithsonian is leasing a building in Port-au-Prince that once housed the United Nations Development Programme to serve as a temporary conservation site where objects retrieved from the rubble can be assessed, conserved and stored. Through this project, Smithsonian is currently training 25 students in cultural conservation from Aug. 23 to Sept. 10.
About Smithsonian Media
Smithsonian Media comprises Smithsonian magazine, Air & Space, goSmithsonian, Smithsonian Media Digital Network and the Smithsonian Channel. Smithsonian Media's flagship publication, Smithsonian, is one of the nation's largest magazines, with a circulation of more than 2 million and nearly 7 million readers. Smithsonian Media is a division of Smithsonian Enterprises, the revenue-generating business unit of the Smithsonian Institution.
# # #
SI-362-2010