The Smithsonian Looks at Laughter
Phyllis Diller, Carol Burnett and Miss Piggy Illustrate Comedy and Feminism
June 29, 2016
News Release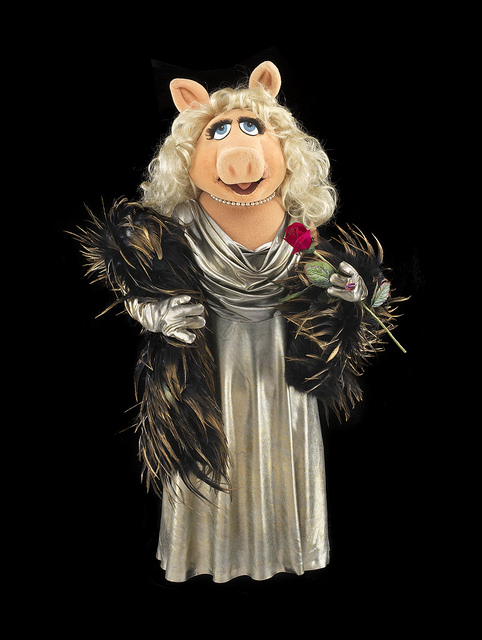 "These modern girls go for plots and plans, no pots and pans."
–Phyllis Diller, 1964
The Smithsonian's National Museum of American History will open "Laughing Matters," a display that looks into the stories of three comedians who changed the face of comedy. On display July 22 through October, the showcase will highlight the power of laughter in the realm of social and political discussion through the careers of Phyllis Diller, Carol Burnett and Miss Piggy, a creation of Jim Henson. It will be a preview of the content that will be explored in a larger exhibition, "On with the Show," to open in 2018.
Today, strong female comedians such as Tina Fey, Amy Poehler and Amy Schumer define what it means to be a woman in the world of comedy, creating films and sketches highlighting modern feminism. Before these women dominated our screens, women such as Diller, Burnett and "Miss Piggy" were paving the way for the modern female comedian and modern women in general.
"In American culture, comedians can highlight inequalities and prejudices using the disarming power of humor to invite reflection and debate on uncomfortable topics," said curator Shannon Perich.
Commenting on the roles of women during her era, Diller parodied the notion of the 1950s housewife and homemaker on her show, Phyllis Dillis, The Homely Friendmaker, which first aired in 1952. The success of many of her jokes can be owed to the shared experiences of the audience and herself. During a time when being a housewife was the norm, her comedy reflecting on women's traditional roles was easily translatable. Diller's comedic presence contradicted how women of the period were expected to act and present themselves, while laying the base for future women would hold in American comedy. 
Burnett, host of the popular variety show, The Carol Burnett Show, helped to secure a place for women in sketch comedy. Through her sketches and characters, Burnett was able to poke fun at office work, family dynamics and celebrity culture of the late '60s and '70s. Her character, the "charwoman," commented on the long-standing stereotypes about cleaning women, and similar to many of Burnett's other characters, she had intelligence and aspirations but was trapped by issues of gender and class.
Miss Piggy's introduction on Jim Henson's The Muppets in 1976 during a period of heightened debate about feminism and women's rights, helped raise her to national popularity and fame. With her femininity and strong will, along with her aspirations to high-powered jobs, taking control of her life romantically and her strong sense of personal justice, Miss Piggy has been a symbol of female success in American comedy since her debut. 
"Laughing Matters" will feature the "charwoman" costume, donated by Burnett to the museum in 1998; a costume worn by Diller during Bob Hope's USO Christmas Tour in 1967, gifted to the museum by Diller; the hand-and-rod puppet, Miss Piggy, donated to the museum by The Muppets Studio in 2016; and other objects defining the power of laughter. These featured women helped pave the way for the future of comedy, changing the definitions of what it means to be in comedy and who should be in charge of making America laugh. The Smithsonian's collection includes Diller's gag file, currently not on display.
Through incomparable collections, rigorous research and dynamic public outreach, the National Museum of American History explores the infinite richness and complexity of American history. It helps people understand the past in order to make sense of the present and shape a more humane future. The museum is continuing to renovate its west exhibition wing, developing galleries on democracy and culture. The museum is located at 14th Street and Constitution Avenue N.W., and is open daily from 10 a.m. to 5:30 p.m. (closed Dec. 25). Admission is free. For more information, visit http://americanhistory.si.edu. For Smithsonian information, the public may call (202) 633-1000.
# # #
SI-334-2016