Smithsonian Libraries Presents "Come Together: American Artists Respond to Al-Mutanabbi Street"
Exhibition Promotes Freedom of Speech Through Books
January 28, 2016
News Release
Addthis Share Tools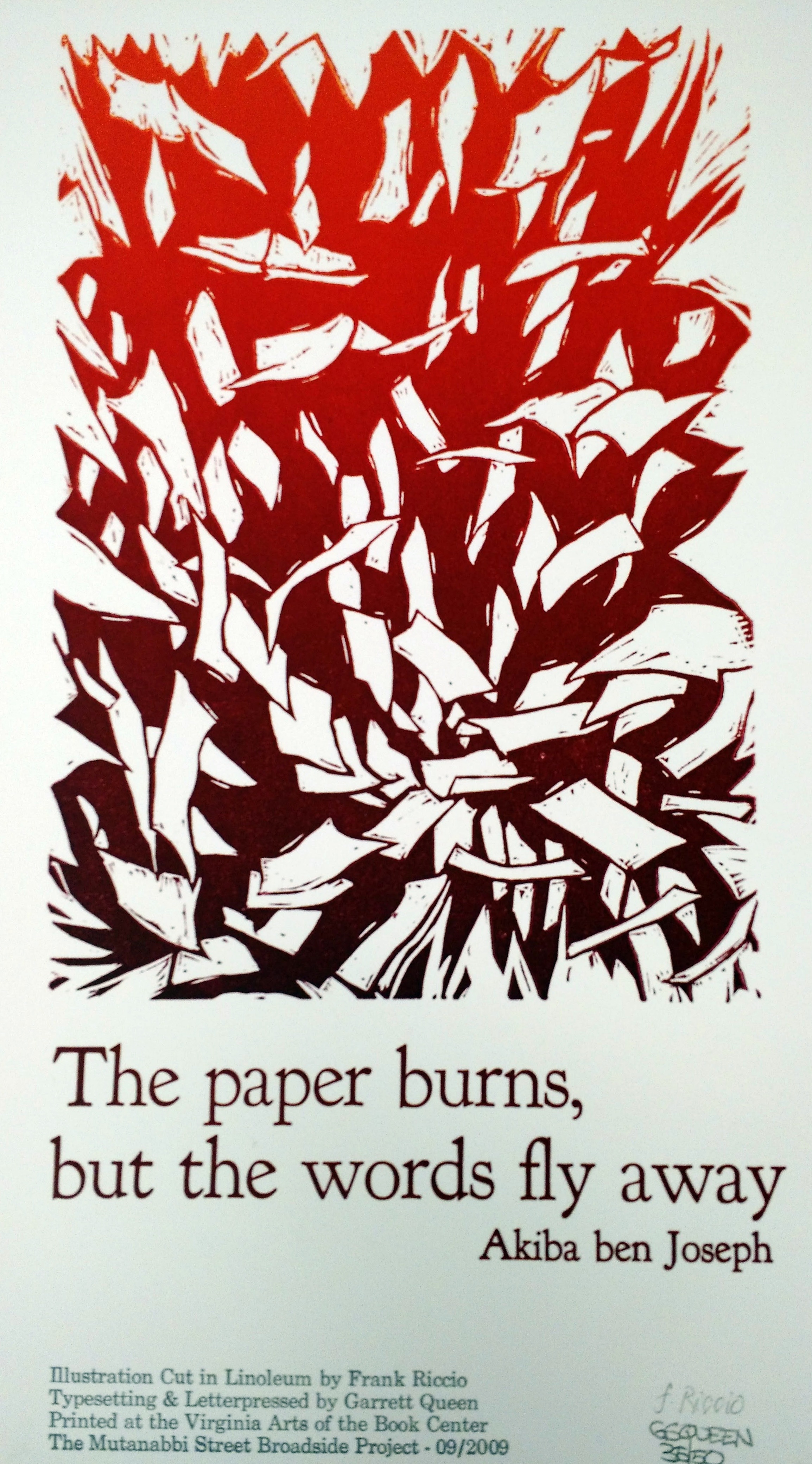 The Smithsonian Libraries will open "Come Together: American Artists Respond to Al-Mutanabbi Street," at the Smithsonian American Art Museum and National Portrait Gallery Library Feb. 1. "Come Together" will be on display through March 30.
Al-Mutanabbi Street is the historic center of bookselling in Baghdad, and it has been the heart and soul of the Baghdad literary and intellectual community for centuries. On March 5, 2007, a car bomb exploded on Al-Mutanabbi Street, and more than 130 people were killed or wounded. In response to the attack, a community of international artists and writers produced poetry, letterpress-printed broadsides and artists' books.
"Come Together" will display artists' books and prints by American artists, showing support for the booksellers, writers and readers affected by the tragedy, and reflecting the loss of cultural expressions. More than 20 artworks will be featured, including works by poets and artists such as Maria Pisano, Robbin Ami Silverberg, David Allen Sullivan and Barbara Tetenbaum.
"The aim and result of 'Come Together' and related events speak to a desire to connect with others in times of hardship and great need, in particular through the international, translatable medium of art and poetry," said Anne Evenhaugen, head librarian at the Smithsonian American Art Museum and National Portrait Gallery Library.
"Come Together" is showcased in conjunction with Al-Mutanabbi Street Starts Here DC 2016, a book arts cultural festival commemorating the 2007 bombing of Al-Mutanabbi Street. Partners include George Mason University's School of Art and George Mason University Libraries, Corcoran School of the Arts and Design at George Washington University, Georgetown University and Cultural DC.
The Smithsonian American Art Museum and National Portrait Gallery Library is located at 750 Ninth Street N.W., Suite 2100.
Public Program
The Smithsonian Libraries will host the Seventh Annual Commemorative Reading March 5 at 6 p.m. in the Smithsonian American Art Museum's McEvoy Auditorium at Eighth and G streets N.W. Distinguished poets and translators, musicians and speakers will commemorate the 2007 bombing of Al-Mutanabbi Street to celebrate the free exchange of ideas and knowledge and stand in solidarity with the people of Iraq and everywhere where freedom of expression is threatened. 
About the Smithsonian Libraries
The Smithsonian Libraries maintains a collection of more than 2 million volumes and serves as an educational resource for the Smithsonian Institution, the global research community and the public. The Libraries are located in Washington, D.C.; Edgewater, Md.; New York City; and the Republic of Panama. For more information, visit the Smithsonian Libraries website.
# # #
SI-31-2016