Smithsonian Latino Center Opens "Southern Identity: Contemporary Argentine Art"
October 12, 2010
News Release
Addthis Share Tools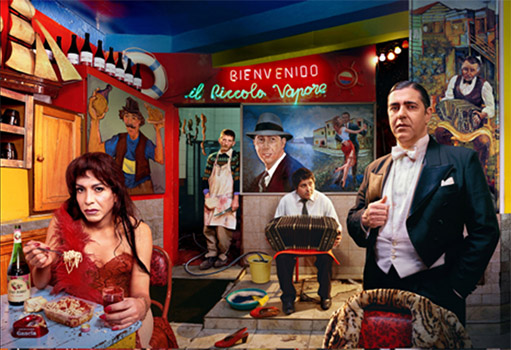 The Smithsonian Latino Center opened its exhibition "Southern Identity: Contemporary Argentine Art" Oct. 11. The exhibition, organized with Argentina's Secretariat of Culture, highlights 80 works by 32 living Argentine artists, including León Ferrari, Marta Minujín, Luis Felipe Noé, Nicola Constantino, Marcos López, Pablo Siquier and Marcia Schvartz. "Southern Identity: Contemporary Argentine Art" will be on view in the International Gallery of the Smithsonian's S. Dillon Ripley Center through Jan. 23, 2011.
The bilingual exhibition presents an overview of the major movements and trends in Argentina's national art scene since 1948 and is organized in four sections featuring political art, landscapes, national identities and abstraction. It is the largest survey of Argentine contemporary art ever organized in the United States and includes paintings, drawings, sculptures, video art, photography and prints representing the work of artists working in Buenos Aires and throughout Argentina's provinces. The exhibition's curators are Alberto Petrina, national director of patrimony and museums, and Andrés Duprat, director of visual arts; both are from Argentina's Secretariat of Culture.
"Southern Identity" is part of the public program and exhibition series Argentina at the Smithsonian 2010 that commemorates Argentina's bicentennial and features more than 20 free public programs between March and January, including tango and jazz concerts, hands-on design programs, film screenings, artists' dialogues, spoken-word readings, family days and scholarly lectures. This series also features the exhibition "Buenos Aires, El Instante Siguiente: Contemporary Photography from Argentina," which is on view between Oct. 18 and Nov. 16 in the Terrace Level Gallery of the Organization of American States at 1889 F Street N.W.
The Smithsonian Latino Center is the division of the Smithsonian Institution that ensures that Latino contributions to art, science and the humanities are highlighted, understood and advanced through the development and support of public programs, scholarly research, museum collections and educational opportunities at the Smithsonian Institution and its affiliated organizations across the United States and internationally.
# # #
SI-442-2010
Media Only
Samia Brennan
(202) 633-5191