Smithsonian Latino Center Kicks Off Young Ambassadors Program in Washington
Annual Youth Program Empowers Community-Conscious Leaders With Support From Ford Fund
July 1, 2019
News Release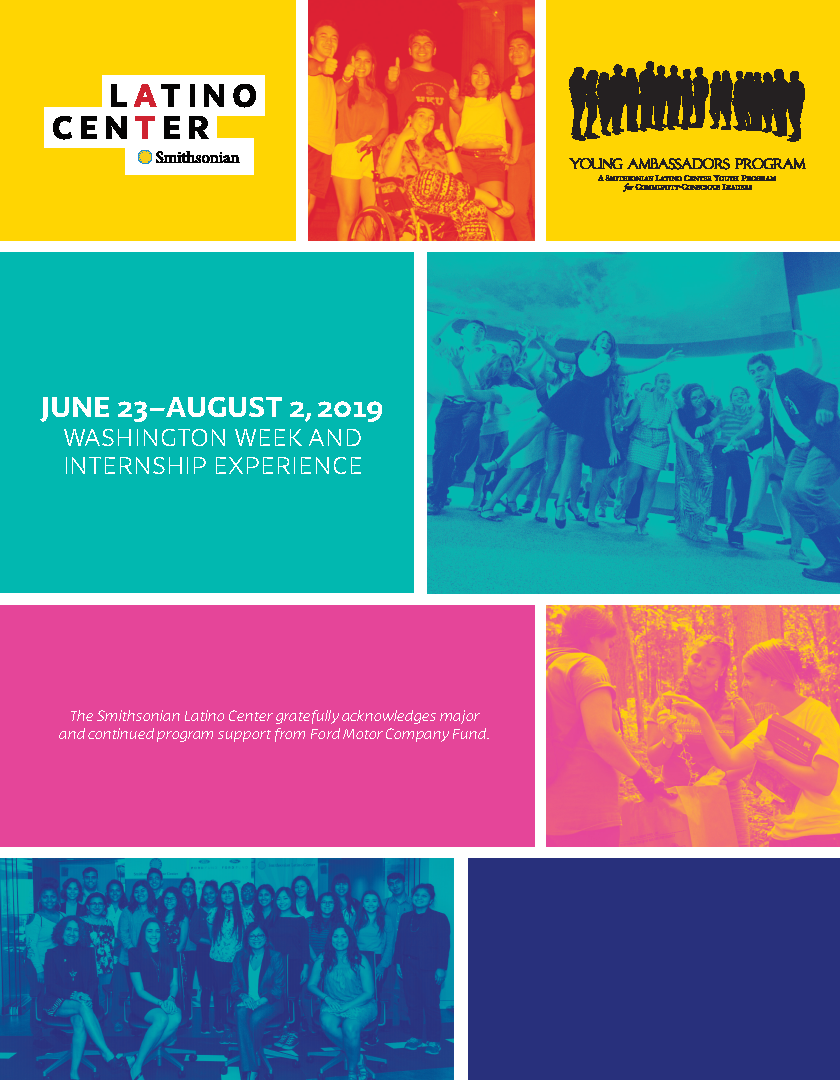 The Smithsonian Latino Center welcomed 18 graduating high school seniors from across the country to participate in its annual Young Ambassadors Program (YAP) June 24. Through the support of Ford Motor Company Fund, the program offers a unique opportunity for young Latinos to become community-conscious leaders and lifelong learners.
"Every student that applies to the Young Ambassadors Program is immensely talented and incredibly passionate about making a difference in their communities," said Eduardo Díaz, director of the Smithsonian Latino Center. "We are honored to play a role in their development. Through YAP they gain essential skills to succeed academically, professionally, and even personally."
The program officially kicked off Monday, June 24, with a week in Washington, D.C., for a behind-the-scenes look at the Smithsonian. During YAP Washington Week, students participated in workshops with preeminent Latino scholars and leaders, such as independent filmmaker and director Alberto Ferreras with HBO Habla Series.
After their week in Washington, participants complete a four-week internship at a Smithsonian partner or affiliate cultural or science museum in one of 17 cities across the U.S., including Puerto Rico. This unique opportunity allows students to gain valuable work experience and learn how to apply those skills to improve their communities.
 "YAP is more than a network," said Adrián Aldaba, 2008 alumnus and program coordinator for Smithsonian Latino Center, regarding the program's impact on his own personal and professional growth. "The bonds these students share form a lifelong intensity. The Young Ambassadors view themselves as a family and even dubbed themselves nuestra familia, a connection that's held strong over the years."
The Smithsonian Latino Center and Ford Motor Company Fund have collaborated on YAP for more than a decade, investing in education and careers in the arts, business, science and technology sectors, among others. During this time, more than 280 students have participated in the program, each receiving a $2,000 stipend toward college-related expenses. Ford Fund is the philanthropic arm of Ford Motor Company.
"Helping to improve student's lives depends greatly on providing the tools and resources they need to achieve academic success, while also making a lasting impact in their communities," said Joe Avila, manager of community development, United States and Latin America, Ford Motor Company Fund. "Ford Fund has proudly collaborated with the Smithsonian Latino Center to invest in the development of students through the distinguished Young Ambassadors Program. The experience these students gain during and after their program participation is invaluable."
About the Smithsonian Latino Center
Smithsonian Latino Center is the corazón of Latinidad at the Smithsonian. It works toward preserving Latino history and culture, engaging Latino communities and advancing Latino representation in the United States. Since 1997, the center has successfully ensured that the contributions of the Latino community are celebrated and represented throughout the Smithsonian Institution. For more information, visit www.latino.si.edu.
About Ford Motor Company Fund       
As the philanthropic arm of Ford Motor Company, Ford Fund's mission is to strengthen communities and help make people's lives better. Working with dealers and nonprofit partners in 63 countries, Ford Fund provides access to opportunities and resources that help people reach their full potential. Since 1949, Ford Fund has invested more than $2 billion in programs that support education, promote safe driving, enrich community life and encourage employee volunteering. For more information, visit www.fordfund.org or join us at @FordFund on Facebook and Twitter.
# # #
SI-280-2019