Smithsonian Latino Center Celebrates Cinco de Mayo with Music
"Los Gallos Negros" Sing Songs of Migration and Struggle
April 29, 2013
News Release
Addthis Share Tools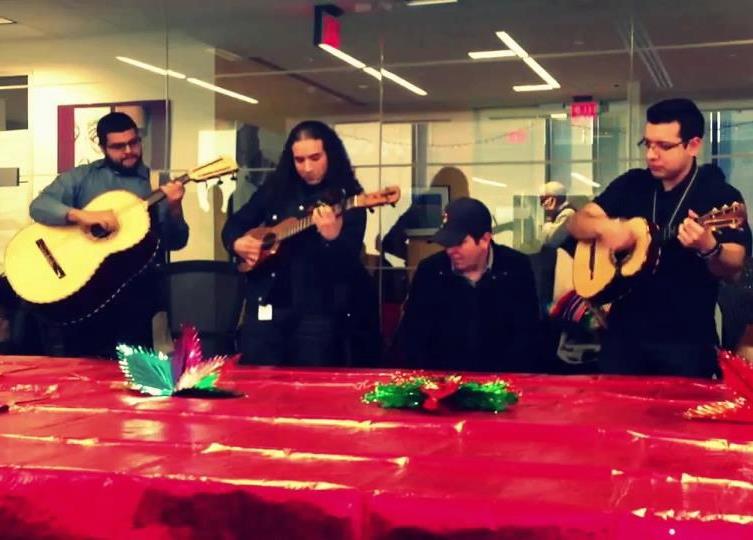 The Smithsonian Latino Center presents musical group Los Gallos Negros, Sunday, May 5, from 2 to 3:30 p.m. in the Warner Bros. Theater at the Smithsonian's National Museum of American History on Constitution Avenue N.W., between 12th and 14th streets. The concert aims to reinterpret the historical significance of this celebrated holiday with stories of struggle and migration through corridos (narrative songs and poetry forms). These songs honor the hard work and struggle of the immigrant experience in this country, specifically braceros (Mexican guest workers, 1942–1964), and Central Americans. It also traces the historical trajectory of México-U.S. migration.
Los Gallos Negros is a five-member string instrument ensemble with a repertoire of Mexican traditional music. Members hail from throughout the U.S., and all currently work and live in Washington, D.C. They perform regularly around Capitol Hill and have recently played at events supporting the DREAM Act and for Dolores Huerta, an icon of farmworker and international migrant rights in the U.S. Band members include:
Daniel Herrera Cervantes (violin, accordion, vocals): Born in Los Angeles, Daniel is the son of Mexican immigrants who brought with them their love of Mexican music. Initially trained as a mariachi violinist, Herrera has dedicated himself to other Mexican son traditions, including son huasteco and son jarocho. He studied political science and anthropology at Stanford University and moved to Washington, D.C., to advocate for immigration

reform. 

He currently works as a press aide to the U.S. House Democratic Caucus. 
Alexandro Davíd Hernández (guitarra de son, requinto romántico, vocals): Hernández was raised in the U.S.-México border town of Del Río, Texas. He is a participant of the Chicano-Jarocho movement in the U.S., a community of activist-musicians that use the son jarocho as music for social justice. Hernández is also a UCLA doctoral candidate in ethnomusicology and current pre-doctoral fellow at the Smithsonian Center for Folklife and Cultural Heritage. He has toured and recently performed with Smithsonian Folkways Grammy award-winning band Quetzal.
Edwin Luevanos (guitarrón, vocals) was born in Guadalajara, Jalisco, Mexico, and raised in Fresno, Calif. Luevanos learned Mexican traditional music through his father. In college he studied classical music and was introduced to Flamenco by maestro Juan Serrano. He has visited Spain and studied Flamenco guitar, cante and baile with world-renowned maestros like Manolo Sanlucar and Gerardo Núñez. His other passion is clean energy and sustainable cities, having recently worked at the U.S. Department of Energy. He now owns his own social enterprise, Citizen Energy.
Lorenzo Olvera (vihuela, vocals) is a native of Idaho. Both of his parents migrated from Mexico and settled to work in Idaho. Olvera also comes from a musical family of accomplished mariachi musicians. He currently works as a political appointee at the Department of Education (Office of Legislation and Congressional Affairs).
Daniel Zazueta (cajón, guitar, bongos, vocals) is from San Jose, Calif. His father, Fernando Zazueta, immigrated from Sinaloa, Mexico, to work as a migrant farm worker in California. Zazueta grew up listening to traditional Mexican music. Despite not being raised in a musical family, Zazueta gravitated toward guitar and percussion at a young age. He has played percussion in Brazilian samba groups and in the Extra Action Marching Band out of Oakland. He currently works as a trial attorney for the U.S. Department of Energy.
The program will include songs and corridos such as "Un mojado sin licencia" (Flaco Jiménez), "Tres veces mojado" (Los Tigres del Norte), "El corrido de Córdova y Canales" (Roberto Martínez, New Mexico) and "Conga del Bracero" (Patricio Hidalgo y el Afrojarocho). The concert will be followed by an onstage conversation between the musicians and the audience. This concert is free and will be webcast live on http://latino.si.edu/newsevents/webcasts.htm. Doors open at 1:30 p.m., and seating is first come, first seated.
The Smithsonian Latino Center is a division of the Smithsonian that ensures Latino contributions to art, science and the humanities are highlighted, understood and advanced through the development and support of public programs, scholarly research, museum collections an educational opportunities at the Smithsonian and its affiliated organizations across the U.S. More information is available at www.latino.si.edu.
# # #
SI-159-2013