Smithsonian lanza el Programa Latino de Estudios en Museología 2013
El programa de seis semanas ofrece una variedad de actividades y oportunidades para estudiantes de postgrado
June 27, 2013
News Release
Addthis Share Tools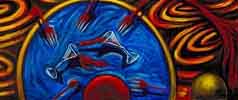 El Centro Latino Smithsonian comenzará su Programa Latino de Estudios en Museología 2013 en Washington, D.C. el 1º de julio, marcando el 17º año en que esta oportunidad para el desarrollo profesional es ofrecida a estudiantes de postgrado. Cada año el Centro Latino selecciona a 15 estudiantes provenientes de todo el país quienes han demostrado liderazgo e interés en las áreas de la historia, la museología, la preservación histórica y la gestión de las artes latinos. Los participantes de este año están completando sus estudios en universidades en Arkansas, California, Colorado, Florida, Indiana, Nueva York, Ohio, Texas y Washington, D.C.
El programa se ofrece en dos partes: primero son dos semanas de presentaciones, talleres y discusiones con destacados conservadores, investigadores y expertos del Smithsonian. Los participantes aprenden acerca de los proyectos actuales y futuros del Smithsonian, como también las mejores prácticas para los museos, a través de visitas y recorridos exclusivos de las colecciones y exhibiciones. Las actividades de este año incluyen una charla con directores de museos y centros de investigación del Smithsonian acerca del papel de los museos étnicos, participación en el Festival Smithsonian de Culturas Populares, una visita al National Trust for Historic Preservation, un recorrido del Centro de Recursos Culturales del Smithsonian, el cual almacena más de 12.000 vasijas de cerámica de Centroamérica, y reuniones con representantes del American Latino Heritage Fund del National Park Foundation, y de Friends of the National Museum of the American Latino.
La segunda parte es una pasantía de cuatro semanas en un museo o centro de investigación del Smithsonian para avanzar un proyecto o iniciativa del Smithsonian. En base a una colaboración exitosa en el 2012, el Centro Latino volverá a colaborar con el National Trust for Historic Preservation para ofrecer dos pasantías adicionales. Este año los proyectos cubrirán temas que incluyen una iniciativa acerca de la inmigración, la conservación del arte, los movimientos de solidaridad latinos, y una investigación acerca de los indígenas del caribe. El Programa Latino de Estudios en Museología recibió el apoyo de la Anheuser-Busch Foundation.
Desde 1997, Anheuser-Busch y su fundación han invertido en las comunidades locales a través de donaciones a organizaciones caritativas de casi $490 millones. Anheuser-Busch es una subsidiaria de propiedad total de Anheuser-Busch InBev, la compañía cervecera líder a nivel mundial, y continua funcionando bajo el nombre y el logo de Anheuser-Busch.
El Centro Latino Smithsonian es una división del Smithsonian dedicada a asegurar que los aportes de los latinos a las artes, las ciencias y las humanidades sean destacados, comprendidos y promovidos mediante el desarrollo y apoyo de programas públicos, la investigación académica, las colecciones de museos y las oportunidades educativas en el Smithsonian y sus organizaciones afiliadas en todos los Estados Unidos y en el ámbito internacional. Para más información acerca del Programa Latino de Estudios en Museología, visite www.latino.si.edu.
# # #
SI-267-2013