Smithsonian Journeys Announces 2011 "Around the World Private Jet Tour"
Journey Features Machu Picchu, Angkor Wat, the Taj Mahal, the Great Barrier Reef, Serengeti National Park and Egypt's Valley of the Kings
July 20, 2010
News Release
Addthis Share Tools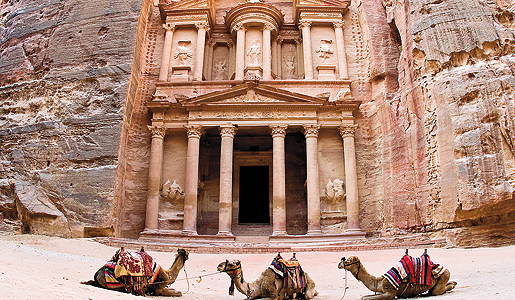 Smithsonian Journeys announces its 2011 "Around the World by Private Jet Tour" (Oct. 28, 2011-Nov. 18, 2011). During this once-in-a-lifetime adventure, travelers accompanied by a world-class team of experts will explore more than 12 World Heritage sites and experience diverse cultures—all in a single journey. Travelers will meet indigenous peoples and explore exotic places while traveling from one destination to the next aboard a private Boeing 757, bypassing commercial airline routes and schedules. The chartered jet is specially configured to generously accommodate 88 VIP-style seats instead of the standard 228 seats.
Experienced expedition staff will attend to every logistical detail, create customized excursions tailored to personal interests and ensure a luxury journey. Detailed information about the World Heritage sites visited and articles about previous Around the World private-jet tours and photographs can be found at www.SmithsonianJourneys.org/privateair. Travelers enrolling by Aug. 10, 2010, will receive a complimentary pre-tour hotel night.
 The first stop on the 22-day journey is Peru, with a visit to the Inca monument, Machu Picchu, one of the world's most impressive architectural achievements. Travelers will then fly more than 2,300 miles across the Pacific Ocean to Easter Island to meet with renowned archaeologists and witness the mysterious colossal stone statues called moai.
In Samoa, a land that has changed little from ancient times, guests will be treated to a lavish traditional feast and colorful performance of Samoan dance. After crossing the international dateline, they will arrive in Cairns and venture out to the Great Barrier Reef, the largest known coral reef in the world, or visit Daintree, the world's oldest rainforest.
Continuing to Asia, travelers will visit Cambodia's stunningly beautiful Angkor Wat temple complex or explore historic Hanoi and Ha Long Bay.
In India there will be visits to Agra, site of the famous Taj Mahal, and Jaipur, the "Pink City," named for the rose color of its prominent buildings. Tanzania follows, with a safari in Serengeti National Park, home to the densest "big cat" predator populations (lions, cheetahs and leopards), or to Ngorongoro Crater to observe great herds of wildebeest, gazelle and zebra.
Egypt's Valley of the Kings is the next featured destination. Travelers will visit the tombs of divine pharaohs, including King Tutankhamen, sail the Nile in a felucca (a traditional sailboat) and see the spectacular temples at Karnak. Morocco's historic Fez is the last stop on this global expedition.
Smithsonian Journeys' "Around the World by Private Jet Tour" is available for $62,950 per person, based on double occupancy, and includes round-trip private jet travel from Orlando, Fla., luxury accommodations, all meals, ground transportation, excursions and activities, welcome reception, lectures by experts, on-board physician, baggage handling, gratuities and emergency evacuation insurance.
More information on this special opportunity and other private-jet expeditions offered in 2011 and 2012 can be found at www.SmithsonianJourneys.org/privateair or by calling toll-free 1 (877) 338-8687.
Note: Photographs are available on request.
About Smithsonian Journeys
Smithsonian Journeys is the Smithsonian Institution's travel program, with more than 40 years dedicated to life-enriching experiences worldwide. The Smithsonian is known for "Inspiring Generations through Knowledge and Discovery," which is central to Smithsonian Journeys and its more than 150 expert-led international and domestic tours featuring exclusive access and unforgettable experiences. For more information, call toll-free 1 (877) 338-8687 or visit www.SmithsonianJourneys.org.
About the Smithsonian
Founded in 1846, the Smithsonian is the world's largest museum and research complex consisting of 19 museums and galleries, the National Zoological Park and nine research facilities. There are 6,000 Smithsonian employees, including approximately 500 scientists, and more than 6,500 volunteers. Approximately 30 million people from around the world visited the Smithsonian in 2009 with more than 188 million visits to the Smithsonian websites. The total number of objects, works of art and specimens at the Smithsonian is estimated at 137 million.
# # #
SI-311-2010