Smithsonian Journeys and Thomson Family Adventures Team Up to Expand Travel Adventures for Families
December 22, 2011
News Release
Addthis Share Tools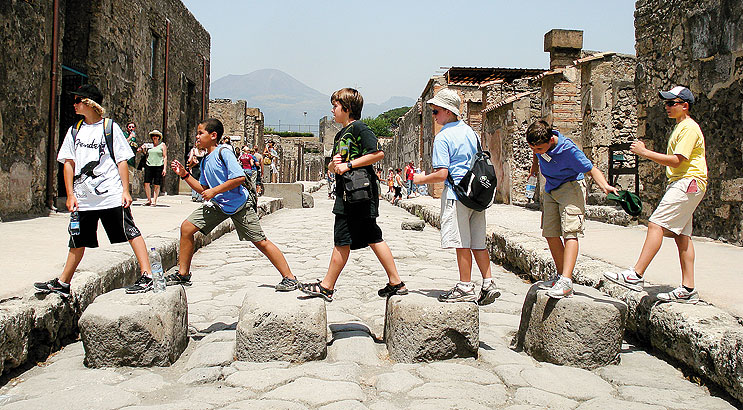 Smithsonian Journeys, the Smithsonian Institution's travel program, is teaming up with Thomson Family Adventures to offer a new series of enriched family adventures that will begin operations in the summer of 2012. Combining Smithsonian Journeys' 40 years of experience in educational travel with Thomson's award-winning family vacation itineraries, this new collection of family tours will feature exciting opportunities for families to learn, enjoy and discover the joys of traveling to exotic locations. With Smithsonian Family Adventures, Smithsonian expands its family travel portfolio to include five new destinations that cater specifically to the interests of kids, their parents and their grandparents.
"By expanding our family travel program to include more family-friendly itineraries, Smithsonian Journeys offers new opportunities for families to enjoy Smithsonian far beyond the museums in Washington, D.C.," said Carol LeBlanc, vice president of Smithsonian Enterprises. "Together with Thomson Family Adventures, we will extend the Smithsonian's superb educational resources to families who desire a truly unique travel experience. These are educational and fun trips that we know the whole family will enjoy and cherish."
"We are honored to be working side by side with such a great organization as the Smithsonian and look forward to delivering exceptional vacations that offer families time to learn and discover," said Jim Kackley, general manager of Thomson Family Adventures. Since 1998, Thomson Family Adventures has focused on connecting families with travel options that venture well beyond the cookie-cutter tourist destinations and deep into the real landscapes and cultures that give each country its character and true identity.
Starting in 2012, families may choose from five new destinations. In Tanzania, families explore the Serengeti and other private game parks while traveling with a professional photographer. In China, families will spend three days at the Linden Centre in Yunnan Province, experiencing Chinese village life close-up. Travelers on Smithsonian Family Adventures in Peru will visit a floating reed village on Lake Titicaca and in Costa Rica they will study the Earth's dynamic forces during trips to two volcanoes. The adventures are ideally designed for families with children ages six and up. Complete information on Smithsonian Family Adventures, which includes itineraries in Tanzania, Peru, Costa Rica, Turkey and China, can be found at http://SmithsonianJourneys.org/family-adventures.
About Smithsonian Journeys
Smithsonian Journeys is the Smithsonian Institution's travel program, with more than 40 years dedicated to life-enriching experiences worldwide. The Smithsonian is known for "Inspiring Generations through Knowledge and Discovery," which is central to Smithsonian Journeys and its more than 150 expert-led international and domestic tours featuring exclusive access and unforgettable experiences. The Smithsonian Journeys collection includes small-ship luxury and value cruises, private-jet tours, custom designed private travel options and small-group, air-inclusive tours worldwide. For more information, call toll-free 1 (877) 338-8687 or visit http://www.SmithsonianJourneys.org.
About Thomson Family Adventures
Thomson Family Adventures designs truly unique family travel experiences that engage, entertain and educate young and old alike. Since 1998, Thomson Family Adventures has devoted all of its energies to enhancing the family travel experience resulting in innovative and leading-edge travel features to the industry.
# # #
SI-502-2011