Smithsonian Institution Participates in the Country's First National Science Festival Saturday, Oct. 23, and Sunday, Oct. 24
October 21, 2010
News Release
Addthis Share Tools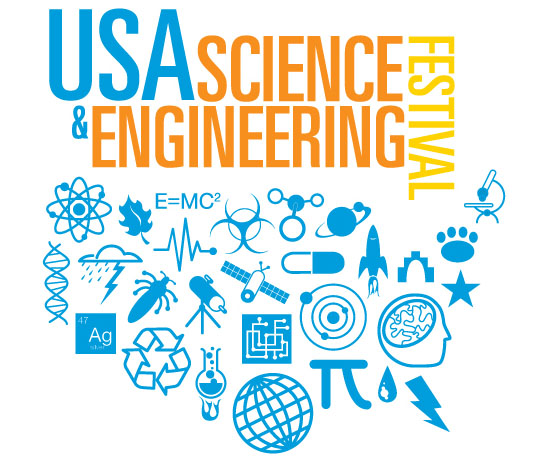 The Smithsonian Institution will participate in the Inaugural USA Science & Engineering Festival this weekend Oct. 23 – 24 on the National Mall. The free, two-day expo features 1,500 hands-on science activities and booths as well as stages for shows and presentations. The Smithsonian will have four programs, each open from 10 a.m. to 5:30 p.m.
What Does It Mean to Be Human?
Discover what it means to be human at the Smithsonian's National Museum of Natural History booth. Visitors can learn about fossil and archeological discoveries that help us understand how humans evolved and find out how to tell a stone tool from a rock. Location: Booth 392 on the Mall near the Museum of Natural History. Contact: Briana Pobiner, pobinerb@si.edu
Rick Potts, the director of the Human Origins Program and curator of the Hall of Human Origins at the Museum of Natural History, will speak at the American Association for the Advancement of Science's Meet the Scientists! event Saturday, Oct. 23, at 1 p.m. in the Andrew W. Mellon Auditorium at Constitution Avenue and 14th Street.
The Universe in a Jelly Bean Jar
Visitors may create their own universe in a jelly bean jar with the Smithsonian Astrophysical Observatory and Chandra X-ray Center experts. The universe is mainly dark—about 96 percent of it consists of dark matter and dark energy; only about 4 percent is made of familiar atomic matter such as galaxies, stars and planets. In this exhibit, visitors will explore the universe through a fun, hands-on activity with jelly beans. Location: Booths 404 and 406 on the Mall near the National Museum of Air and Space. Contact: Meghan Watzke, watzke@cfa.harvard.edu
Hot Spot of Invention
Invention happens everywhere. Sometimes, the right people, ideas, resources and inspiring surroundings join together at the right moment to form a "hot spot of invention." Explore the wonder of gyroscopes with the Smithsonian's Lemelson Center and Draper Laboratory through hands-on activities that investigate everyday uses of gyro technologies. Location: Booths 1223 and 1225 in Freedom Plaza on Pennsylvania Avenue near 13th Street. Contact: Tricia Edwards, edwardst@si.edu
From Algae to Apps
The Smithsonian's botany department has joined the U.S. Botanic Garden, and the University of Maryland and Columbia University for a look at plant exploration in a 21st-century field station. Ever wonder what a botanist sees when looking at a leaf? Participants will be able to identify a tree species by using the LeafID iPhone app developed in collaboration with the universities. Location: Booth 1027 in the Andrew W. Mellon Auditorium. Contact: Ida Lopez, lopezi@si.edu
For additional details on the USA Science & Engineering Festival, visit http://www.usasciencefestival.org.
# # #
SI-465-2010