Smithsonian Hosts Annual Sustainable Seafood Event: "Sustainable Seafood: Ensuring a Healthy Supply"
May 17, 2012
News Release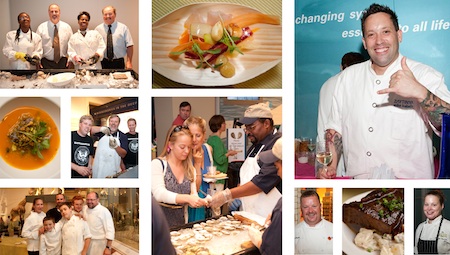 The National Museum of Natural History will host its fourth annual sustainable seafood event, "Sustainable Seafood: Ensuring a Healthy Supply," June 7, the eve of World Ocean Day. The event is part of the Smithsonian's commitment to investigating sustainable seafood by addressing common misperceptions and challenges about the safety of eating seafood. Interactive educational stations and an intimate, evening cocktail reception and dinner from 7 to 10 p.m. will present active solutions from the industry, scientists and the conservation community to protect the seafood supply and the health of seafood consumed. Information about how to purchase tickets for this historically sold-out event is available here.
The stations will address how to maintain a safe seafood supply and present various technologies and solutions that advance a sustainable supply of seafood. Local celebrity chefs, including Victor Albisu, Mike Isabella of Graffiato and Bandolero, Jeff and Barbara Black of Black Restaurant Group, Ris Lacoste of RIS, Jamie Leeds and Nicolas Flores of Hank's Oyster Bar, Shannon Overmiller of The Majestic and Susan Soorenko of Moorenko's Ice Cream Café will prepare sustainable-seafood hors d'oeuvres, served alongside a specialty cocktail and wine. Oysters from Rappahannock River Oysters and the Virginia Marine Products Board and sushi from Wegmans Food Markets will complement the theme.
The reception will be followed by a keynote address by Steven Phillips, CEO of Phillips Seafood restaurants, and a seated dinner in the museum's rotunda featuring recipes from chef Richard Hetzler of the Mitsitam Native Foods Café and chef Scott Drewno from The Source by Wolfgang Puck. The courses will be matched with appropriate wines.
# # #
SI-239-2012