Smithsonian Gardens Accredited By American Alliance of Museums
July 25, 2013
News Release
Addthis Share Tools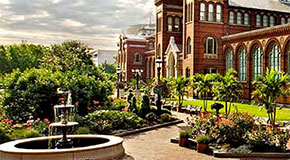 Smithsonian Gardens has received accreditation from the American Alliance of Museums, joining a small group of officially accredited gardens in the country. The recognition was given in March.
Of the nation's 17,500 museums, only 1,000 are currently accredited and only 3 percent of those accredited organizations are public gardens. In the Washington–metro area, only two other public gardens have attained accreditation status: the United States Botanic Garden and Green Spring Gardens.
Smithsonian Gardens started the accreditation process in 2007 with an institutional assessment that reviewed its management and operational practices. The assessment was broken into three phases: self-study, peer review and implementation. Throughout the process, Smithsonian Gardens changed its name (formerly Horticulture Services Division), refined its mission and incorporated the accreditation process into its five-year strategic plan.
"This designation confers a high mark of distinction for a museum and is truly a milestone in the history of Smithsonian Gardens," said Barbara Faust, director of Smithsonian Gardens. "The road to AAM accreditation was long and arduous. In 1999, under the rubric of our 'precursor,' the Horticulture Services Division, we began discussions on how and if we could achieve museum accreditation."
Smithsonian Gardens is composed of 11 gardens across the National Mall. These include the Enid A. Haupt Garden, the Butterfly Habitat Garden and the Mary Livingston Ripley Garden that feature a variety of flowers, vegetables and sculptures. A leisurely walk around all of gardens takes about three hours. Smithsonian Gardens offers weekly tours from May through September, weather permitting.  
Smithsonian Gardens was established in 1972 to manage the grounds of the Smithsonian museums and to create interior and exterior horticultural exhibitions. Its research and educational programs promote the ongoing development of collections of living plants, garden documentation and horticultural artifacts. For more information visit http://www.gardens.si.edu/.
Accreditation recognizes high standards in individual museums and cultural organizations and ensures that they uphold their public trust obligations. Developed and sustained by museum professionals for more than 40 years, AAM's museum accreditation program is the field's primary vehicle for quality assurance, self-regulation and public accountability. 
# # #
SI-296-2013