Smithsonian Folkways Releases JAZZ: The Smithsonian Anthology
March 29, 2011
News Release
Addthis Share Tools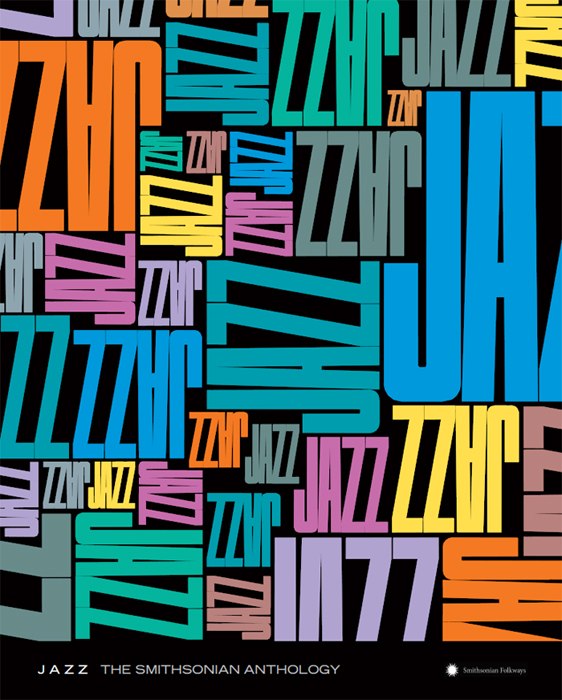 Smithsonian Folkways will release JAZZ: The Smithsonian Anthology March 29, a six-CD box set seven years in the making. The anthology traces the history of jazz through its legendary innovators, including Louis Armstrong, Duke Ellington, Count Basie, Charlie Parker, Dizzy Gillespie, Herbie Hancock and John Coltrane. The six CDs encompass ragtime, New Orleans, swing, bebop, hard bop, cool, modal, free, fusion, Latin and many more variations in jazz's sound mosaic.
JAZZ: The Smithsonian Anthology is the successor to the 1973 milestone Smithsonian Collection of Classic Jazz. Eighty percent of the set is new selections—its nearly eight hours of music feature hundreds of musicians on 111 tracks. The set is accompanied by a 200-page book of essays, track annotations and historical photos. The set opens with Scott Joplin's "Maple Leaf Rag" (1899) and closes with Tomasz Stańko's "Suspended Night Variation VIII" (2003).
A blue ribbon executive committee selected the final 111 recordings from thousands of tracks recommended by dozens of jazz experts. The track annotations, which are extremely detailed, were contributed by a team of 35 scholars and educators. The notes on Joplin include an exploration of ragtime form, while an entry on Stańko discusses the state of jazz in the Eastern Bloc before the fall of the Berlin Wall. Five separate essays trace the evolution of Miles Davis from bebop to fusion.
"The extensive research done for this anthology could have produced many different sets representing disparate viewpoints," said producer Richard James Burgess, in his album notes. "Our intention is that the anthology will stimulate aficionados and interested listeners, serve as a tool for educators and students, and provide an overview of jazz, as well as a solid jumping-off point for further explorations of this inspiring musical culture."
JAZZ: The Smithsonian Anthology renews Folkways Records' founder Moses Asch's commitment to letting the "people's music" be heard and fulfills the educational mission of Smithsonian Folkways Recordings, the nonprofit record label of the Smithsonian Institution. More than a half century after the 11-volume Folkways Records JAZZ series of the early 1950s, Smithsonian Folkways echoes its legacy of offering a comprehensive, contemporary vision of the history, diversity and beauty of this consummate American musical invention that today belongs to the world.
For a complete track list, and the Smithsonian Jazz Trivia Challenge, visit www.folkways.si.edu/jazz.
# # #
SI-146-2011