Smithsonian Folklife Festival Marketplace Will Offer One-of-a-Kind Products
June 24, 2011
News Release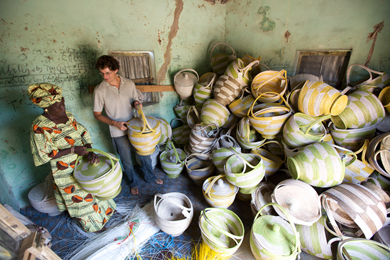 The Folklife Festival's Marketplace will offer a variety of items for purchase from this year's programs "Colombia: The Nature of Culture," "Peace Corps: Fifty Years of Promoting World Peace and Friendship" and "Rhythm and Blues: Tell It Like It Is." This year's Marketplace also will have a "Best of the Best" section featuring items from past Festivals.
The Festival will be held Thursday, June 30, through Monday, July 4, and Thursday, July 7, through Monday, July 11, outdoors on the National Mall between Seventh and 14th streets. Festival hours are from 11 a.m. to 5:30 p.m. each day, with special evening events such as concerts and dance parties beginning at 5:30 p.m. The Festival is co-sponsored by the National Park Service.
Items for sale from the "Colombia: The Nature of Culture" program will include baskets ($30-$300); musical instruments ($28-$150); iraca tote bags ($5-$50); wall hangings and tapestries with kuna and mola designs ($40-$150); indigo textiles ($500-$700); and hand-woven hammocks
($150-$220). Other items will include traditional clothing, jewelry and toys ($12-$25); indigenous wool bags ($160-$350); Afro-Colombian woven hats, bags and baskets ($15- $250); wooden toys
($2-$40); animal-hide saddle bags ($170-$300); Tagua rings, necklaces, brooches and key chains ($10-$110); junco basketry ($9-$15); and silver filigree earrings and rings ($36-$220).
Items from the "Peace Corps: Fifty Years of Promoting World Peace and Friendship" program will include ostrich-egg jewelry made in Botswana ($18-$30). Products from Ghana will include shea butter body balms and creams ($15-$35); scented soaps ($8-$10); colorful cotton textiles ($30-$60); and bracelets ($10-$12) and chandeliers ($50-$120) made from recycled glass. Other items for sale from Africa include camel-milking, tribal and glass-beaded baskets ($25-$150) from Kenya and knotted Khenifra jewelry made from djellaba button thread ($20-$38) from Morocco. Items from the Lagafonua Gallery and Handicraft Centre in Tonga include pendant and hair-comb bone carvings ($45); mother of pearl earrings ($30); tapa bags ($22.50-$37.50); paintings ($38-$250); woven pandanus fans ($23- $30); wall hangings ($55); placemat sets ($50-$100); and pandanus bracelets and earrings ($8-$12).
The Marketplace will also feature items from two children's homes. Products from Opika House in the Ukraine will include yarn dolls ($16.50); beaded trees and beaded flower magnets
($12-$20); and embroidered napkins and tablecloths ($24-$30). Products from the Rehoboth Children's Home, an orphanage in the Philippines, will include earrings made from mother of pearl, shell, coconut, glass beads and stone ($7.50); re-usable grocery bags and aprons made from rice bags ($3-$6); and original children's drawings ($6). Proceeds from these products will go directly to these organizations.
Performers from the "Rhythm and Blues: Tell It Like It Is" program will have CDs for sale ($12-$15).
The "Best of the Best" section of the Marketplace will feature past Festival favorites. Some items include dresses, silk scarves and Kasmir shawls ($25-$60), tribal wall hanging ($105-$225); silver jewelry ($18-$40); and silver bracelets with semi-precious stones ($40-$150) from India. This section of the Marketplace will include Mayan Indian textiles such as tablecloths, blankets, placemats, shawls and bags ($20-$85) and cotton and lace scarves ($18-$30). Other selections include earrings, bracelets and chokers made from recycled soda cans from Guatemala ($5-$25); Tagua earrings made in South America ($15-$20); and baskets ($65-$120), dolls and handicrafts ($20-$40) made in Senegal.
Proceeds from purchases directly support Festival artists and musicians, as well as the Festival itself. The Marketplace is located on the National Mall-side lawn of the Freer Gallery of Art. It will be open from 10 a.m. to 6 p.m.
# # #
SI-277-2011