Smithsonian Folklife Festival Marketplace Features Crafts, Textiles and Music
June 10, 2010
News Release
Addthis Share Tools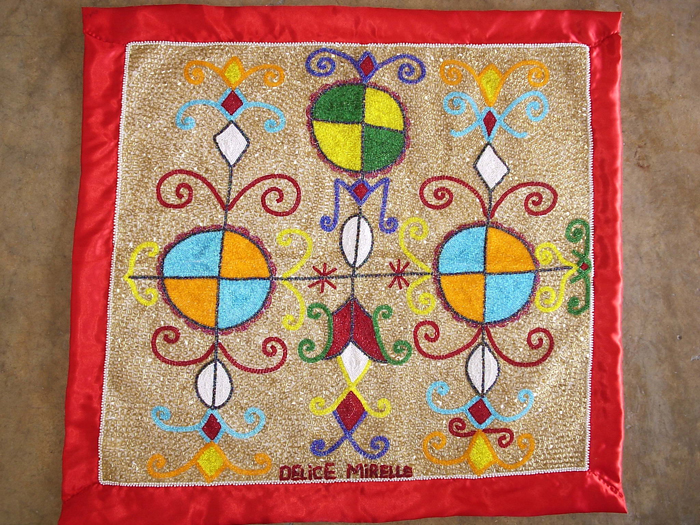 The 2010 Folklife Festival will offer a variety of items for purchase from this year's programs: "Asian Pacific Americans: Local Lives, Global Ties," "México" and "Smithsonian Inside Out," as well as an exciting "Best of the Festival Marketplace" section inspired by past Festivals.
The Festival will be held Thursday, June 24, through Monday, June 28, and Thursday, July 1, through Monday, July 5, outdoors on the National Mall between Seventh and 14th streets. Admission is free. Festival hours are from 11 a.m. to 5:30 p.m. each day, with special evening events such as concerts and dance parties beginning at 5:30 p.m. The Festival is co-sponsored by the National Park Service.
The "Asian Pacific Americans: Local Lives, Global Ties" program will sell calligraphy scrolls and paintings ($40-$900), handmade books ($14-$25) and traditional Lao bamboo baskets ($8-$150) made by Festival participants. Beautiful handmade soap carvings by Festival participant Phuangthong (Nit) Malikul will be available in limited quantities ($15). Children will enjoy the dolls from the Japanese Dolls and Crafts School ($6-$450), Chinoline woven sports balls ($15-$20) and the Hawaiian word game "Hulo!" ($18).
Items from "México" will include an array of products including Tarahumara baskets ($2-$35) and pottery ($5-$15), painted gourds ($4-$9), handmade wood violins ($58-$69), tin figures ($1-$15) and bracelets handcrafted from red beans and seeds ($2-$10). Also available for sale will be exquisite tapestries made by Festival participants the Vicente Sosa family ($150-$1,160).
The "Smithsonian Inside Out" section of the Marketplace will include a wide variety of museum-inspired merchandise and books by Smithsonian curators.
A special "Best of the Festival" section will feature favorite items from previous programs and new products inspired by past Festivals, including colorful and imaginatively patterned Corgi Socks (Wales, 2009; $15) and Lovespoons from Cadwyn (Wales, 2009; $6-$50). Other best sellers from previous Festivals include Holy Branch Gourds (Kentucky, 1973; $24-$48), African baskets (South Africa, 1999; $21-$164), Jerry Brown Pottery (Appalachia, 2003; $45-$120) and Kathy Whitman-Elk Woman Recycled Aluminum Can Jewelry (Native American Program, 1976; $15-$20). Merchandise from the popular 2002 Festival "The Silk Road" will include Turkish ceramics, rugs and pillows ($30-$850) and clothes from India ($22-$58).
In addition to selling recordings of music from this year's Festival, the Marketplace also is the only place where visitors will have the opportunity to browse the entire collection of Smithsonian Folkways Recordings outside of the online catalog.
Proceeds from purchases directly support Festival artists and musicians, as well as the Festival itself. The Marketplace is located on the National Mall-side lawn of the Freer Gallery of Art. It will be open from 10 a.m. to 6 p.m.
About the Festival
The Smithsonian Folklife Festival, inaugurated in 1967, honors tradition bearers from across the United States and around the world. With approximately 1 million visitors each year, the Festival unites visitors and performers in the nation's capital to celebrate the diversity of cultural traditions. It is produced by the Smithsonian's Center for Folklife and Cultural Heritage. The Festival's website is http://www.festival.si.edu.
# # #
SI-264-2010
A press kit for the 2010 Smithsonian Folklife Festival is available at http://newsdesk.si.edu/kits/2010-smithsonian-folklife-festival