Smithsonian Exhibit Invites Visitors To View "Orchids of Latin America"
January 23, 2013
News Release
Addthis Share Tools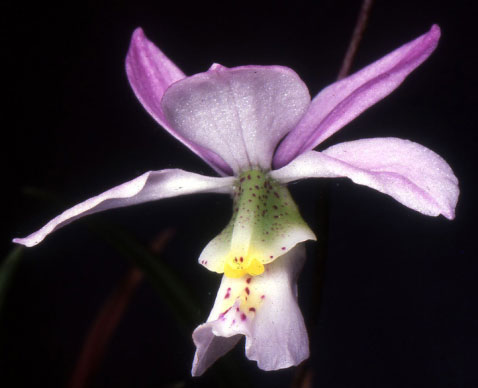 Smithsonian Gardens and the U.S. Botanic Garden will open the 18th annual orchid exhibition, "Orchids of Latin America," at the Smithsonian's National Museum of Natural History, Jan. 26 through April 21.
"Orchids of Latin America" will highlight the importance of Latin American orchids in local culture and folklore through live flower displays and examine ways biological reserves are working to preserve orchid species and habitats today.
"Orchids are beloved in Latin America and have great cultural resonance," said Tom Mirenda, orchid specialist at Smithsonian Gardens. "We feel visitors to this exhibit will enjoy exploring the rich world of orchids and develop a greater understanding of the importance of orchid conservation through orchid research."
The exhibit will explore the rich crossroads where orchid botany, horticulture and Latin American cultures meet. Featuring thousands of orchids, many of which are Latin American species or hybrids originating from Latin species, the exhibit explores how the Latin American region is a hotbed for scientific research on orchid biology and evolution. It will highlight conservation efforts to preserve them and their habitats for future generations.
The orchid family, Orchidaceae, is one of the largest and oldest families of flowering plants. An estimated 25,000 species live in almost every type of environment and continent except Antarctica.
Fiesta de las Or-KID-eas! Family Festival
Visitors of all ages will be able to explore the world of orchids at the "Fiesta de las Or-KID-eas!" family festival Feb. 23 from 10 a.m. to 2 p.m. at the National Museum of Natural History. Smithsonian Gardens, the U.S. Botanic Garden, the National Museum of Natural History and the North American Orchid Conservation Center will offer free activities in conjunction with the exhibition. Visitors can participate in the construction of a giant mosaic made from felt pieces, make their own Latin American garlands and watch an orchid-potting demonstration.
For more information on "Orchids of Latin America," visit the orchid exhibition website. The 18th annual orchid exhibition received contributions from the Latino Initiatives Pool, administered by the Smithsonian Latino Center.
Smithsonian Gardens
Smithsonian Gardens has designed and managed the Smithsonian's grounds and interior plant displays in Washington, D.C., since 1972. Smithsonian Gardens enriches the Smithsonian experience through permanent garden displays, horticultural exhibits, collections and education. The Smithsonian Garden Orchid Collection, which began in 1974, includes 8,000 hybrid and species orchids.
U.S. Botanic Garden
The U.S. Botanic Garden is an institution of public education dedicated to demonstrating the aesthetic, cultural, economic, therapeutic and ecological importance of plants to the well-being of humankind. Its orchid collection includes more than 12,000 plants representing 900 genera. The U.S. Botanic Garden is under the administration of the Architect of the Capitol.
# # #
SI-17-2013