Smithsonian Day of the Dead Celebrates Ancestors with Art, Performances
National Museum of the American Indian and Smithsonian Latino Center Partner To Present Weekend of Entertainment for All Ages
October 7, 2015
News Release
Addthis Share Tools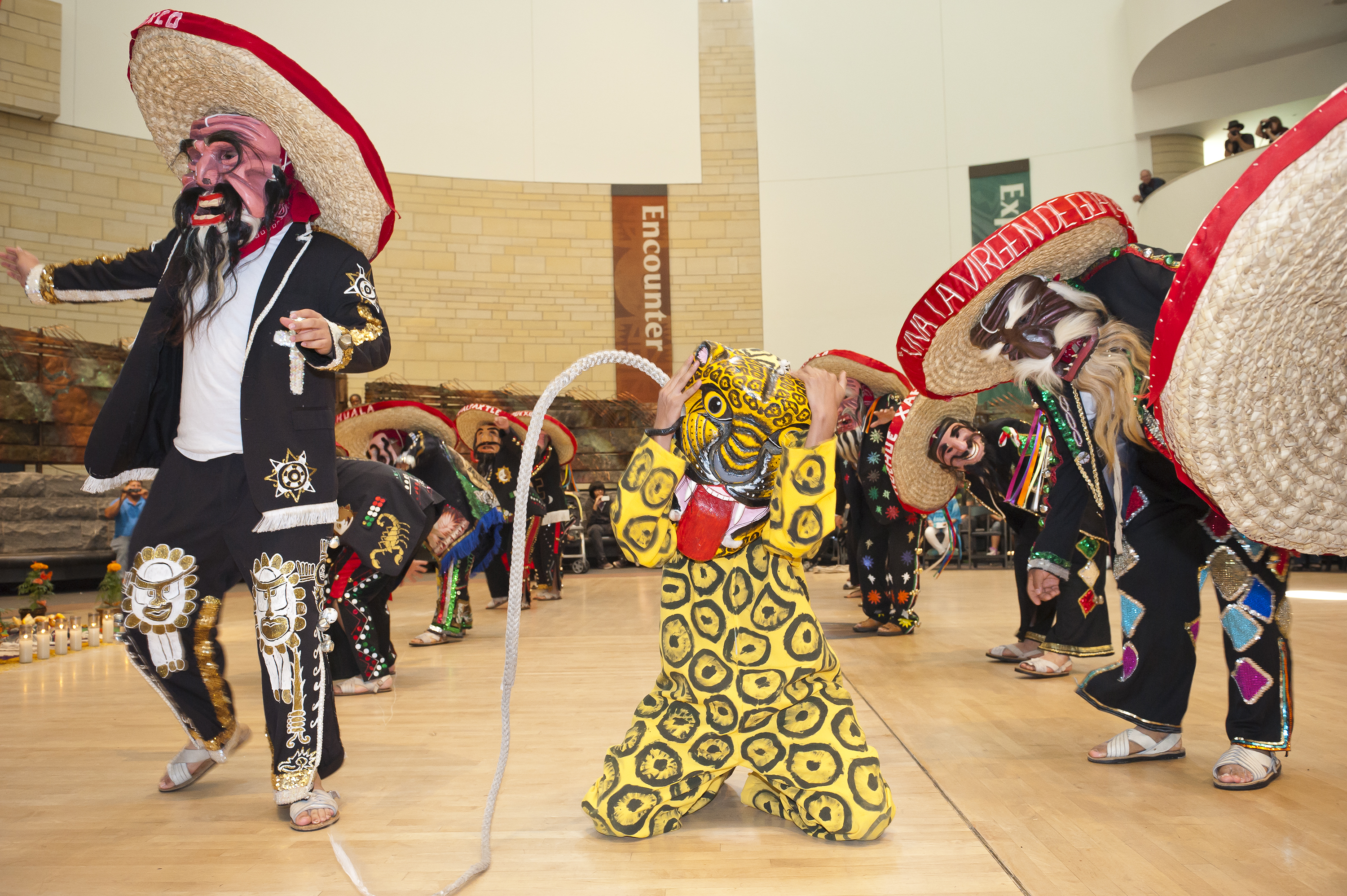 El Día de Los Muertos, or the Day of the Dead, is a premier annual event for the Smithsonian Latino Center and the National Museum of the American Indian, offering an opportunity to celebrate a holiday steeped in both indigenous and Latin American influences. It is observed primarily in Mexico, but also in countries across the Western Hemisphere. Familiar activities will include decorating an altar to honor departed loved ones and performances from Native dance troupes. This year's feature events are a concert by the Grammy Award-winning musical group, Quetzal, talks and demonstrations by the artist Carmen Lomas Garza and spoken-word performances by Francisco X. Alarcón and Caridad de la Luz.
Events this year take place in New York at the museum's George Gustav Heye Center and at the Washington museum on the National Mall. New York's festivities happen Saturday, Oct. 31, from 12 to 5 p.m.; Washington's events are kicked off by Quetzal's concert Friday, Oct. 30 from 6:30 to 7:30 p.m. and continue with a two-day celebration Saturday and Sunday, Oct. 31 to Nov. 1, from 10 a.m. to 5 p.m. each day. Admission to the museums and participation in all activities are free.
Quetzal is the collaborative project of Quetzal Flores (guitar), Martha González (lead vocals, percussion), Tylana Enomoto (violin), Juan Pérez (bass), Peter Jacobson (cello) and Alberto Lopez (percussion). Their opening concert will bring the energy and funk of East Los Angeles to Washington, featuring a dynamic blend of cumbia, rock and soul music.
During the two-day event in Washington, celebrated Chicana narrative artist Carmen Lomas Garza, known for her mixed-media art that celebrates everyday imagery of the lives of Mexican Americans, will host a talk at 1 p.m. each day and a demonstration from 3 to 5 p.m. On Saturday at 3 p.m., visitors will be treated to a reading by the famed author of Snake Poems: An Aztec Invocation, Francisco X. Alarcón, and another on Sunday at 3 p.m. by popular performer Caridad de la Luz, better known as "La Bruja." All activities are supplemented by family- friendly activities, culinary demonstrations from the museum's Mitsitam Native Foods Café and a cultural dance presentation by La Danza de los Tecuanes.
In New York, the main focal piece of the event will be a very large and vibrantly decorated altar, or ofrenda. Participants are encouraged to leave photographs of those departed or small tokens, such as food or drinks, to ensure the souls find their way and are properly greeted. Children and adults alike will take part in craft activities, including decorating calaveras (sugar skulls) and creating papel picado, artworks made by cutting designs in thin paper. Native dancers from the group Cetiliztli Nauhcampa Quetzalcoátl in Ixachitlán will perform vibrant and authentic dance processions throughout the day.
This year's Day of the Dead celebrations received support from AARP and Southwest Airlines.
About the National Museum of the American Indian
The National Museum of the American Indian is committed to advancing knowledge and understanding of the Native cultures of the Western Hemisphere—past, present and future—through partnership with Native people and others. To learn more about the museum's mission, visit AmericanIndian.si.edu. Follow the museum via social media on Facebook, Twitter (@SmithsonianNMAI) (@AmerIndianNYC) and Instagram (@Smithsonian_NMAI) (@Smithsonian_NMAINY).
About the Smithsonian Latino Center
The Smithsonian Latino Center ensures Latino contributions to arts, sciences and the humanities are highlighted, understood and advanced through the development and support of public programs, scholarly research, museum collections and educational opportunities at the Smithsonian Institution and its affiliated organizations across the United States. For more information about the Latino Center, visit latino.si.edu.
Join the conversation on social media using the hashtags #NMAIDayOfTheDead,  #SLCDayOfTheDead and #SmithsonianDOTD.
# # #
SI-446-2015