Smithsonian Celebrates Women's History Month
March 1, 2013
News Release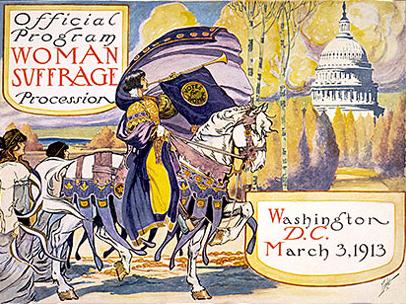 The Smithsonian celebrates Women's History Month in March with a series of films, lectures and performances at museums around the Institution. All programs are free unless otherwise indicated.
Feature Event
The Institution will kick off Women's History Month at the National Museum of American History Saturday, March 2, from 12 to 4 p.m., with its "Vote! Women's History Month Family Festival" celebration. The day commemorates the centennial of the 1913 National Woman Suffrage Parade in Washington, D.C. Visitors can explore women's history through conversations with an exhibition curator, enjoy historical-interpretation and music performances, take a self-guided tour, create hands-on crafts and share their thoughts on a "talk-back board" and through oral-history interviews.
Performances
The Anacostia Community Museum will present "Rhythm Café: The Life and Mastery of Carmen McRae" Sunday, March 10, at 2 p.m. Visitors can join up-and-coming vocalist Mikaela Carlton of the Howard University Vocal Music Department as she presents an afternoon of informative entertainment dedicated to jazz pioneer Carmen McRae. She will be accompanied by the Carmen McRae Tribute Band. Reservations are required. Call (202) 633-4866 or (202) 633-4844 to RSVP.
The National Museum of African Art will present "Africa in Motion" Saturday, March 9, at 2 p.m. Holly Bass will perform "Monument," a new performance piece honoring the strength and diversity of women across Africa. The site-specific performance begins on the museum's lower level and over the course of an hour spirals upward through the space, culminating with a final tableau in the museum's external gardens (weather permitting). In conjunction with the upcoming exhibition, "Earth Matters: Land as Material and Metaphor in the Arts of Africa," the performance also addresses ecological themes such as access to and uses of water and land.
The National Museum of the American Indian, George Gustav Heye Center will present Tanya Tagaq and Nanook of the North Sunday, March 3, at 2 p.m. Inuit performer Tagaq incorporates traditional Inuit throat singing into her highly contemporary sound. She performs her own vocal composition to accompany Robert Flaherty's iconic silent documentary Nanook of the North (1922, 55 minutes), which follows the daily rhythm of life in the harshest of environments. Tagaq debuted the composition at a screening at the 2012 Toronto International Film Festival. This special presentation will be its U.S. premiere.
Films
The National Museum of American History will present a "Classic Film Festival: The Films of Bette Davis" Saturday and Sunday, March 9-10. The museum will show Now Voyager (1942, 118 minutes) Saturday, March 9, at 1 p.m. This film tells the story of a repressed Boston spinster who changes her life through psychoanalysis and a liberating love affair. The museum will also screen Mr. Skeffington (1944, 146 minutes) Saturday, March 9, at 6:30 p.m. This epic melodrama tells the story of a vain society woman living in New York during the early 20th century. The film festival will also show What Ever Happened to Baby Jane? (1962, 132 minutes) Sunday, March 10, at 9 p.m. This gothic thriller presents Davis as a crazed former child star tormenting her wheelchair-bound sister. The screenings will be introduced by popular-culture curator Dwight Bowers and NPR commentator Murray Horowitz.
The National Museum of American History will show Rebel: Loreta Velazquez and the Role of Women in the American Civil War (2013, 73 minutes) Thursday, March 28, at 6 p.m. Loreta Velazquez served as a spy for the Confederacy, fought at Bull Run and was wounded during the Battle of Shiloh. The film is followed by a roundtable conversation with the film's director and producer, Mari Agui Carter, and scholars Virginia Sanchez Korrol, Margaret Vining and Catherine Clinton. The panel will discuss the role of women in the Civil War.
For Children
The National Air and Space Museum's Steven F. Udvar-Hazy Center will host "Women in Aviation and Space Family Day" Saturday, March 23, from 10 a.m. to 3 p.m. Visitors will learn about the contributions of women to aviation and aerospace science. The day includes hands-on activities, guest speakers, a theatrical presentation, book signings and a "Flights of Fancy Story Time" for the youngest visitors. Admission to the museum and Family Day is free; parking is $15.
Tours and Lectures
The National Museum of the American Indian in New York, the George Gustav Heye Center will host Joy Harjo (Mvskoke/Creek Nation) as she shares excerpts from her memoir, Crazy Brave. This lecture is presented in collaboration with Poets House and their festival "Native Innovation: Indigenous American Poetry in the 21st Century." "Crazy Brave: An Evening with Joy Harjo" will take place Thursday, March 21, at 6 p.m.
The Smithsonian American Art Museum will offer tours that trace the story of women in America through artworks that reflect moments in our history as seen from a female perspective, from colonial times to our own time, Thursdays in March at 12:30 p.m. No reservations are required. Participants should meet in the G Street lobby.
Exhibitions
The National Museum of American History presents "The National Woman Suffrage Parade, 1913." On March 3, 1913, 5,000 women marched up Pennsylvania Avenue in Washington, D.C., demanding the right to vote. Their "national procession" staged the day before Woodrow Wilson's presidential inauguration was the first civil rights parade to use the nation's capital as a backdrop. This showcase displays objects, including costumes worn by participants, banners, sashes, postcards, letters and photographs. The exhibition is open daily through October from 10 a.m. to 5:30 p.m.
The National Portrait Gallery's exhibition "A Will of Their Own: Judith Murray and Women of Achievement in the Early Republic" is centered on the portrait "Judith Murray" by seminal American artist John Singleton Copley (ca. 1769, on loan from the Terra Foundation for American Art). This exhibition brings together an additional seven portraits of prominent American women from the late 18th century to showcase the important achievements of women during this period and the early efforts to gain gender equality in America. The exhibition is open daily through Sept. 2 from 11:30 a.m. to 7 p.m.
All programs are subject to change. For more information about the Women's History Month programs, visit: www.SmithsonianEducation.org/Heritage or email heritagemonths@si.edu. For general Smithsonian information, the public may call (202) 633-1000.
# # #
SI-73-2013